*186,000 to 128,000 years ago: Illinois Glacier covers most of Illinois; leaves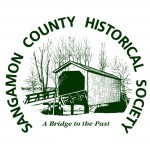 spruce and pine forest when it recedes.
*24,000-17,000 years ago: Wisconsin Glacier covers Illinois down to about present-day Shelbyville; floodwaters caused by glacier cut Sangamon River valley; alluvial deposits become basis for most Sangamon County soil. Deciduous forests follow as glacier recedes.
*3,500 years ago: Prairies begin to develop. The Anderson Map  shows the distribution of forest and prairie in Illinois around 1820.
*Sometime in prehistory: Native Americans start using trail now known as Edwards Trace, which ran from today's Edwardsville area to near Peoria, traveling through Sangamon County.
*1600s-1760: Kickapoo tribe of Native Americans moves into central Illinois from Lake Erie/Lake Huron area.
*1720-22: The Rev. Pierre Charlevoix, a Jesuit priest, travels down the Illinois and Mississippi Rivers and apparently becomes the first European to use the name "Sanguimont" ("Sangamon") for one of the tributaries of the Illinois.
*Fall 1817: Robert Pulliam travels to Sangamon County on maple-sugaring expedition, builds cabin near Glenarm. He is generally credited as being Sangamon County's first European settler.
*1818: Illinois, population less than 40,000, becomes 21st state.
*1819: German traveler Ferdinand Ernst describes "the wonderful land upon the Sangamon."
*Spring 1819: John Kelly builds cabin at site — now northwest corner of Klein and Jefferson streets — around which the city of Springfield grows.
*June 1819: First religious service held in home near Cantrall of Elder Stephen England. A year later, England organizes county's first church, Antioch Christian Church.
*1819: Dr. Gershom Jayne sets up medical practice, becoming county's first physician.
*1820: Madison County names one of its voting prcincts "Springfield," an area that will become Sangamon County.
*March 1820: First wedding ceremony in county unites Gideon Vancil and Phoebe Wilson of Auburn.
*January 1821: Legislature creates Sangamon County (territory originally also took in all or parts of 11 other counties)
*April 10, 1821: County commissioners designate Kelly family settlement as temporary site of county courthouse "and do further agree that the said county seat shall be called and known by the name of Springfield." Charles Matheny named first county official.
*1821: James Adams, believed to be county's first attorney, sets up practice.
*May 1821: First religious service in Springfield held at home of Charles Matheny.
*June 1821: Elijah Iles opens Springfield's first store.
*Winter 1821: Andrew Orr teaches Springfield's first school.
*1822: Post office established; postmaster is Stephen Stillman.
*1823: Post office established in Springfield; Iles named first postmaster.
*Nov. 7, 1823: Iles, Pascal Enos and Thomas Cox partner to buy three quarter-sections of land (a section is a square mile, or 640 acres) as part of a plan for a town. John Taylor buys fourth quarter-section one year later. 
*Dec. 5, 1823: Plat filed for village to be named "Calhoun," although "Springfield" remains in common use.
*1824: Rev. Peter Cartwright begins his career as circuit-riding Methodist preacher in Illinois.
*1824: Broadwell Inn built near Pleasant Plains; building burns down in 1830s, but is rebuilt. It remains one of the oldest brick structures in Illinois.
*1824: Sangamo Town platted; community rivals Springfield for dominance in Sangamon County for several years, but is mostly abandoned by 1833.
*1825: Springfield selected as permanent county seat.
*1826: Hooper Warren founds the Sangamo Spectator, Springfield's first newspaper.
*Aug. 27, 1826: Nathaniel Van Noy kills his wife in "a fit of drunken frenzy." He is hanged Nov. 26; it is Sangamon County's first execution.
*1827: Sangamon County contributes four infantry companies and one company of cavalry to the Winnebago War, but war ends before county contingent sees combat.
*1828: John Todd Stuart arrives in Springfield. He detailed his memories of the community on his arrival in a speech to the Old Settlers Society in 1877.
*1828: Log schoolhouse, first in Springfield, built at Second and Adams streets.
*1829: George Power builds frame home near Cantrall, first north of the Sangamon River. The building, said to have been site of Abraham Lincoln's first case as a lawyer, survives, although it was moved in the 19th century.
*1830: Peter Cartwright opens school at Pleasant Plains.
*Christmas Eve 1830: The Deep Snow begins.
*1830-31: Two-story brick courthouse built on public square.
*June 1831: About 1,600 Sangamon County residents respond to first call to serve in the Black Hawk War. (When second call comes in April 1832, one of the four Sangamon County companies was commanded by Abraham Lincoln.)
*Nov. 10, 1831: The Sangamon Journal, original predecessor of The State Journal-Register, begins publication in Springfield.
*March 24, 1832: Talisman steamboat reaches Portland Landing near Springfield after traveling up the Ohio, Mississippi, Illinois and, finally, Sangamon rivers from Cincinnati.
*April 2, 1832: Springfield incorporated as a town; Charles Matheny elected first president of board of trustees.
*June 1832: Poet William Cullen Bryant tours Sangamon County, says Springfield has "appearance of dirt and discomfort."
*1833: Dr. Thomas Houghan builds 1 1/2-story home on what is now North Fourth Street in Springfield. The house, considerably expanded, is now the Springfield Art Association's Edwards Place; it is considered the city's oldest home on its original site.
*Dec. 20, 1836: "The sudden change" occurs. Fast-moving weather system drops temperature from 40 degrees to zero almost immediately.
*Circa 1837: Elijah Iles builds home at Sixth and Cook streets in Springfield. Although moved twice, the home itself is largely unchanged.
*1837: American House hotel founded at Sixth and Adams streets.
*Feb. 28, 1837: Illinois legislature votes to move state capital from Vandalia to Springfield.
*April 15, 1837: Abraham Lincoln moves to Springfield from New Salem and becomes law partner of John T. Stuart.
*July 4, 1837: Cornerstone laid for new Illinois capitol (now the Old Capitol State Historic Site).
*1838: Zion Missionary Baptist Church (then called the Colored Baptist Church) is founded. Zion is the third oldest black church in Illinois.
*1838: American House hotel opens on southeast corner of Sixth and Adams streets.
*September 1838: Indigenous Potawatomi travel through Sangamon County on what later becomes known as the "Potawatomi Trail of Death."
*Feb. 15, 1839: Legislature creates Menard, Logan and Dane (later Christian) counties and reduces Sangamon County to its current boundaries.
*1839: Rev. Charles Dresser builds home on South Eighth Street that he sells in 1844 to Abraham Lincoln.
*1839: Illinois General Assembly holds first session in Springfield.
*1840: Jacob Bunn establishes grocery firm of McDonnell Bunn & Co. Firm is renamed J. & J.W. Bunn Grocery Co. after John W. Bunn follows his brother to Springfield in 1847.
*April 6, 1840: Voters approve charter incorporating Springfield as a city; first mayor is Benjamin Clements.
*June 1840: Group of a dozen physicians meets in Springfield to organize Illinois State Medical Society.
*Feb. 15, 1842: First Northern Cross Railroad train reaches Springfield from Meredosia.
*June 1842: Former president Martin Van Buren visits Springfield and Rochester. Among his hosts are Abraham Lincoln.
*Nov. 4, 1842: Abraham Lincoln marries Mary Todd at the home of Ninian Edwards (the Howlett Building now occupies the site).
*January 1843: Federal judge in Springfield dismisses request from Missouri to extradite Mormon leader Joseph Smith on charge that Smith had ordered the execution of Missouri Gov. Lilburn Boggs the previous May. (Boggs survived a gunshot wound.)
*April 14, 1846: Donner Party leaves Springfield, starting its ill-fated journey to California.
*Aug. 3, 1846: Abraham Lincoln elected to Congress. (Lincoln served in Washington from Dec. 6, 1847, to March 4, 1849.)
*Spring 1848: First telegraph line reaches Springfield. Local newspapers announce plans to publish more often to take advantage of faster-arriving news.
*1849: Franz Sales Reisch begins brewing beer on Springfield's north end.
*1851: Springfield Marine and Fire Insurance Co. (later Springfield Marine Bank, and as of 2013 part of JPMorganChase) chartered. Original stockholders included Jacob Bunn Sr., Robert Irwin, John Williams and Gov. Augustus French.
*1851: State geological collection founded; first step toward creation of Illinois State Museum.
*1852: Illinois State University, a Lutheran-backed college, opens in Springfield.
*Sept. 9, 1852: First train comes through Chatham.
*September 1853: First Illinois State Fair held on site now occupied by DuBois Elementary School and Sacred Heart-Griffin High School.
*March 2, 1854: Springfield City Council sets up public school district to provide free education to "all white persons between the ages of five and 21." The first two public schools were constructed in the First and Third wards by 1856.
*Oct. 26, 1854: Charles W. Post, to become famous as a breakfast-cereal manufacturer, born in Springfield.
*1855: Illinois State Arsenal built on North Fifth Street.
*1855: Move of Joseph Granville Norwood geology collection to Springfield marks beginnings of Illinois State Museum.
*1855: Gov. Joel Matteson becomes first governor to occupy the Executive Mansion.
*June 1855: Springfield City Council sets out rules for then-new gas street lights. Among other provisions, the Springfield Gas Light Co. "shall cause them to be lighted at twilight in the evening, and keep them lighted until dawn of the day in the morning, except when the clear moonlight shall render it unnecessary."
*1856: Oak Ridge Cemetery founded.
*Sept. 7, 1857: Ursuline Academy opens. The Catholic high school closed in 2007.
*1858: The Springfield Hebrew Congregation is founded, first meeting in an upstairs room at 216 S. Sixth St. The congregation changed its name to Temple B'rith Sholom (" Covenant of Peace") in 1916.
*1858: Thirteen students make up first class in new public school for black children.
*Feb. 12, 1858: Group of black residents adopts resolution opposing concept of transporting free African-Americans to Liberia.
*Feb. 13, 1858: A fire consumes 11 buildings, nearly half of the east side of the Springfield square, on Sixth Street and east of Sixth along Adams Street. A lack of water is blamed for much of the damage.
*June 16, 1858: Abraham Lincoln gives "House Divided" speech to Republican state convention meeting in state Capitol (now the Old State Capitol State Historic Site).
*Nov. 8, 1860: Abraham Lincoln elected president.
*Feb. 11, 1861: Abraham Lincoln leaves Springfield for Washington, D.C.
1861: U.S. Grant rejoins U.S. Army in Springfield, first in the state adjutant general's office and later as commander of the 21st Illinois Infantry Regiment. On July 3, Grant begins marching regiment to Quincy.
*August 1861: Camp Butler established as Union Army mobilization camp. The camp became a hospital facility and prison for captured Confederates in 1862. (Facility is named after Illinois Treasurer William Butler of Springfield.)
*Summer 1862: 114th Illinois Volunteer Regiment formed from residents of Sangamon, Menard and Cass counties.
*1863: Springfield group founds the Home for the Friendless, which was located first on North Fifth Street and later on South Grand Avenue. The home cared for more than 6,500 children, along with a few impoverished women, before it was merged into the Children's Service League in 1928.
*1864: Springfield erects first public high school at Fourth and Madison streets.
*1865: Village of Auburn is chartered at site one mile south of original Auburn (founded in 1835), in order to be on Chicago & Alton Railroad.
*April 15,1865: Abraham Lincoln dies in Washington, D.C.
*April-June 1865: Mary Lincoln insists her late husband be buried at Oak Ridge Cemetery, over the objections of Springfield city officials and boosters.
*May 4, 1865: Abraham Lincoln and son Willie, who died in 1862 in Washington, are entombed in the Oak Ridge Cemetery receiving vault.
*November 1865: Founding of Springfield Library Association, private library that became progenitor of Lincoln Library, city's public library.
*Mid-1860s: Discoveries of substantial seams of coal near Riverton and near Iles Junction in Springfield begin rise of coal mining industry in Sangamon County. By 1893, 21 coal mines were operating in the county.
*1866: Horse-drawn streetcars take to Springfield streets.
*December 1866: Lavish Rudolph Opera House opens at Sixth and Jefferson streets.
*Sept. 7, 1866: President Andrew Johnson, viewed as having abandoned Lincoln's principles, receives "chilling reception" on visit to  Springfield, newspapers report. However, others in his company, including Gen. U.S. Grant and Admiral David Farragut, are welcomed.
*1868: New waterworks on the Sangamon River begins pumping water to Springfield.
*1868: Design by Larkin Mead of Vermont and Florence, Italy chosen for Lincoln Tomb.
*Early 1868: Theft arrest and subsequent bankruptcy closes "Fort Taylor," famous Springfield house of prostitution.
*March 1868: Ground broken for new state Capitol on former "Mather Block" along Second Street between Monroe and Edwards streets.
*1869: Bettie Stuart Institute, a day and boarding school, opens. The school educated women from many of Springfield's most prominent families into the 1930s.
*April 29, 1871: Sharon Tyndale, former Illinois secretary of state, is shot to death near Second and Adams Street. The killer was never identified.
*1872: Springfield Watch Co. produces first watch. Company evolves into Illinois Watch Co. and eventually Sangamo Electric Co.
*Sept. 25, 1872: Rev. Peter Cartwright dies in Pleasant Plains.
*Oct. 15, 1874: Lincoln Tomb dedicated. President U.S. Grant is among those in attendance.
*1875: Rudolph Armbruster opens upholstery business that later becomes Armbruster Manufacturing Co., "America's oldest tentmaker."
*1876: St. John's Hospital opens in former home at Seventh Street and Lawrence Ave.
*1876: State offices move into new Statehouse.
*March 17, 1876: Rudolph Opera House destroyed by fire. Building is rebuilt, but then replaced in 1879 by the even more opulent Chatterton Opera house.
*1877: Shelby M. Cullom, only Sangamon County resident ever elected governor, is inaugurated.
*June 15, 1877: Gertrude Wright becomes first black graduate of Springfield High School.
*Nov. 10, 1879: Vachel Lindsay born.
*1881: Springfield Episcopal Diocese opens St. Agatha school for girls in the former home of Elizabeth and Ninian Edwards.
*July 21, 1881: Springfield Steam Supply and Electric Light Co. begins experiment with 10 electric lights in stores and on streets around downtown square. "The appearance of the light caused a joyous shout to ascend from hundreds of throats," the Illinois State Journal reports.
*August 1881: Professor Louis Lehmann (1851-1923) named to head Illinois Watch Factory Band, a post he will hold for more than 40 years.
*1882: C.W. Post and two partners found the Illinois Agricultural Works, a farm implement manufacturer at 10th and South streets. The business failed five years later, sending Post into an emotional spiral that caused him to leave Springfield. Post later became the first successful merchandiser of breakfast cereals; his innovations included Postum and corn flakes.
*1883: Springfield resident Shelby M. Cullom elected to first of five terms in U.S. Senate. His 30 years in the office remain a record among senators from Illinois.
*1884: Franklin Life Insurance Co. formed.
*1884: John Maldaner opens confectionery that eventually becomes Maldaner's restaurant, Springfield's oldest.
*1884: Albert Ide receives patent for Ideal steam engine.
*1886: Camp Lincoln established at northwest corner of North Grand and West Grand avenues (West Grand was later renamed MacArthur Boulevard, after Gen. Douglas MacArthur.)
*June 7, 1886: Springfield public library opens with 7,550 volumes.
*March 6, 1887: Susan Young Lanphier and friends meet to start women's discussion group, the Shakespeare Club, first of many similar groups in Springfield. Remaining clubs include Anti-Rust and Sunnyside Circle.
*1888: State Capitol finally completed.
*1888: Christoph Amrhein opens Amrhein Bakery, which manufactures baked goods until 1973.
*1890: Springfield Furniture Co. founded. Factory later converted to shoe production.
*August 1890: Creation of electric streetcars leads to brief  "war" between rival streetcar companies.
*Aug. 8, 1889: First train runs on the tracks of the Pawnee Railroad (later the Central Illinois Midland and then Illinois & Midland line).
*1893: Second-tallest monument at Oak Ridge Cemetery is erected, marking the burial place of a woman identified as Mattie Rayburn, wife of  unconventional religious leader W.H. Rayburn. However, mystery still surrounds the identity of the woman and her actual relationship to Rayburn.
*Feb. 28, 1894: Judge Samuel P. Wheeler is keynote speaker for dedication of new Springfield City Hall at Seventh and Monroe streets.
*1895: Springfield's first golf course — four holes — opened by Sangamo Club at Illinois State Fairgrounds.
*Oct. 7, 1895: The King's Daughters Organization holds an opening reception for its "Old Ladies' Home" in the former mansion of Charles and Carrie Post, 541 E. Black Ave. The first resident is Mrs. Eleanor Bashaw, 78.
*March 1894: Anti-Rust literary club founded.
*1896: George Pasfield Jr. begins construction of what now is the Pasfield House.
*1897: Springfield Hospital and Training School founded at Fifth Street and North Grand Avenue. The facility was renamed Memorial Hospital in 1941 and moved to the area of First and Miller streets in 1943. It now is Memorial Medical Center.
*1898: Union Station opens at Sixth and Madison streets.
*Aug. 17, 1898: Estimated 3,600 people attend party hosted by Philemon and Louisa Stout on their farm in Ball Township. Party was held to celebrate the 61st anniversary of the Stouts' settlement in Sangamon County.
*1899: Sangamo Electric Co. formed.
*1899: Steel arches erected on four corners of Springfield square; the arches were taken down in June 1921.
*1899: Due to settling of poorly built foundation, Culver Construction Co. begins first reconstruction of Lincoln Tomb. Work continues until 1901.
*Feb. 8, 1900: Springfield Park District organized following voter approval in referendum the previous month.
*1901: Guy Mathis opens Springfield's first auto sales outlet at Fifth and Monroe streets.
1901: The Ambidexter Institute, a training school for African-American students, opens on South 12th Street.
*Sept. 26, 1901: Body of Abraham Lincoln is reburied for a final time in a concrete vault below the tomb floor. The coffin was opened for a final time to verify it was the president's, and Lincoln's face reportedly was discolored but recognizable. "The sight was a grewsome (sic) one," the Illinois State Journal reported.
*1902: Development of Hawthorne Place kicks off Springfield's suburban expansion.
*1903: Joliet minor-league baseball team, competing in the Three-I League,  moves to Springfield. The Springfield Foot Trackers finish last that season, but — renamed the Springfield Hustlers — capture the championship in 1904. Team settles on Springfield Senators name the next year.
*1903: Second Illinois State Arsenal built at Second and Monroe streets.
*Springfield develops shoe manufacturing industry with opening of the Desnoyer Brothers Shoe Company at 10th Street and Enos Avenue.
*1904: Eva Carroll Monroe opens Lincoln Colored Home in 400 block of South 12th Street.
*June 7, 1904: Dedication held for new Lincoln Library, built with help of donation by industrialist/philanthropist Andrew Carnegie.
*1904: Frank Lloyd Wright-designed Dana-Thomas House completed at Fourth Street and Lawrence Avenue.
*1905: Edwards & Chapman Laundry founded.
*May 5, 1905: Nationally famous racecar driver Barney Oldfield comes in second to Springfieldian Dr. Percy Taylor in a "free-for-all" race at the Illinois State Fairgrounds. Oldfield had given Taylor and two other local drivers a three-quarter-mile head start in the three-mile contest.
*1906: Illini Country Club founded.
*1907 — Lora Hieronymus Robie and her husband commission Frank Lloyd Wright to build Chicago's Robie House. However, they divorce within a year of moving in, and Lora Robie returns to her home town of Springfield.
*June 12, 1907: Springfield Mayor David Griffiths drowns on fishing expedition on South Fork of the Sangamon River.
*1908: Springfield Lithuanian Catholics lay cornerstone for St. Vincent de Paul Church, Eighth Street and Enos Avenue. Parish closes in 1971.
*Aug. 14-15, 1908: Two black men and five whites die during the Springfield race riot, and many more are injured or displaced. The riot also leads to creation of the National Association for the Advancement of Colored People.
*Sept. 20, 1908: Springfield fur dealer and balloon hobbyist Roy Donaldson, accompanied by passenger George Brumbaugh, fly Donaldson's balloon, "The Springfield," to a landing in a farmer's field north of Petersburg.
*1909: Joe Bockelmann and Thomas McNerney open The Dew Chilli Parlor.
*1909: Gus Kerasotes converts candy store at 214 S. Sixth St. into first of what eventually will be nearly 100 cinemas in the Kerasotes theater chain.
*1909: Professional anti-Catholic William Lloyd Clark publishes Hell at Midnight in Springfield: or A Burning History of the Sin and Shame of the Capital City of Illinois, a vitriolic attack on the city's wide-open vice district. 

*Spring 1909: Evangelist Billy Sunday holds spectacular six-week-long revival in Springfield.
*April 1909: Mayor John Schnepp appoints Willis Spaulding superintendent of the city water works. Spaulding eventually oversees City Water, Light and Power for more than 30 years.
*1910: Springfield Motor Car Co. goes out of business, having produced fewer than a dozen automobiles from its third-floor plant on East Monroe Street.
*1910: Washington Street Mission founded as an outgrowth of the Billy Sunday revival.
*1910: I.A. Weaver incorporates Weaver Manufacturing Co., manufacturer of auto service equipment in Springfield until 1973.
*October 1910: Driver LaRue Vredenburgh killed in auto race at Illinois State Fair.
*1911: John Hugh Catherwood of Springfield awarded Medal of Honor for actions against Philippine rebels.
*1911: John C. Ayling begins manufacturing kites in his garage. The J.C. Ayling Kite Co. operated until World War II, selling millions of "Joly Boy" kites around the world.
*Feb. 12, 1911: President William Howard Taft speaks to more than 800 members of the Lincoln Centennial Association in Springfield.
*Sept. 4, 1911: Lincoln College of Law opens its doors. School closed in 1953.
*1913: Vachel Lindsay publishes "General William Booth Enters Into Heaven."
*June 11, 1913: Illinois House passes measure to allow women to vote in presidential and local elections.
*June 24, 1913: Rotary Club of Springfield founded.
*1914: Local volunteers, aided by the Russell Sage Foundation, undertake the Springfield Survey, a massive study of social conditions in the city.
*Oct. 12, 1914: Illinois Secretary of State Harry Woods found shot to death, a suicide.
*1915: Springfield Amateur Art Study Club changes name to Springfield Art Association.
*July 13, 1915: Ansar Shrine receives charter.
*1917: Springfield High School opens on its current site.
*August 1917: Dome Building at Illinois State Fairgrounds destroyed by fire.
*Aug. 7, 1917: Springfield police officer Noah Roll shot to death during unrest related to strike by streetcar employees.
*September 1917: Springfield unions call a general strike following confrontation with state militia over streetcar labor conflict.
*1918: The Orange Judd Publishing Co., a publisher of books and manuals on farming, publishes the Orange Judd Farmer Pictorial Community Album of Rochester Township and Village, a unique collection of images of Rochester homes and businesses.
*Sept. 30, 1918: All-black 370th Regiment, under command of Maj. Otis B. Duncan of Springfield, captures Ferme-de-la-Riviere, France, during World War I.
*October 1918: Health officials close schools and ban church services and all other social gatherings as worldwide influenza outbreak reaches Sangamon County. Oak Ridge and Calvary cemeteries report they have too few workers to keep up with burials.
*July 9, 1919: St. John's Sanitarium, a tuberculosis care complex, opens east of Springfield. The sanitarium closed on Dec. 31, 1973.
*March 27, 1919: World War I flying ace Howard Knotts returns to Springfield.
*June 24, 1919: Sangamon County welcomes home soldiers who served in World War I.
*1920 — U.S. Census records county population as more than 100,000 for the first time.
*1920: Honor Book of Sangamon County recognizes county's World War I veterans.
*1920: John L. Lewis, sometime Springfield resident, begins 40-year reign as international president of the United Mine Workers of America.
*1921: Ku Klux Klan begins organizing in Sangamon County. Though initially successful, the local organization, riven by internal disputes and scandals elsewhere, essentially collapsed by the late 1920s.
*1922-23: Engineers experiment with road pavement surfaces on the Bates Experimental Road.
*Dec. 26, 1923: Suspected bootlegger associate Sam Feliccia disappears from his home on Miller Street. Body is later found in the Sangamon River. Feliccia's murder is recorded as the first of more than a dozen suspected gangland killings that occurred in Sangamon County during Prohibition.
*1924: Rev. James Griffin consecrated bishop of Catholic Diocese of Springfield in Illinois.
*March 24-25, 1924: Myers Brothers department store cements its merchandising reputation. A massive fire destroyed the store the night of March 24, but, even before the fire was extinguished, the Myerses bought another store a block away and opened for business the morning of March 25.
*April 29, 1924: St. Francis of Assisi Church dedicated at Franciscan Motherhouse near Riverton.
*Dec. 17, 1924: Severe ice storm leaves Springfield with 2 inches of glaze.
*1925: Springfield adopts the "West plan," its first official city plan.
*1925: Jacob Bunn Jr. and his siblings repay — with interest — nearly 5,000 people who had lost money when his father's private bank, the J. Bunn Bank, failed in 1878.
*1926: WCBS radio (later WCVS, now WFMB-AM) begins broadcasting from offices in Springfield's St. Nicholas Hotel.
*1926: The Sugar Bowl restaurant at 11th Street and South Grand Avenue offers curbside service, apparently a first in Springfield.
*April 15, 1926: Charles Lindbergh flies first airmail route to Springfield.
*April 9, 1927: The "Soybean Special," traveling soybean promotion, stops in Springfield. *Nov. 11, 1927:  Frank and Robert Aiello shot to death in cafe at 10th and Jefferson streets. Nephew Jasper had been killed in February. Deaths attributed to "enmity of a powerful liquor gang."
*1929: Springfield Junior College (now Benedictine University Springfield) opens on North Fifth Street.
*1929: St. John's Breadline opens.
*1930: Sarcophagus that briefly covered coffin of President Lincoln is found mysteriously broken.
*1930: Pillsbury opens flour mill on Springfield's northeast side. Plant was greatly expanded over the next three decades, but was sold to Cargill in 1991 and closed in 2001.
*Nov. 26, 1930: Rochester State Bank robbers arrested by Springfield police after violent, "Bonnie and Clyde" style chase.
*1931: John "Buddy" Kapp wins first of four terms as Springfield mayor.
*June 17, 1931: President Herbert Hoover rededicates Lincoln Tomb.
*August 1931: The Central Illinois Public Service Co. opens Springfield's first skyscraper, the Illinois Building.
*Dec. 5, 1931: Vachel Lindsay commits suicide in family home on South Fifth Street.
*1932: Kelly Grant Sr. founds Mel-O-Cream Donuts.
*August 1932: Dispute over proposed pay cut for coal miners splits miners into two unions: the United Mine Workers of America and Progressive Miners of America.
*December 1932: Ridgely Farmers State Bank collapses. Quick action by other banks averts disastrous bank run.
*Jan. 25, 1933: Giant rally brings 8,000 women to Springfield on behalf of Progressive Miners of America.
*Feb. 28, 1933: After two years of appeals, Frank Zito and two others leave to serve terms in federal prison for bootleggin violations. Although regularly suspected of a variety of crimes, including murder, the 1933 incarceration was the only prison sentence Zito ever served.
*Sept. 12, 1933: Sangamon County Board ousts Sheriff Sam Metcalf on grounds of insanity.
*Feb. 18, 1934: Illinois State Arsenal destroyed in fire set by 10-year-old boy.
*April 25, 1935: Progressive Miners activist Edris Mabie shot to death at Sixth and Washington streets on Easter morning.
*July 1935: Lake Springfield dedicated.
*August 1935: Beginning of massive sale to liquidate the Edward Payne Stone Age Collection.
*1936: Springfield branch NAACP institutes annual Webster Plaque award.
*Nov. 14, 1936: First plantings at Lincoln Memorial Garden on Lake Springfield.
*March 17, 1937: Massive explosion demolishes two houses on North Seventh Street, damages many others; arson ring suspected, but authorities fail to obtain convictions.
*December 1937: 36 members of Progressive Miners convicted of federal conspiracy charges in Springfield.
*1938: John W. Hobbs founds automotive accessory manufacturing company in Springfield.
*September 1938: Springfield Maternal Health Center (predecessor to Planned Parenthood) founded.
*1939: Charles E. Becker acquires Franklin Life Insurance Co., moves to Springfield to initiate company's rapid growth.
*1939: Springfield suburbs of Grandview, Jerome and Southern View formed in order to obtain water from city of Springfield.
*1939: Illinois State Armory desegregated under pressure from black residents of Springfield.
*1939: Virginia Eifert becomes founding editor of The Living Museum, publication of the Illinois State Museum.
*July-August 1939: Brothers Humphrey and Hunter Moody set record for endurance flying. Their flight is based at the Springfield airport.
*1941: Springfield Hospital renamed Memorial Hospital (now Memorial Medical Center); moves from North Grand Avenue to First and Miller streets in 1943.
*1943: Willis Spaulding, seeking his ninth term as Springfield utilities commissioner, defeated for re-election.
*1943: Springfield High School English teacher Susan Wilcox, teacher and mentor to Vachel Lindsay and Robert Fitzgerald, dies.
*1943: Memorial Medical Center — formerly Springfield Hospital and Training School, located at Fifth Street and North Grand Avenue — relocates to First and Miller streets.
*1945: Elms begin to die in central Illinois; catastrophe becomes so extensive by 1949 in Springfield that volunteers organize massive cleanup.
*1945: Carrol Hall and Les Nimmo found Illinois Education Association Mutual Assurance Co. (later Horace Mann Educators Corp.).
*1946: Dr. Richard Paul Graebel becomes pastor of First Presbyterian Church; he holds post until 1971.
*1947: Famed strip-tease artist Sally Rand, in Springfield to perform at Illinois State Fair, charged with disorderly conduct involving the husband of another stripper. Rand claimed she was in the man's room so he could give her some medicine. "I have nothing to hide," she declared.
*1947: Joe Shaheen opens Springfield Speedway at 31st Street (later Dirksen Parkway) and Clear Lake Avenue. Drag-racing track operates until 1988.
*Nov. 2, 1947: Capital Airport (later Abraham Lincoln Capital Airport) dedicated.
*May 2, 1948: Massive fire destroys John Bressmer Co. department store.
*Aug. 8, 1948: Murder of Leonard Giordano, dice "stickman" in local gambling den, along with investigative reporting by St. Louis Post-Dispatch, results in movement to curtail widespread open gambling throughout county.
*November 1948: Adlai Stevenson II elected Illinois governor by largest plurality in history.
*1949: Ed Waldmire opens Cozy Dog drive-in on South Sixth Street.
*1950: Sangamon County Fair revived in New Berlin, following a 56-year hiatus.
*June 17, 1950: Springfield Muni Opera puts on first production, "The Merry Widow."
*1951: City of Leland Grove incorporated.
*1952: City of Springfield desegregates its beaches at Lake Springfield.
*October 2, 1952: Dwight Eisenhower, Stevenson's Republican opponent for president, visits Springfield in campaign swing. Eisenhower overwhelmingly defeats Stevenson the next month.
*Sept. 30, 1953: WICS television signs on with coverage of baseball World Series game between Brooklyn Dodgers and New York Yankees.
*1955: Nelson O. Howarth wins first of three terms as mayor of Springfield.
*1955: Mae Hammons recruited to become the first African American teacher in the Springfield public schools.
*March 2, 1956: Illinois Terminal Railroad — the old "interurban" — takes its last passengers on memory ride from Springfield to St. Louis and back. Service began in 1895; at its peak in the 1920s, the interurban carried 8 million passengers a year.
*1957: Mack family opens Springfield's first McDonald's restaurant.
*1957: Unable to find suitable education for their daughter, Dr. and Mrs. Charles Jordan open The Hope School for Blind Multiple Handicapped Children.
*1957: Elizabeth Graham resigns as Springfield High School English teacher in protest of new school board policy; goes on to become caretaker of Vachel Lindsay Home and fierce advocate for Lindsay's reputation.
*1957: Bunn-O-Matic founded.
*June 14, 1957: Tornado kills two people killed in Springfield, destroys or damages 200 homes.
*September 1957: Decomposed body of jukebox operator James DeRosa found near Andrew after dog drags home victim's head. DeRosa had been shot to death. The murder was never solved.
*Nov. 14, 1957: Frank Zito of Springfield among 58 men arrested when authorities raid meeting of nationwide Mafia leaders in Apalachin, N.Y.
*1958: The Town House apartments open at 718-20 S. Seventh St.
*December 1959: Sherman incorporates as a village.
*June 12, 1961: Sangamon County Historical Society established.
*1962: Rees Memorial Carillon dedicated in Washington Park.
*1963: Harriet Knudson, guiding force behind Lincoln Memorial Garden, named first Copley First Citizen (title later changed to simply First Citizen).
*1963: Springfield Muni Opera site at Lake Springfield destroyed by fire. Organization revives, puts on "Bye Bye Birdie" at Douglas Park in 1964, then rebuilds at original site.
*June 1963: Illinois House votes to demolish Executive Mansion and sell its lot, but Senate quickly rejects idea.
*1965: Orpheum Theater demolished to make way for drive-in bank.
*1965: John Wayne Gacy, later convicted of murdering at least 33 boys and men in Chicago area, serves as vice-president of Springfield Jaycees.
*Oct. 7, 1965: Dr. Martin Luther King Jr. speaks to Illinois AFL-CIO convention.
*1966: Workers begin dismantling Old State Capitol in preparation for restoration to Lincoln-era appearance. Reassembled building was dedicated in 1968.
*1966: Reisch Brewery closes.
*1966: Smokey's Den, Springfield's first bar openly catering to gays, opens.
*1967: Feitshans High School closes; replaced by Springfield Southeast High School.
*1968: Lincoln Land Community College founded.
*Feb. 18, 1970: Springfield named All-American City by the National Municipal League and Look magazine.
*Sept. 28, 1970: First classes held at Sangamon State University (now University of Illinois Springfield).
*Oct. 13, 1970: Officials find $800,000 in cash in hotel suite and office following sudden death of Illinois Secretary of State Paul Powell.
*1971: Lincoln Home neighborhood designated National Historic Site.
*April 30, 1971: Last passenger train leaves Springfield's Union Station.
*1974: Forum 30 hotel, now the Hilton Springfield, opens.
Aug. 27, 1974: Frank Zito, reputed "godfather" of Springfield crime syndicate, dies.
*1975: Concordia Theological Seminary, which educated Lutheran Church-Missouri Synod clergy for nearly a century, closes.
*1976: First class of students graduates from Southern Illinois University School of Medicine in Springfield.
*1976: Robin Roberts, Lanphier High School graduate, elected to major-league baseball Hall of Fame.
*November 1976: James Thompson elected Illinois governor; goes on to serve 14 years in that office, the longest tenure of any governor.
*Dec. 7, 1976: U.S. Judge J. Waldo Ackerman rules on Springfield School District's plan to desegregate the city's public schools.
*1978: Conglomerate Schlumberger, which bought Sangamo Electric Co. in 1975, closes Springfield plant.
*March 24, 1978: "Easter Ice Storm" paralyzes central Illinois.
*1979: Comedian Bob Hope is first performer to play the Prairie Capital Convention Center. "I want to thank you for inviting me to open this gorgeous garage," he said.
*1980: U.S. Census records Springfield city population as more than 100,000 for the first time.
*March 18, 1981: Man attacks three people with ax at Lauterbach Cottage Hardware, 15th Street and South Grand Avenue. One victim dies, other two severely injured. Attacker is never identified.
*1985: Fiatallis (previously Allis-Chalmers) closes heavy equipment manufacturing plant in Springfield.
*Jan. 12, 1987: U.S. Judge Harold Baker rules Springfield commission form of government discriminatory and invalid.
*Dec. 1, 1987: Frank McNeil and Allan Woodson sworn in as aldermen, becoming the first black members of the Springfield City Council since the 19th century.
1988: Cathedral High School closes (opened in 1930).
*1991: David Hammons, artist and Springfield native, receives MacArthur
*1992: Rock music venue The Mansion, formerly Wheeland Havens, demolished by fire.
*1993: Illinois Symphony Orchestra founded in merger of Springfield and Bloomington symphonies.
*1995: Peabody Coal closes Peabody No. 10 mine, once world's largest coal mine, near Pawnee.
*1997: John Hay Homes, early public housing project, demolished.
*1997: Springfield resident Richard Durbin elected to U.S. Senate. He later was named assistant minority leader and then assistant majority leader of Senate Democrats.
*1998: Barack Obama comes to Springfield as Illinois state senator.
*June 21, 1998: Ironhorse Triathlon held; shortly thereafter, some participants started reporting symptoms of leptospirosis, a potentially dangerous bacterial disease. The condition may have affected nearly 100 triathletes, along with 250 or so other users of Lake Springfield, making it the largest such outbreak ever reported in the U.S.
*April 23, 2004: Formosa Plastics plant near Illiopolis catches fire and explodes, killing five workers.
*Sept. 20, 2004: Gunman shoots security guard to death at Statehouse.
*April 19, 2005: Abraham Lincoln Presidential Museum dedicated; President George W. Bush, U.S. Sens. Barack Obama and Dick Durbin among speakers.
*2006: Population of Chatham surpasses 10,000.
*January 2006: Media reports reveal a wide-ranging investigation of a cocaine ring that eventually implicated some Sangamon County prosecutors, County Clerk Joe Aiello and others. Nine people — not including Aiello or the prosecutors — eventually were sentenced to prison. Aiello won re-election in 2010.
*March 12, 2006: Twin tornadoes roar through Sangamon County, inflicting heavy damage on Springfield's south side and elsewhere. No deaths, but 24 people injured in Springfield and Buffalo.
*April 7, 2006: Former Gov. George Ryan convicted of corruption charges.
*Feb. 10, 2007: U.S. Sen. Barack Obama announces candidacy for president at Old State Capitol. On Aug. 23, 2008, he uses same site to announce his choice of Joe Biden as vice-presidential running mate.
*Nov. 10, 2007: City Water, Light and Power's Dallman I power unit explodes. There were no injuries, but the blast caused $52.5 million in damage.
*Dec. 9, 2008: FBI agents arrest Gov. Rod Blagojevich on corruption charges, including allegation that he tried to sell appointment to replace President Barack Obama in U.S. Senate. Blagojevich was convicted of the charges in 2011.
*2009: City of Springfield purchases Clear Lake, formerly a fishing and recreation lake for the Springfield area, as a possible backup water source.
*Aug. 19, 2009: Tornadoes strike Sangamon County, with the worst damage taking place in Williamsville, where a church and several other buildings are destroyed.
*Dec. 14, 2010: Springfield Mayor Tim Davlin, facing accusations he stole money from a relative's estate, shoots himself to death in his garage.
Acknowledgement: The Sangamon Saga by Bruce Campbell, a chronologically based history of Sangamon County through 1976, provided much of the framework for this entry, although items were independently researched. 
Original content copyright Sangamon County Historical Society. You are free to republish this content as long as credit is given to the Society.