SangamonLink was created to put the rich history of Sangamon County — home of Abraham Lincoln and the capital of Illinois — at people's fingertips.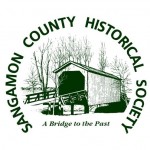 The Sangamon County Historical Society has worked since 1961 to preserve county history through publications, tours, donations and special projects. (Follow the link above to learn more about Society initiatives and membership.)
At bottom, however, history is always a work in progress, and SangamonLink is designed to recognize that evolution. The Society will be able to correct, amplify and add to this encyclopedia as needed, and people who want more information can follow links from individual entries here to additional sources elsewhere.
To find articles on individual topics, see the alphabetical indices (A-J, K-O and P-Z, above), or use the Search button, For a chronological view of Sangamon County's development, see the Timeline. To see a list of some of the more important local history resources, both online and not, see Research sources.
We are  constantly adding to SangamonLink, and we welcome additional contributors. You do not have to be a professional historian or writer. Please see Writing for SangamonLink for guidelines and additional information.
Whether you're curious about a specific topic or simply browsing, we hope you'll find this archive both useful and illuminating. Comments, suggestions and corrections are encouraged. Thanks for visiting.
Follow SangamonLink: We're on Twitter and Facebook.
Original content copyright Sangamon County Historical Society. You are free to republish this content as long as credit is given to the Society. Learn how to support the Society.