In 1855, the state of Illinois built an arsenal at 424-26 N. Fifth St., on the east side of Fifth Street between Mason and Carpenter streets. The smallish rectangular brick building, built in the Greek Revival style with a pediment on the west (Fifth Street) side, had an arched entry wide enough to accommodate horses and wagons.
From 1861 to 1865, the arsenal held munitions and equipment for Illinois Civil War troops who departed from Springfield.
"The old state arsenal on North Fifth Street between Mason and Carpenter streets was, in Civil War times, an important munitions plant managed by Enoch Paine," Helen Van Cleave Blankmeyer reported in a 1934 series of articles published in the Illinois State Register.
Among the duties of Ulysses S. Grant when he was asked to take on a temporary assignment with the Illinois adjutant general's office in 1861 was to inventory the weapons in the arsenal. In his memoirs, Grant confessed he had shortcomings in that role.
I was no clerk, nor had I any capacity to become one. The only place I ever found in my life to put a paper so as to find it again was either a side coat-pocket or the hands of a clerk or secretary more careful than myself. But I had been quartermaster, commissary and adjutant in the field. The army forms were familiar to me and I could direct how they should be made out.
After the war, the arsenal functioned in part as a military museum. The Illinois adjutant general asked Illinois military units to turn over their regimental colors and trophies of war to the state. The artifacts were stored in the arsenal until 1878, when they were put on display on the first floor of the state Capitol.
(They were moved again in the early 1920s to the Centennial Building – now the Howlett Building – where they were displayed in the first-floor Hall of Flags. In 2003, with many of the flags deteriorating, the banners – which by now also included flags from the Spanish-American War and World War I  – were removed from public display until funds become available for restoration.)
A board of commissioners was appointed in 1901 to build a new arsenal, armory and museum. The 1855 arsenal was replaced by a new, larger one at Second and Monroe streets, across from the Statehouse, in 1903. However, state government continued to use the 1855 arsenal for storage until about 1920, when it apparently was torn down.
More information
Illinois State Archives, Record Group 513.000 – Board Of Commissioners To Erect A State Arsenal; Sangamon Valley Collection, Lincoln Library
"Personal Memoirs," U.S. Grant
The Sangamon Country, Helen Van Cleave Blankmeyer, 1935 (reprinted 1965)
Springfield city directories, 1904-05 through 1920 (copies in State Journal-Register library);
Illinois State Capitol web site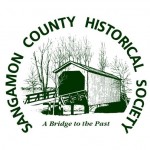 Original content copyright Sangamon County Historical Society. You are free to republish this content as long as credit is given to the Society.