Research by SangamonLink may have solved a minor historical mystery: the name of the photographer whose images illustrate the 1914 Springfield Survey.
The survey was a massive study of the city's economic, cultural, charitable and municipal institutions, an effort so all-encompassing that it was never repeated anywhere else in the U.S. It left Springfield with an extraordinarily revealing look at life in 1914, especially as it was experienced by people who don't usually make it into the history books: common laborers, schoolchildren, petty criminals, and the poor, mentally ill and feeble.
More than 100 local volunteers, overseen by socialite-turned-social-worker Elizabeth Brown Ide, gathered data for the survey. All were identified in appendices to the 11 reports later published by the survey. Even Alfred S. Harkness, a talented illustrator who helped prepare exhibits for the exposition that concluded the Survey, got a name credit.
But the final Survey reports do not identify the person or people who took the 150-some local photographs sprinkled throughout the reports. The reason for the omission is unknown, but SangamonLink's research suggests that some of the photos – maybe all of them – were taken by a commercial photographer named Homer Ellis (1887-1948).
Many of the photos contained in the Survey are unremarkable: static images of buildings, such as tiny, blurry, exterior shots of the 33 schools, public and private, that existed in Springfield in 1914. A few of the photos are mildly repulsive – probably thanks to the guidance of public health crusader Dr. George T. Palmer, the collection includes interior shots of well-used wooden privies at a school, a meat market and a grocery store.
But those and other pictures nonetheless give 21st-century viewers looks at aspects of life in 1914, many of them unsavory, that simply aren't available anywhere else: the Springfield drunk tank;  the pathetic basement cells where insane residents of the Sangamon County Poor Farm slept at night; muddy playgrounds and impassably soggy dirt roads.
And a few of the photos rise to works of art, such as a blurry portrait of a young Black child playing outside the tumbledown hovel he calls home. Or, especially, a photograph of a school nurse checking the health of a classroom full of children – fifth- or sixth-graders maybe. A young girl in a long sack dress, bow in her hair, sticks out her tongue for the nurse to examine, while five other children, boys and girls, line up for their turns, staring out at the future from 1914.
Whoever did the photography for the Survey deserves recognition. And the only candidate for that honor appears to be Homer Ellis.
The research that turned up his name was elementary. SangamonLink compared the names of local photographers identified in the 1913, 1914 and 1915 city directories with the lists of volunteers and committee members published in Survey reports. Only one person appeared in both places: Homer Ellis.
As it turns out, Ellis apparently worked in Springfield for only a few years. According to his Decatur Daily Review obituary, he grew up in Cerro Gordo and studied at Millikin University and in Chicago. ("He became an actor during his Chicago residency, appearing for a year in a small part in 'The College Widow,'" the obituary says.)
Ellis first appears in Springfield city directories in 1913, when he is identified as a commercial photographer with a studio in Post Office Court (the alley between Monroe Street and Capitol Avenue east of Sixth Street). Similar listings appear in the 1914 and 1915 directories. Then they stop.
"Mr. Ellis was a free lance newspaper photographer in Springfield when the United States entered World War I," the Decatur obituary says.
Newspapers didn't usually say who took their photos at the time. In an exception, Ellis was identified as the Illinois State Register's photographer at the 1914 meeting of the Sangamon County Old Settlers Society (he was selling photo reprints from his studio).
Ellis listed himself as a commercial photographer in Springfield when he registered for the WWI draft in January 1917. He was accepted for officer's training that May, commissioned a lieutenant, and served at Fort Sheridan in Chicago until war's end.
He never returned to Springfield. Instead, Ellis became Decatur's "first trained roentgenologist" (X-ray technician), according to his obituary. Ellis operated the Decatur X-Ray Laboratory until he suffered a stroke at work and died in August 1948. He is buried in the Cerro Gordo Cemetery.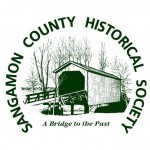 Perversely, considering his youthful occupation, there seem to be no online photos of Ellis himself.
Original content copyright Sangamon County Historical Society. You are free to republish this content as long as credit is given to the Society. Learn how to support the Society.