Receiving mail was a hit-or-miss proposition before Springfield got its first post office, and it wasn't a picnic afterwards, either.
The Springfield post office will celebrate its 200th anniversary in 2023. The first postmaster was pioneer storekeeper Elijah Iles.
The 1881 History of Sangamon County, Illinois, Together with Sketches of Its Cities, Villages and Townships describes the tribulations of postal service prior to Iles' appointment.
The early settlers of Springfield had little to boast of in the way of postal facilities. From the first settlement of the place, in 1818, up to 1823, they had no post office nearer than Edwardsville, eighty miles distant, and were therefore obliged to patronize the postmaster at that place for what little mail matter they received. They got their letters semi-occasionally – sometimes by the hand of wagoners, and sometimes by means of a hack (carriage) which John Dixon sent to Edwardsville whenever he could secure a load of passengers. Mr. Dixon lived on Fancy Creek, a tributary of the Sangamon. He left here years ago and laid out the pretty town which bears his name, on Rock river, Lee County. …

Previous to (Iles') appointment, letters addressed to "Springfield, Illinois," would visit nearly every other Springfield in the United States, and finally bring up at Edwardsville; after his appointment and the name of the post office had been made known to Uncle Sam's officials, he received letters that had traveled around the country for several months. He held the office for about three years, and kept it in a small frame building about two hundred yards west of the Chicago & Alton depot (the Amtrak station, Third and Jefferson streets, in 2022).

In 1824, a semi-monthly mail route was established from Springfield to Kaskaskia by way of Edwardsville and Belleville. The mail was carried on horseback. Letters from this place to St. Louis went by way of Edwardsville and Belleville, and on arriving at the latter place were taken charge of by the postmaster and transferred to the agent carrying the mail between St. Louis and Louisville.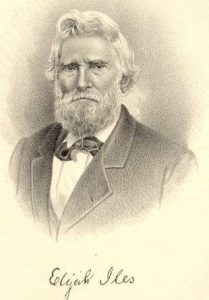 A 1931 Illinois State Journal story explained how "delivery" worked once mail finally reached Springfield.
When a batch of mail arrived the names were called out to whom addressed. If the recipient were present, he or she paid the postage, according to weight. Those who were not present were notified by their neighbors that there was a missive at the post office for them.

Letters were not encased in envelopes at that time, but were folded down and up and turned under at both ends, forming the shape of an envelope. Upon one side the address was written; on the other a seal was placed by those who possessed one. The scarcity of seals may account for postmasters knowing so much about community affairs in those days.
The pay-on-delivery system created an uncomfortable problem for George W. Spottswood, who was the city's eighth postmaster (1841-44), the History reports:
"During a portion of his term the State officers could not raise money enough to take their letters from the post office, and he was thus compelled to keep important public matter for months at a time. Nobody had money in those times, and the State was as poor as individuals."
The office of postmaster was a patronage position at the time, but local postmasters seem to have taken that for granted. The 10th Springfield postmaster, A.Y. Ellis (1807-78), was appointed under President Zachary Taylor and remained postmaster when another Whig, Millard Fillmore, held the presidency.
"Sometime during the spring of 1853," the History says, "(Ellis) was informed by the Postmaster General under Franklin Pierce, that the department could dispense with his services. He was too much of a Whig to expect to be retained in office, and so took his removal philosophically."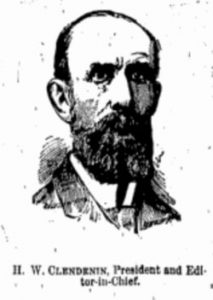 Henry Clendenin, postmaster from 1886 to 1890, may have taken his firing less philosophically. Clendenin, editor and co-owner of the Illinois State Register, the Democratic Party's mouthpiece in Springfield, was appointed postmaster by the administration of Democratic President Grover Cleveland and was removed when Benjamin Harrison, a Republican took office.
(Clendenin's appointment had been contentious from the beginning. Even before he was nominated, the rival, Republican-allied Illinois State Journal sniped, "The postmastership is practically a sinecure, in which the incumbent has but little to do beside drawing his $3,000 a year, and it is cheerfully conceded that Clendenin has talent enough to do that, without any undue strain on his mental faculties.")
Clendenin's successor as postmaster, James C. Conkling, appointed Springfield's first Black mail carrier, Charles Ellis Sr. That resulted in a racist diatribe in the Register that might have been prompted by Clendenin's dismissal. See SangamonLink's entry on Ellis.
Postmasters to 1971
Here is a list and dates of service of Springfield postmasters until 1971, when the postal system became semi-independent of the U.S. government (dates for some of the earliest postmasters are approximate):
Elijah Iles, 1823-26
Stephen Stillman, 1826-27
Asa Shaw, 1827-30
Edward Mitchell, 1830-37
William Carpenter, 1837-40
John S. Roberts (brief tenure)
J.W. Keyes (??-1841)
George W. Spottswood, 1841-44
Jonathan R. Diller, 1844-49
A.Y. Ellis, 1849-53
Isaac R. Diller, 1853-57
J.W. Keyes, 1857-59(?)
Morris Lindsay, 1859(?)-61
John Armstrong, 1861-65
Presco Wright, 1865-68
J. Taylor Smith, 1868-69
Isaac Keys, May-June 1869
J.L. Crane, 1869-1877
David L. Phillips, 1877-84
Paul Selby, 1884-86
Henry W. Clendenin, 1886-90
James C. Conkling, 1890-94
Redick Ridgely, 1894-96
Charles A. Keys, 1896-97
William B. Ridgely, 1897-99
Lewis H. Miner, 1899-1901
Loren E. Wheeler, 1901-13
James W. Patton, 1913-20
William Conkling, 1920-31
Albert L. Pickel, 1931-34
West M. Rourke, 1934-49
Rourke (1884-1949) was described as an "active Democrat" when appointed by Democratic President Franklin D. Roosevelt. In 1939, postmasters were brought under federal civil service protection. They were required to pass examinations before appointment and were barred from taking part in political campaigns. The reforms also gave postmasters lifetime tenure, protecting them from political firings, and set a mandatory retirement age of 70. Rourke, however, died suddenly at age 64.
Albert T. Oswald, 1949-54
William E. McElroy, 1954-69 (postmaster); 1969-71 (officer in charge/acting postmaster).
McElroy was the last Springfield postmaster before the postal system was converted to the semi-independent U.S. Postal Service. Walter L. Flood, a native Springfieldian and career postal employee, succeeded McElroy as postmaster on Jan. 15, 1971.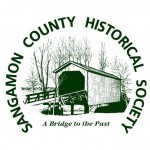 Original content copyright Sangamon County Historical Society. You are free to republish this content as long as credit is given to the Society. Learn how to support the Society.