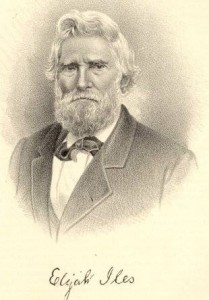 Elijah Iles (1796-1883) was Springfield's first merchant and perhaps its most dynamic founder.
Iles built a log store near the settlement of the John Kelly family shortly after arriving in central Illinois. Iles described his move to Sangamon County and the opening of the store in a reminiscence published in the History of Sangamon County, Illinois (1881).
After I got to Springfield in 1821, and explored the country to some extent, I determined to make this section my permanent home; my intention was farming, but as the land was not yet in market, I erected a cabin, sixteen feet square, with sheds, and went to St. Louis and bought a general assortment of goods, and opened the first store in Springfield, in June, 1821. (I had no competition for two years.)

After I bought the goods, I chartered a boat to bring them up the Illinois river. … My goods were landed at (a vacant cabin at present-day Beardstown). I was alone with my goods on the bank of the river. After a search I found a dim trace leading out to a Mr. Jobe, fifteen miles out, was the first house on the route; but, before I got to his house, I met two teams, driven by Lauterman and Broadwell, going after furniture which was brought up the river by dug-outs and left at the cabin. As neither had a full load, I went back and made up their loads with some of my most perishable goods. It was more than a month before I got all my goods from the river, yet nothing was molested; there was no one to steal them.

I did a good business, and aside from whites, I had a good trade with the Indians. In 1823, at the land sales, I bought  land, and in addition to selling goods, opened a farm and drove hogs and cattle to St. Louis, until 1830; then sold my goods to my clerk John Williams, now Colonel Williams, and established him in business.
In 1824, the U.S. government sold the land around Second and Jefferson streets, where the temporary county seat was located, Iles recounted in his 76-page memoir, Sketches of Early Life and Times in Kentucky, Missouri and Illinois (1883).
"I bought one quarter; P.P. Enos, Thomas Cox and John Taylor each bought a quarter," Iles wrote. "There was not speculation at that day; we bid off the land at $1.25 an acre." When Springfield was officially designated the Sangamon County seat on March 18, 1825, Iles and Enos donated a total of 42 acres of their property to the county.
Iles' store is Nov. 14 on the reconstructed map of 1828 Springfield.
Iles served as a major during the Winnebago Indian War in 1827 – he was known as Major Iles for the rest of his life – and also enlisted in the Black Hawk War of 1831, during which he reached the rank of captain. His company included a New Salem resident named Abraham Lincoln (Iles was one of Lincoln's pallbearers in 1865). Iles also was elected to the state Senate in 1826 and 1830.
Iles' investments in land development and businesses made him a wealthy man, although, discouraged after the death of his wife, Malinda, he retired from business pursuits in 1866. In his later years, Iles became an early "snowbird," dividing his time between Florida in the winter and central Illinois.
In addition to his role in making Springfield the county seat, Iles was on the committee that organized the effort to move the state capital from Vandalia. He also donated a square block of property on South Grand Avenue as the site for the Home for the Friendless when the home was created in 1863.
The Elijah Iles House, considered the oldest in Springfield (though no longer on its original site), is maintained as a museum by the Elijah Iles House Foundation. Iles Park at Sixth and Ash streets was donated as parkland by Iles' heirs and is named after him.
Elijah and Malinda Iles had two children, Louisa and Thomas, both of whom died childless before their father did. Much of the Iles fortune was left to nieces, nephews and other relatives. The couple is buried in Oak Ridge Cemetery.
Sketches of Early Life and Times in Kentucky, Missouri and Illinois
In 1883, the year of his death, Iles published Sketches of Early Life and Times in Kentucky, Missouri and Illinois, his 76-page autobiography.
In the book, Iles suggests he had little education. He describes his story as "a simple narrative of the wanderings and incidents of a long life spent in what was, at the beginning of that life, the very outpost of civilization. …"
Nonetheless, Sketches creates a picture of Iles as a man with no pretensions , a straightforward manner and a clear understanding of himself and his friends and neighbors. It's not hard to understand how he came to take on the biggest single role in the founding and growth of early Springfield.
Sketches also is not without humor. Here is Iles' account of a prank played on the city's bibulous school teacher.
Our court house was of rough logs, daubed with black mud. A platform for the judge's seat, and the seats for the lawyers, jurors, and others, were of split logs, and the jurors had all out-doors in which to decide on their verdict.

Our school teacher was fond of his dram, and could make a good speech. One day, when the court had adjourned for dinner, some of his scholars drove into the court house a poor calf and twelve geese. The calf was tied on the platform, and the geese carefully driven into the corner usually occupied by the jury. They then got the teacher into the house, well primed, and in good condition to make a speech, and when the court returned from dinner they found the door closed, and Mr. Mendal, the teacher, making an excited speech, addressing the calf as "the honorable judge" and the geese as "gentlemen of the jury."

The judge let him off without inflicting any fine for contempt.
Original content copyright Sangamon County Historical Society. You are free to republish this content as long as credit is given to the Society.