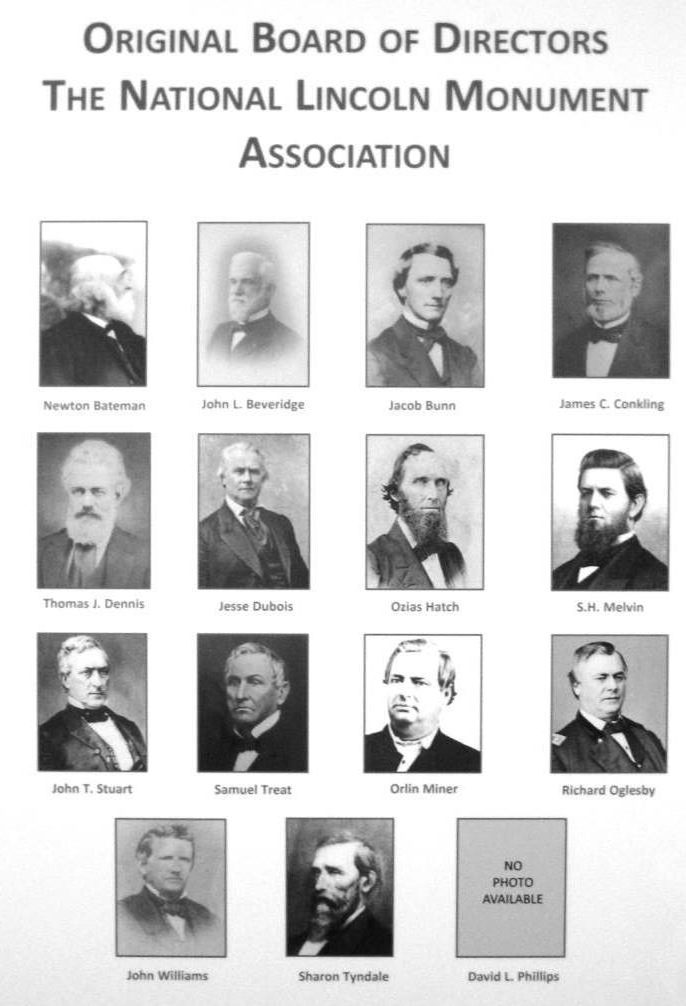 The National Lincoln Monument Association, officially organized on May 11, 1865, oversaw fundraising for and construction of Abraham Lincoln's tomb. Although members originally planned to build the structure on land that now is the site of the Illinois Statehouse, the association — by a single vote — eventually bowed to Mary Lincoln's wishes that her husband be buried in Oak Ridge Cemetery.
The association owned and operated the tomb until 1895, when poor construction and continuing maintenance problems forced the group to turn the tomb over to the state of Illinois.
Here are profiles of the 15 original members of the NLMA.
Gov. Richard Oglesby (1824-99) was president of the association during its entire existence. Oglesby was the only person ever elected governor of Illinois in three different decades. He won elections in 1864, 1872 and 1884, although he served only 10 days of his second term, resigning to bcome U.S. senator from 1873 to 1879.
Orlin H. Miner (1825-80) was state auditor from 1864 to 1869. He was a Vermont native who moved to Springfield in the early 1850s. He briefly joined William Walker's abortive "filibuster" invasion of Central America, but returned permanently to Springfield, where he was named chief clerk under Auditor Jesse K. Dubois. Following his own term as auditor, Miner became secretary of the Springfield Board of Trade and held several high Masonic posts.
John Todd Stuart (1807-85) was Abraham Lincoln's mentor and first law partner. He also served in the Illinois General Assembly and U.S. Congress.
Jesse K. Dubois (1811-76), the NLMA's original vice president,  was a neighbor and longtime political ally of Lincoln, the two having met while both served in the Illinois General Assembly. Dubois — with Lincoln's help — won election as auditor in 1857 and again in 1861. The home where Dubois lived from 1859 to 1863, a half-block from the Lincoln family home, is now part of the Lincoln Home National Historic Site.
James C. Conkling (1816-99), NLMA vice president, was a prominent lawyer, a close associate of Lincoln and a well-known local orator (he gave the major speech at the opening of Oak Ridge Cemetery in 1860). He also served a term as Springfield mayor in 1845.
John Williams (1808-90)  was one of Springfield's first merchants and later a banker, mine owner and friend of Lincoln.
Jacob Bunn (1814-97), banker, investor and developer, was the progenitor of one of Springfield's most prominent dynastic families into the mid-20th century.
Sharon Tyndale (1816-71) was Illinois secretary of state from 1865 to 1869. He was shot to death on the streets of Springfield in 1871 in what remains the city's most enduring murder mystery.
Newton Bateman (1822-79) was elected Illinois superintendent of public instruction in 1858. Between Lincoln's election as president and his inauguration, Bateman and Lincoln occupied next-door offices in the Statehouse and became friends. Bateman later recounted a conversation in which Lincoln supposedly conceded the truth of Christianity — a conversation most scholars have dismissed as unlikely to have occurred as described.
Samuel H. Treat (1812-87) was a federal  judge in Springfield for 32 years and a judge at various levels for 48. As a lawyer, Lincoln appeared before Treat an estimated 1,000 times. According to Treat's obituary, the two also were opponents in chess. Appointed by President Franklin Pierce, a Democrat, Treat reportedly said he would never resign while the Republican Party was in power — and he skipped the opportunity to do so during Grover Cleveland's two administrations. Treat died a childless widower; in a eulogy, former Gov. John Palmer described Treat as a fair, rigorous judge, but "a lonely, desolate old man."
Ozias Hatch (1814-93), NLMA secretary, was Illinois secretary of state from 1857 to 1865 and a close friend and supporter of Lincoln. In his obituary, the Illinois State Register called Hatch "an abolitionist of the most pronounced type. He frequently assisted in the escape of runaway slaves to Canada, and on one occasion he and a companion narrowly escaped being mobbed for their activity in one of these cases." Following creation of the NLMA, Hatch and Oglesby together toured the eastern states to raise money to build Lincoln's tomb.
S.H. (Samuel Houston) Melvin (1829-98) was a druggist, bank president and investor who also was active with the Home for the Friendless and Springfield Library Association. He was "a warm personal friend and neighbor" of Lincoln, the Illinois State Journal reported in 1908. Melvin "lost a fortune" in the Chicago fire of 1873, according to his Register obituary, and moved his family to the San Francisco area two years later. He is buried in Oakland, Calif.
James H. Beveridge (1817-96), as state treasurer from 1865 to 1867, also served as treasurer of the NLMA. Beveridge was a merchant, banker and politician whose family was prominent in  DeKalb County. (Beveridge's brother, John L. Beveridge, was the lieutenant governor who replaced Oglesby as governor in 1873.) James Beveridge is buried in Somonauk.
Thomas J. Dennis (1821-98) was mayor of Springfield when appointed to the NLMA in 1865. He also served 11 terms as alderman. Dennis, an architect and contractor, helped Lincoln Tomb designer Larkin Mead, a sculptor, draw up plans for the structure. Mark Johnson, historian with the Illinois Historic Preservation Agency, says Dennis deserves the credit for the stone balustrade that surrounds the second-level observation deck; Mead's original design called for a painted metal railing. Dennis later moved to Chicago; he is buried in Mount Hope Cemetery there.
David L. Phillips (1823-1880) was a Baptist minister turned politician and newspaperman. Phillips, an early recruit to the Republican Party, became one of its leaders in southern Illinois and, after Lincoln's election as president, was appointed U.S. marshal for the state's southern district. In 1862, Phillips bought a part interest in the Illinois State Journal in Springfield; at first, he directed the paper's business operations, but he took over editorial direction as well in 1874. After the paper was sold in 1878, Phillips became Springfield postmaster, a position he held until his death.
There was some churn in the NLMA board membership, and the association itself was reorganized in June 1885 and renamed the Lincoln Monument Association.
Oglesby was still association president by the time ownership of the tomb was transferred to the state of Illinois in 1895. He was not, however, "the last living member" of the group, as articles about the NLMA often state.
Bunn, Melvin, Beveridge and Dennis were still alive at the time, although for various reasons no longer active with the association, and Conkling not only lived until 1899, he was present at the July 1894 meeting at which the board unanimously voted to turn the tomb over to the state.
Other board members who attended that meeting had been appointed over the years. According to an Illinois State Journal story, they included lawyer C.C. Brown, John W. Bunn (brother of Jacob), Lincoln Dubois (son of Jesse) and merchant/investor George N. Black. U.S. Sens. Shelby Cullom and John Palmer, both former governors, attended by proxy, the story said.
More information: Springfield newspaper files available at Lincoln Library (microfilm or NewsBank)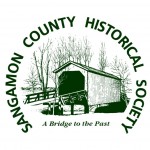 Original content copyright Sangamon County Historical Society. You are free to republish this content as long as credit is given to the Society. Learn how to support the Society.