"Think of us as your Big Apple," White Oaks Mall boasted in ads on Grand Opening Day, Aug. 24, 1977.
Ninety-nine stores lined the corridors of the mall that day, including four "anchor" department stores – Myers Brothers, Famous-Barr, Sears Roebuck and Montgomery Ward – all of which occupied both upper and lower levels at the ends of the mall's wings.
The first stores, among them Osco Drug, Zales jewelers and So-Fro Fabrics, actually opened at White Oaks on March 30, 1977. Interior construction wasn't finished yet, however, especially in the mall's center court.
Grand-opening ballyhoo included appearances by a batch of celebrities, greater and lesser. Ed McMahon, sidekick to late-night talk-show host Johnny Carson, was master of ceremonies. The other main headliner was President Jimmy Carter's feckless brother Billy.
Sports figures included Chicago Bulls center Artis Gilmore; St. Louis Cardinals/Hall of Fame outfielder Lou Brock (who hawked his umbrella hat, the "BroccaBrella" in Springfield); tennis hustler Bobby Riggs; soccer star Kyle Rote Jr.; and 1976 Olympics decathlon champion Bruce Jenner (then still identifying as male; Jenner came out as transgender in 2015 and changed their name to Caitlyn Jenner).
The "celebrity" list was rounded out by Miss Illinois Nancy Beatty, soap-opera actor Tom Hallick, and Illinois Lt. Gov. Dave O'Neal.
Most of the celebs, decked out in white tuxedos, climbed into hot-air balloons for a brief balloon race. McMahon was declared the winner, although Carter claimed he was victorious "because he ended up with the cleanest white tuxedo."
Thousands of people crammed the mall for the opening, including an estimated 150 people lined up to get Jenner's autograph. State Journal-Register reporter Andy Lindstrom reported, however, that two of the most popular celebrities weren't on the official program.
One was Ronald McDonald of McDonald's Hamburgers, who was besieged by autograph hounds.

The other was Mary Shippen, the state poster girl for the Muscular Dystrophy Association. Mary, 6, confined to a wheel chair for the past five years, was a symbol for the grand opening's drive to raise $50,000 to fight the crippling disease.

"She loved meeting all the celebrities," said her father, Robert Shippen of Springfield. "But Ronald McDonald and Mickey Mouse were her favorites."
Stores listed in the State Journal-Register as open at White Oaks Aug. 24, 1977, were:
Lower level
Roberts Brothers (men's clothing)
Gordon's Jewelers
Father & Son (men's shoes)
Winston's Bakery
Susie Casuals (women's clothing)
Stuart's (women's clothing)
The Hub (men's clothing)
Foxmoor (women's clothing)
Waldenbooks
Nobil Shoes
Illini Sporting Goods
Wags Restaurant
S.A. Barker (women's clothing)
Topps & Trowsers (men's clothing)
Mermod Jaccard & King (jewelry)
Buster Brown (children's shoes)
Florsheim (men's shoes)
Swiss Pretzel
Lobers (shoes)
Spencer's (gifts)
Bressmer's (department store)
Aladdin's Castle (entertainment)
Uniform Shop
Athlete's Foot
Luca Pizza
Flowerama
Lowry Organ
Orange Bowl
Shaver's World
Kinney Shoe
Brooks Fashion (women's clothing)
The Children's Shop (children's clothing)
JoAnn Fabrics
Printer's Ink (books)
Hickory Farms (food)
Ms. Ltd. (women's clothing)
Earring Tree
Cookie Factory
Star of India (clothing)
Dutch Mill (candy)
Dockside Galley (seafood)
Circus World (toys)
Jean Nicole (women's clothing)
National Shirt (men's clothing)
Baker Shoes
Osco Drug
Carousel (food)
Upper level
Herndon's (women's clothing)
Merle Norman (cosmetics)
Oriental Gifts
Parklane (hosiery)
Maling Shoes (women's shoes)
Paul Harris (women's clothing)
County Seat (clothing)
The Limited (women's clothing)
Just Pants
MCL Cafeteria
IPCO Optical
Morton's (women's clothing)
Gingiss Formalwear
Kay Campbell (women's clothing)
Bottom Half (clothing)
Hanover (shoes)
Tinder Box (tobacco products)
Zales (jewelry)
Merry-Go-Round (clothing)
Richman Brothers (men's clothing)
The Company (men's clothing)
Musicland (records)
Orange Julius
Life Stride (women's shoes)
Breslers (ice cream)
Air Step (women's shoes)
Thom McAn (men's shoes)
Silvermans (men's clothing)
Motherhood Maternity
Hot Dog on a Stick
The Ranch (clothing)
Service Optical
Tannenburg & Sandervitz (deli)
General Cinema
Book Market
Radio Shack
General Nutrition
Helzberg Diamonds
Claires (jewelry)
House of Faces (cosmetics)
Riggings (men's clothing)
Murray's (shoes)
Kirlin's (cards and gifts)
Casual Corner (women's clothing)
So Fro Fabrics
Byerly Music
Kiosks
Children's Photographer
Things Remembered (variety)
Anchors
Sears
Montgomery Ward
Famous-Barr
Myers Brothers
Maps of the mall indicated 15 storefronts remained vacant at the grand opening.
Forty-five years later, White Oaks, along with malls around the country, had suffered from changing shopper tastes. A walking tour in June 2022 suggested the mall had about three dozen obvious vacancies.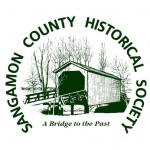 Of the original four anchor stores, three were gone; the fourth, Famous-Barr, was acquired by Macy's in 2006. As a Macy's, it was still in business in 2022. Three other stores remained of the 99 that opened their doors on Aug. 24, 1977: jewelers Helzberg and Zales and Spencer's gifts.
Original content copyright Sangamon County Historical Society. You are free to republish this content as long as credit is given to the Society. Learn how to support the Society.