The John W. Bressmer Co. was founded as a dry goods store in 1861 and later expanded into a full-fledged department store, selling men's and women's clothing, furniture and household items. With Myers Brothers, it was one of downtown Springfield's best-known retailers.
The founder, John Bressmer (1833-1914), came to Springfield in 1848, according to the Portrait and Biographical Album of Sangamon County (1891), "poor, unacquainted with the language and customs of America, but ready to do any honest work and keen to take the advantage of an opportunity to advance." Bressmer became a dry goods clerk in the mid-1850s, and after partnering with others for a decade, became sole owner of his own store in 1868.
For most of its existence, Bressmer's was at 613 612 E. Adams St., although the store had to move into temporary quarters for 18 months following a spectacular fire on May 2, 1948.  Among amenities in the rebuilt Bressmer's was the first escalator in a downstate department store. 
Bressmer's was purchased by the Ayers Corp. in 1958 and then by Stix, Baer & Fuller in 1976, but continued to operate under its own name until 1979. The downtown store closed in 1980.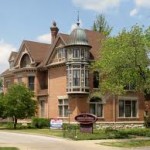 Bressmer-Baker House
The home John Bressmer built at 913 S. Sixth St. is on the National Register of Historic Places. The Queen Anne-style home, now known as the Bressmer-Baker House, recently has been used as law offices.
Hat tip: To Doug Mayol of The Cardologist for pointing out SangamonLink's error regarding Bressmer's address.
More information: Department store summary, Sangamon Valley Collection at Lincoln Library. See also the Bressmer's entry in The Department Store Museum.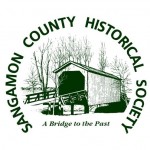 Original content copyright Sangamon County Historical Society. You are free to republish this content as long as credit is given to the Society.