James N. Brown helped create the Republican Party in Illinois. He bred famous shorthorn cattle on a showplace farm that stretched across Sangamon and Morgan counties. He was the second person (behind Cyrus McCormick, but ahead of Jonathan Baldwin Turner and Philip Armour) named to the Illinois Farmers Hall of Fame.
And he founded the Illinois State Fair.
Brown (1806-68) was raised in a prominent Kentucky family, but the Browns moved to central Illinois in 1834, partly because of their growing opposition to slavery. (James N. Brown employed enslaved persons in Kentucky, but released his claim on them when he moved to Illinois. According to accounts when he was named to the Hall of Fame, several of those people moved with Brown to work voluntarily for him in Illinois.)
In Illinois, Brown – known as "Captain" Brown because as a young man he commanded a unit of Kentucky militia – bought 3,000 acres of prairie in the Island Grove area.
"(T)he most enduring basis of his fame … will be found to rest upon the fact that he was the first to recognize that the best way to get the most profit out of good grass and good corn without robbing the land of its fertility was to stock it with good cattle," said Alvin H. Sanders, publisher of The Breeders Gazette, at the 1911 ceremony where Brown was inducted into the Illinois Farmers Hall of Fame.
He was therefore our first great advocate and apostle of conservation. And when he departed this life, in 1868, he left behind not a run-down, worn-out, ready-to-be-abandoned farm that had been worked as a mine and stripped of all its native treasures, but instead he bequeathed the three thousand acres of blue grass pasture known as Grove Park, tenanted by well-bred animals, with every acre richer than when it came into his possession.
Brown was one of three members of a central Illinois delegation that embarked on a stock-buying trip to England in the spring of 1857. Sanders recounted that story.
Of the weary weeks of travel by land and sea at that date it is scarcely necessary to speak. Money was freely risked and time and comfort sacrificed in a supreme effort to place Illinois in the front rank of this essential branch of husbandry. The herds of England and Scotland were seen, selections made, shipments arranged for, and the commissioners returned. Weeks elapsed with no tidings of the good ship Georgia that carried the precious cargo, and it was only when fears were bordering upon despair that she was finally reported safe at anchor at Philadelphia, sixty days out from Liverpool, with several valuable cattle and a fine thoroughbred mare lost at sea. The shipment included besides cattle, a choice selection of Southdown and Cotswold sheep and Berkshire pigs; and Captain Brown afterwards became a successful breeder of these as well as of high-bred horses of the roadster type. …
The animals were sold at auction, Sanders said.
This importation of livestock by Captain Brown, Henry Jacoby and Dr. S.C. Johns gave a great impetus to the breeding of improved livestock … and added much to the well-earned prestige of Illinois as the leading American headquarters for pure bred horses, cattle, sheep and swine.
As a member of the Illinois House of Representatives in 1853, Brown introduced the bill that created the state Board of Agriculture. He was elected its first president, and the legislature set aside $1,000 each for state fairs in 1853 and 1854.
Brown had recognized the need for a state fair to promote and improve Illinois agriculture "from his earliest residence in Illinois," 1911 state fair president John Crebs said at the induction ceremony. "No effort was spared on his part to interest the leading farmers and business men in the completion of such an organization."
As Board of Agriculture president, Brown was responsible for organizing that first fair, which was held Oct. 11-14, 1853 in a 20-acre field on the west side of Springfield. (Brown also was one of the exhibitors; his cattle won six prizes.) Crebs' comment:
Thus was the exposition now known as the Great Illinois State Fair started in a small field enclosed with a rail fence, under the able and popular leadership of Captain James N. Brown. …

The history of the steady and healthy growth of the State Fair would fill volumes and its brilliant achievements … is well known to this audience. No man could wish for a more flattering testimonial than the remarkable record for usefulness made by the Illinois State Fair.
As a politician, Brown was elected to the Illinois House in 1840, 1842, 1846 and 1852. He was described as an "Old Line Whig," in agreement with Abraham Lincoln. At the Hall of Fame ceremony, Springfield attorney Clinton Conkling discussed Brown's conversion to the Republican Party.
Under these circumstances there met in 1857 in Springfield, for friendly conference, a group of men prominent in the councils of the Whig party in the State. Captain Brown was one of these men. Each gave his views and stated his position with reference to the two dominant parties. When called on to state his position, Captain Brown said, "My friends, I have been a Whig all my life. I cannot be a Democrat. From this time on I am a Lincoln Republican." And such he remained until the day of his death.
Lincoln supported Brown too – when Brown ran again for the House in 1858, Lincoln collected excerpts from his speeches for Brown to use in campaigning. It didn't help enough. "(T)he prejudices of the voters, very many of whom had come from Kentucky, were too strong to be overcome, and Captain Brown was defeated," Conkling said.
Brown was buried wearing the honorary pallbearer's sash he wore at the funeral of Abraham Lincoln. His grave is in Woodwreath Cemetery on Old Jacksonville Road west of Berlin. Island Grove Methodist Church, which Brown helped found and where he was Sunday School superintendent for 30 years, is in the middle of the cemetery.
The Brown home itself was destroyed by fire in the 1940s.
Other history
The Grove Park area was a stopping place on the Potawatomi Trail of Death, the route traced by hundreds of Potawatomi Native Americans who underwent forced relocation from Indiana to Kansas in 1838.
The 21st Illinois Infantry Regiment, commanded by U.S. Grant, also paused at Grove Park while marching to relieve besieged Union forces in Missouri in July 1861. According to Clinton Conkling at the Hall of Fame induction:
On the fourth of July 1861, a great gathering from all the neighboring country was held there (Grove Park), Peter Cartwright being the orator of the day. Captain Brown having learned that Colonel Ulysses S. Grant at the head of the Twenty-first Regiment of Illinois Volunteers was on that day marching overland on the way to Quincy, sent him an invitation to stop at Grove Park with his troops. This invitation was accepted and for about two hours near midday the regiment rested under the green trees and took part in the celebration, Colonel Grant and his officers being guests of Captain Brown.
Illinois Farmers Hall of Fame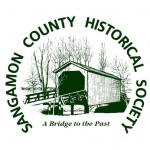 Hall of Fame selections were made only between 1909 and 1917. Eight honorees were chosen and their portraits – either oil paintings or photographs – put on display in the Agricultural Library in Mumford Hall at the University of Illinois. Only one of those paintings – that of Isaac Funk of Funk's Grove – remains at the U of I today. The locations of the others, including that of James N. Brown, are unknown.
Original content copyright Sangamon County Historical Society. You are free to republish this content as long as credit is given to the Society. Learn how to support the Society.