UPDATED with information from Lincoln's Springfield: The Funeral of Abraham Lincoln, by Richard Hart (2015).
Some confusion exists regarding who were the pallbearers for President Abraham Lincoln in May 1865 in Springfield. Springfield newspapers published two slightly different lists preceding the ceremonies — partly, apparently, because at least one designated pallbearer was too ill to attend the funeral, and partly because there were, essentially, two funeral processions.
Ten men were on both lists:
Jesse K. Dubois (Illinois secretary of state, Lincoln neighbor)
Stephen T. Logan (Lincoln's second law partner)
Gustavus P. Koerner (lawyer, judge, friend of Mary Lincoln)
James L. Lamb (meatpacker, industrialist)
Samuel H. Treat (Springfield-based federal judge)
John Williams (merchant, land developer)
Erastus Wright (educator, abolitionist)
James N. Brown (shorthorn cattle innovator who served in the Illinois House with Lincoln)
Jacob Bunn (merchant, banker, investor)
Charles W. Matheny (merchant, developer, son of Sangamon County pioneer Charles R. Matheny)
A list published in the May 4 Illinois State Journal included the following two dignitaries:
Elijah Iles (pioneer store owner)
John T. Stuart (first Lincoln law partner, U.S. representative)
Other lists omit Iles and Stuart in favor of:
William Elkin Sr. Elkin, a farmer, politician and friend of Lincoln, who missed the funeral due to "an acute illness."
Gershom Jayne (Sangamon County's first physician)
In his Lincoln's Springfield, researcher Richard E. Hart says the differences are explained because there were two processions: one from the Chicago & Alton railroad station at Third and Jefferson streets to the Statehouse (now the Old Capitol State Historic Site), and the other from the Statehouse to Oak Ridge Cemetery. Iles and Stuart were not pallbearers in the first, but replaced Jayne and Elkin (perhaps due to his illness) in the second, Hart says.
(Hart also says the Illinois State Register list did not include Erastus Wright as a pallbearer. It's not clear what edition of the Register Hart is referring to, but Wright was among a list of pallbearers listed in the May 3 Register.)
Confusion over the pallbearers isn't just present-day. On May 8, 1865, the Journal published a correction to its list of pallbearers. "In the list of Pall Bearers published by us, in the report of the obsequies of President Lincoln, the names of ex-Gov. John Wood and Hon. W.B. Archer were omitted. They will appear in the Weekly."
Wood served as governor in 1860 and '61. W.B. Archer of Clark County had been a state legislator and had supported Lincoln as a Republican candidate for vice president in 1856. Hart lists Wood and Archer as participating in the procession from the train station to the Statehouse, but does not say where their position was in the procession, as he does for the other 12 pallbearers.
In the final procession to Oak Ridge Cemetery, the group of pallbearers was preceded by "surgeons and physicians of the deceased" and followed by the "horses of the late President, led by two grooms."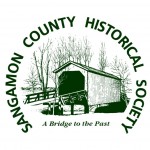 Original content copyright Sangamon County Historical Society. You are free to republish this content as long as credit is given to the Society.