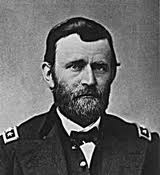 Ulysses S. Grant's rise to commander of U.S. forces in the Civil War began at dinner in a now-anonymous Springfield hotel.
Because of his earlier military career, Grant had agreed to accompany a company of Union volunteers from Galena to Springfield, where it was to be mustered. Grant, however, was not an officer with the Galena group, and he expected to return to Galena. He described what happened next in his Personal Memoirs of U.S. Grant.
In time the Galena company was mustered into the United States service. … My duties, I thought, had ended at Springfield, and I was prepared to start home by the evening train, leaving at nine o'clock. Up to that time I do not think I had been introduced to Governor (Richard) Yates, or had ever spoken to him. I knew him by sight, however, because he was living at the same hotel and I often saw him at table. The evening I was to quit the capital I left the supper room before the governor and was standing at the front door when he came out. He spoke to me, calling me by my old army title "Captain," and said he understood that I was about leaving the city. I answered that I was. He said he would be glad if I would remain over-night and call at the Executive office the next morning. I complied with his request, and was asked to go into the Adjutant-General's office and render such assistance as I could, the governor saying that my army experience would be of great service there. I accepted the proposition.

My old army experience I found indeed of very great service. I was no clerk, nor had I any capacity to become one. The only place I ever found in my life to put a paper so as to find it again was either a side coat-pocket or the hands of a clerk or secretary more careful than myself. But I had been quartermaster, commissary and adjutant in the field. The army forms were familiar to me and I could direct how they should be made out.
Grant later was put in charge of mustering new Illinois volunteers, a position in which he worked with Brig. Gen. John Pope, who was the federal mustering officer in Springfield. At one point Pope offered to intercede with state political figures to get Grant a command position. "I declined to receive endorsement for permission to fight for my country," Grant acidly commented in the Memoirs.
Ultimately, Yates named Grant colonel of the 21st Illinois Infantry, a Mattoon regiment whose members had refused to go into service under command of their previously elected colonel. Grant joined the 21st at the old state fairgrounds, renamed Camp Yates, west of Springfield (Dubois School now occupies part of the site; a historic marker is at the school's main entrance).
Some soldiers in the 21st, Grant found, "could be led astray. … It was said that (the former colonel) even went so far at times as to take the guard from their posts and go with them to the village near by and make a night of it. When there came a prospect of battle the regiment wanted to have some one else to lead them."
"(A) little regular army punishment" quickly brought the regiment into good discipline, Grant wrote.
On July 3, 1861, Grant began marching his men toward Quincy — the regiment could have taken the train, but Grant thought a march would be "good preparation for the troops." (A plaque on Old Jacksonville Road near Riddle Hill marks the early part of the 21st's route.)
When the regiment reached the Illinois River, however, Grant's force was ordered to Ironton, Mo. and then rerouted again to Quincy to aid another Illinois regiment that was surrounded by rebels at Palmyra, Mo. So the 21st got to take a train the rest of the way anyway.
Grant returned to Springfield as president in 1874, when he gave brief remarks at the dedication of the tomb of President Abraham Lincoln. "To know him personally was to love and respect him for his great qualities of heart and head, and for his patience and patriotism," Grant said of Lincoln. "In his death the nation lost its greatest hero. In his death the South lost its most just friend."
Grant's daughter, Nellie Grant Jones, who married a Springfield native, is buried in Oak Ridge Cemetery.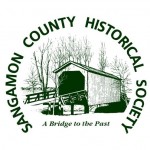 Original content copyright Sangamon County Historical Society. You are free to republish this content as long as credit is given to the Society. Learn how to support the Society.