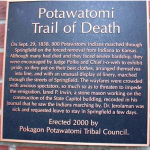 The Potawatomi Trail of Death is the name given to the forced removal in 1838 of more than 800 Potawatomi Native Americans from north-central Indiana to eastern Kansas. A total of 41 people, mostly children, died during the 10-week, 660-mile walk.
Traveling through Illinois, the Potawatomies camped at three points in Sangamon County: along the Sangamon River east of Springfield; at McCoy's Mill, near present-day Riddle Hill; and at Island Grove. There are markers commemorating the Trail of Death at or near all three sites. Another marker on the Old Capitol Plaza (above) records that the Potawatomies passed the building on their way from the Sangamon River campsite towards Riddle Hill.
A diary of the march records the Potawatomies' passage through Springfield on Sept. 29, 1838.
The Indians amongst whom a degree of pride was excited, arranged themselves into line, and with an unusual display of finery and gaudy trumpery marched through the streets of Springfield. The wayfares were covered with anxious spectators, so much so indeed as to threaten for a time to impede the progress of the Emigration. We passed clearly through, however, and that too without the detention of a single Indian.
Original content copyright Sangamon County Historical Society. You are free to republish this content as long as credit is given to the Society.