Note: This entry was significantly expanded in July 2023. See "Hat tips" below.
Susan Lawrence Dana (1862-1946) was a Springfield socialite, activist and philanthropist best known for commissioning architect Frank Lloyd Wright to transform her family's Civil War-era home at 301 E. Lawrence Ave.
Susan's father was Rheuna Drake Lawrence (1837-1901), a wealthy businessman with property holdings in Sangamon County and mining interests in Colorado and Oregon. Lawrence served a term (1891-1892) as Springfield mayor and at his death was president of both the State National Bank of Springfield and the Springfield School Board.
The Springfield School District's Lawrence Education Center, built in 1904 at 101 E. Laurel St., was named in his honor. Lawrence's wife was the former Mary Agnes Maxcy (1841-1905).
Susan Lawrence Dana was the couple's only child who lived to adulthood. When Rheuna Lawrence died, Susan and her mother inherited a $3 million estate (about $100 million in 2023 values).
Naming note: Susan was married three times, to Edwin Dana, Lawrence Joergen-Dahl and Charles Gehrmann (see link below). She is buried under her birth name, Susan Z. Lawrence, but is often referred to as Susan Lawrence Dana, and her former home is officially the Dana-Thomas House State Historic Site.
The Dana-Thomas House
In 1902, Susan contracted with Wright to transform the family's Italianate-style home by replacing the original structure with an ultra-modern, Prairie-style brick design. The project was completed in the summer of 1904. Susan supposedly gave Wright a blank check to carry out his plan. While her personal expense records indicate she was more frugal than history portrays her, Susan is estimated to have spent $60,000 (about $2 million in 2023) on the remodeling. (As an aside, while the Dana-Thomas House project is generally said to have begun in 1902, Wright personally recorded the start date as 1899, according to The Vision of Frank Lloyd Wright: A Complete Guide to the Designs of an Architectural Genius, by Thomas A. Heinz (2016).
Susan used her new home to showcase European statuary (often reproductions) and to exhibit art from her personal collection. Wright, as he customarily did, designed the home's furnishings, fabrics, stained-glass windows, and other accoutrements. Susan lived in the home from 1904 until 1928. Her mother and a cousin, Flora Lawrence, lived with her, along with a staff of assistants.
Activism and Interests
A forward-thinking woman for her era, Susan Lawrence strove for the rights of women and for African-Americans.
"Despite the fact that Susan internally harbored severe self-doubts, she developed an image in the Springfield community that was legendary," Roberta Volkmann wrote in Susan Lawrence: Enigma in the Wright House (2012). "The opening of the Lawrence House launched a seven-year period in which she was a generous philanthropist, a willing volunteer, a flamboyant hostess, and an extensive world traveler. The local newspapers documented most of her extravagant public life."
A 1905 Illinois State Register article on the Lawrence family's community assistance commented on how Susan and her mother "have entertained not only the elite of the Capital City society, but have charitably opened their home to Springfield charities—the Rescue Home, Home for the Friendless, Old Folks Home, and others. No color line has been drawn in the charity extended."
The practice of philanthropy extended back to Susan's mother, Mary Agnes. Early on, she partnered with African-American activist Eva Carroll Monroe (1869-1950) to help raise money for the Lincoln Colored Home on South 12th Street in Springfield. Historian Katie Brethorst notes that, "Eva and Susan had a falling out … (but) … Susan continued to pay rent on the Lincoln Colored Home until she was living in a nursing home and her power of attorney stopped paying."
In 1902, the family created the Rheuna D. Lawrence Memorial, which offered local high school students $5 to $20 in gold as prizes for their "highest proficiencies" in oratorical or manual training. The first prizes were awarded in 1903, with the gold reportedly coming directly from the U.S. Mint. As another educational initiative, Susan in 1912 financed an effort to have the Montessori teaching method attempted at Lawrence School. Not much is recorded about that  endeavor, but the Montessori approach was not extended to other Springfield public schools.
Lawrence School benefited from another initiative of Susan's: at her request, Wright designed the school's library, employing the same Prairie-style motif he used for the Lawrence home.
Susan was a woman's rights activist for much of her life, starting with suffragist politics prior to Illinois women winning the right to vote in 1913; that included a period as president of the Springfield Equal Suffrage Club. In 1923, Susan was appointed legislative chairman of the Illinois branch of the National Woman's Party, in which capacity she campaigned from her home to pass legislation in Illinois that granted equal rights to women. While Susan's effort was mostly unsuccessful, it helped give women an early path to enter the larger political debates of their era.
Susan also joined the board of the Hillside Home School in Wisconsin, a day and boarding school founded by the aunts of Frank Lloyd Wright. In his 1943 autobiography, Wright credited Susan with providing financial assistance (via a loan) to complete the Art and Science wing of the school.
Susan, a believer in spiritual mediums, held occasional séance gatherings in her home. She went on to create the short-lived Lawrence Center for Constructive Thought to advance the cause of "New Thought," a late 19th- to early 20th-century spiritual and self-improvement effort frequently led by female instructors and practitioners.
End of Life
Susan grew increasingly despondent after the death of her cousin, Flora Lawrence (1853-1928), who had lived with her and served as a companion. The lavish dinner parties came to a halt about this time, and Susan gradually withdrew from the public eye. Although Susan still owned land and commercial holdings, she was unable to keep up with the expenses of her home, and she moved out of the Wright-designed structure into an adjacent cottage.
Susan was hospitalized in 1942 and declared unable to handle her personal affairs. Her personal property was put up for auction in the summer of 1943. Over a six-day period, auctioneers sold off nearly all her belongings, including some Wright-designed furnishings and accessories. Newspapers reported that Susan "netted enough to pay all debts and leave (her) a clear $100,000" in 1943 dollars.
Charles C. Thomas (1882-1969) bought the house and most of its furnishings in 1943 and converted it to offices for his medical publishing house. Although no one had lived in the home for 15 years by then, Thomas said, "the house is so well constructed and is so sound, the extent of damage due to neglect and non-occupancy has been really very small."
Susan Lawrence Dana, the once fiercely independent and popular socialite, died in St. John's Hospital on Feb. 20, 1946, at the age of 83. There were no family members or friends at her side to bid her farewell.
The state of Illinois bought the home and remaining furnishings for a reported $1 million in 1981 and opened it to the public as the Dana-Thomas House State Historic Site. Gov. James R. Thompson, an antiques collector himself, engineered the home's purchase; it is the only property obtained by the state solely on the basis of its architectural significance. The non-profit Dana-Thomas House Foundation was created in 1983 to support the home's on-going use and care. The house was renovated, at a cost of $5 million, in 1988-1990.
Update: After the above entry was published, SangamonLink reader Paul Barker provided us with a state of Illinois news release from May 2007 that contained much more background on the 1943 sales of Susan's assets and the role the Barker family played in preserving the house and many of Wright's crucial design elements.  Our thanks to him. Here is the release, very lightly edited:
It took 64 years, but some items purchased during an auction at the Frank Lloyd-Wright designed Dana-Thomas House are returning home, thanks to the generosity of a Springfield family who purchased the material during the 1943 sale.

The Morton D. Barker, Jr. family today donated the original artifacts to the Illinois Historic Preservation Agency, which administers the Dana-Thomas House.  Among those present for the ceremony were family members R-Lou Barker, Robert John and Anne Barker, and John Andrew Barker.

"I am pleased to return Susan's personal items to the Dana-Thomas House.  They are so particular to what would have been precious to her," said R-Lou Barker.

The donated materials include:

A three-piece, matching christening outfit with the original price tags still attached, purchased in Paris by Susan Lawrence Dana for the child she never had.

A large circa 1920 Turkish Oushak rug owned by Susan.

An Abraham Lincoln print owned by Susan's father, Rheuna Lawrence, that hung in the original, Victorian style Lawrence home.

Five Japanese block prints, three of them made in the 1700s and two around 1900, that were said to be a gift from the Emperor of Japan to the home's architect, Frank Lloyd Wright, who then gave them to Mrs. Dana.  These prints were displayed on print tables specifically designed by Wright for that purpose in the home's Gallery Room.

The July 1943 auction of Susan Lawrence Dana's properties and personal effects was perhaps the largest in the history of Springfield and required five days, and several stores in the downtown area displayed some of the thousands of items that were being put up for sale.

Susan's estate, which included the Dana House, the Lawrence Building on South Sixth Street and the Roland Building on the southeast corner of Sixth and Adams, was sold to the firm of Barker, Goldman and Lubin Co., of which Morton D. Barker, Sr. was the senior partner.  Earl Bice, Susan's lawyer, arranged the sale, with Springfield's Marine Bank acting as Trust Officer.  The Sixth Street properties were considered prime real estate at the time, but the Dana House, built in 1904, was not.

The auction of Susan's personal effects, presided over by auctioneer Luke Gaule Sr., occurred in a large tent at the corner of Fourth and Cook Streets.  Barker and his partners determined that what was not sold at auction would remain with the house, which kept the home's priceless furniture and art glass intact.

Susan Lawrence Dana was by then a full-time patient in St. John's Hospital, where she eventually died in 1946.  Susan (1862 – 1946) had outlived all members of her immediate family, but witnesses at the time reported that Mrs. Dana was alert enough during the auction to ask, "Did you know they're selling my things today?"

A few weeks later, Charles C Thomas Publishing announced they were in the process of purchasing Mrs. Dana's home from Barker, Goldman and Lubin Co.  The sale of the 12,600-square-foot home was finalized in April 1944.

Charles C Thomas Publishing maintained the house, its extensive collection of Wright-designed oak furniture, and its world class set of 450 art glass windows, doors, and light panels for the next 37 years until the house and its contents were purchased by the State of Illinois in 1981.  It has since served as a house museum, attracting more than one million visitors.

"This major gift from the Barker family brings us yet closer to the goal of owning and displaying all of the major artifacts related to the house," said Site Manager Donald Hallmark.
More information: Susan Lawrence: Enigma in the Wright House (2012) by Roberta Volkmann is the definitive biography. Additional information is at Susan Through the Art Glass, an online documentation of the life of Susan Lawrence created by Katie Brethorst.
The Dana-Thomas House Foundation has much more about the historic site; if you haven't visited the site, be sure to look at the dozens of spectacular photos of the home's interior and furnishings on the foundation's Dana-Thomas House Gallery page.
See also SangamonLink's 2013 entry, Frank Lloyd Wright's Dana-Thomas House.
Another 2023 SangamonLink entry, Susan Lawrence's secret marriage, discussed her three husbands.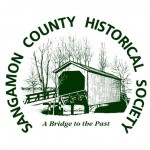 Hat tips: To William Cellini Jr., who wrote the bulk of this entry; and Cinda Ackerman Klickna of the Dana-Thomas House Foundation for assistance in editing.
Original content copyright Sangamon County Historical Society. You are free to republish this content as long as credit is given to the Society. Learn how to support the Society.