Eva Carroll Monroe (1868-1950) created and operated the Lincoln Colored Home, the first orphanage for African-American children in Sangamon County, from 1904 until 1933. As of early 2019, the building, though empty and boarded up, still stood at 427 S. 12th St. in Springfield.
It was a struggle to create the home, and keeping it open never got any easier.
Monroe moved to Springfield from Kankakee in 1896 and went to work at the Prince Sanitarium, a private surgical facility at Seventh Street and Capitol Avenue, according to an application for historic designation on file at Lincoln Library.
One day, the application says, "Mrs. Monroe … spotted several ragged little children on the street. She took them into her own meager lodgings and determined to establish a safe haven for children such as they who were not welcome at the Home for the Friendless, (a) 'whites only' orphanage in existence at that time."
Monroe, who later became a Sangamon County probation officer, and her sister Olive "Ollie" Price raised $125, enough to put a down payment on an old home (supposedly haunted) at 427 S. 12th St.
"She took in children and elderly women and traveled the state soliciting anyone who would listen for money, coal, straw or furniture for the drafty old house," the application says. "Finally her heroic efforts caught the attention of Mrs. Mary Lawrence, and the two struck a partnership of paramount importance to the success of (Monroe's) project."
Lawrence, the wife of former Springfield mayor Rheuna Lawrence, and Monroe set out to construct a new building for what had become known as the Lincoln Colored Old Folks and Orphans Home. Funds to pay off the mortgage on the old home and build the new facility came from a combination of fundraising among local African-Americans and a major contribution from Lawrence, who took title to the home.
Monroe and the home's 37 inmates had to live in tents on the site while construction was under way, although Lawrence did use her influence to have a water system installed for the tent residents, according to a history of the home compiled by Carmelita Banks in 1989. (Banks' research, which included interviews of people familiar with Monroe and the background of the Lincoln Colored Home, was a major resource for the landmarking application, as it is for this SangamonLink entry. A copy of Banks' paper is available in the Sangamon Valley Collection at Lincoln Library.)
Brick for the home was left over from construction of Lawrence School (named after Rheuna and Mary Lawrence). The Lincoln Colored Home also benefited from the fact that Lawrence's daughter, Susan Lawrence Dana, was in the process of building her new showplace home, designed by Frank Lloyd Wright, at Fourth Street and Lawrence Avenue; windows, frames and some doors in the Lincoln Colored Home came from the former Lawrence home.
Banks described the results:
When the building was completed, it had hardwood floors, heavy woodwork, one bathroom per level and a side porch with pillars. The first floor had a living room with large sliding wooden doors, a foyer, dining room and kitchen; the upstairs, six bedrooms with individual transoms; the basement, the laundry and playrooms.
Residents of the Lincoln Colored Home — eight elderly women and 29 children — moved in on New Year's Day 1904. Demand for the home's services was heavy – at times over the years, as many as 60 to 70 people crowded into the building, although Monroe later reduced its population to a more practical two dozen.
As reported in the Cook-Witter Report of March 5, 2003:
The June 3, 1928 edition of the Illinois State Journal described the Lincoln Colored Home as having "none of the characteristic grimness of an institution. It is a Home and no less … the presence or near presence of happy children is conveyed to one irresistibly … girls skipping ropes and boys and girls playing jacks or hopscotch with the quiet manner of a contented family." … The Lincoln Colored Home is a testament to the spirit of cooperation of one black and one white woman sharing a mission and bringing their communities together to accomplish a common goal – creating a safe environment for black children. That may not seem like such a big deal today, but a hundred years ago, that kind of team effort would have been a rare feat.
Unfortunately, Lawrence's death a year after the home opened left it in tenuous financial circumstances, a problem that was never overcome. Sangamon County provided a subsidy for many years, and the Springfield Colored Women's Club was a reliable ally, as were many other African-American churches and clubs. But Monroe still had to result to a variety of fundraising tactics, such as an annual tag day.
Racism was another obstacle. In 1913, an Illinois State Register story claimed members of a state investigating committee had found that:
(F)or many years southern planters had sent negro and mulatto girls to the home as a medium of disposing of illegitimate children. Further, it was charged that white women had been received in the home and there had given birth to colored babies. The case of a Springfield white woman, said to be a member of a well-known family, was cited as being characteristic. This woman was said to have given birth to two white babies and two colored babies in this home.
The newspaper retracted the story the next day, conceding that the committee hadn't even visited the home when the scurrilous article was published. "Contrary to the reports," one committee member was quoted, "we find the Lincoln home admirably conducted."
As social services became more sophisticated, however, the self-taught Monroe did not have the professional credentials that had become increasingly necessary. As a result, the Lincoln Colored Home's license was not renewed in 1932, and it was forced to close the next year. In the home's stead, local officials created the Negro Children's Service Bureau of Sangamon County. The bureau later was absorbed into today's Family Service Center.
Eva Carroll Monroe continued to live in the former Colored Home until she was hit by a car and incapacitated in 1943. She died in 1950.
Historic site
The Lincoln Colored Home has been designated a historic building by the Springfield Historic Sites Commission and is on the National Register of Historic Places. It has been through a number of owners, including the late Tuskegee Airman Lyman Hubbard, since the orphanage was closed. Efforts continue to restore the unoccupied structure.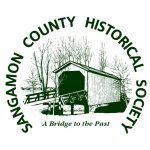 More information: Wanda Hendricks wrote a fuller treatment of the career of Eva Carroll Monroe for the Illinois History Teacher in 2003.
Editor's note: This entry, first posted in 2013, was significantly expanded in early 2019.
Original content copyright Sangamon County Historical Society. You are free to republish this content as long as credit is given to the Society.