By one measurement, Robert Preston Taylor (1876-1951) goes into history as the first African-American graduate of the old Lincoln College of Law in Springfield. But that would ignore Taylor's more significant achievement: bringing to life exhibits at the Illinois State Museum.
Despite his degree, earned in 1915, Taylor never practiced law. He went to work at the museum in 1912 and remained there until 1949. Hired as a custodian – his official title for his entire career – Taylor actually wore many hats over his decades at the museum, with roles that ranged from taxidermy to painting to guiding tours. As The Living Museum, the institution's magazine, put it when Taylor died:
When Robert came to the Museum in 1912, he was not only the custodian but also the taxidermist, carpenter, preparator, exhibits technician and everything else that the director and his secretary, the only other staff members, could not do. Therefore, many of the exhibits were installed by Robert alone. So it is no wonder that he loved every rock and bone, every life-like animal and wax mushroom in the Museum.
Taylor was born and grew up in Boonville, Ind. The Illinois State Journal said later that Taylor "spent his boyhood days on a farm and in a coal mine, getting a little schooling as he went along." As a young man, Taylor cared for horses in Indiana and then in Paris, Ill., where he was chief caretaker for a well-known trotting horse, Zenda. (Taylor's interest in horses lasted his entire life. Not only was he an avid fan of harness racing, he collected horseshoes worn by champion trotters and pacers.)
Taylor married Joanna "Anna" Whitted of Paris in 1901.
In 1911, the Illinois State Civil Service Law went into effect, allowing all citizens to take civil service exams in an effort to eliminate patronage hiring based on politics, religion, and influence. Taylor and 20 others from around Illinois took the janitor exam on Nov. 2, 1911. The test included written and oral questions about education, experience, and prospective job duties. Taylor received the highest general average, 93 percent, and was placed first on the eligibility list.
While Taylor waited for a vacancy, the State Civil Service Commission was investigating museum custodian Ben Sheplor for disobedience and inefficiency — the museum curator filed charges against Sheplor for not scrubbing chair seats as requested and for lacking a "delicate touch" in cleaning museum specimens. Sheplor was dismissed, and Taylor was hired to fill the vacancy. He began work Jan. 1, 1912, earning $83.33 per month.
Meanwhile, Taylor also had entered the Lincoln College of Law, housed in the Unity Building at  Fifth Street and Capitol Avenue. The only requirement for admission was a general education equaling four years of high school. Annual expenses for tuition and books were $85. Taylor took night classes from 7 p.m. to 9:30 p.m., four days a week, for three years. He received his bachelor's of law degree in 1915, the first African-American to graduate from the college. It is not known whether he took the bar exam, but in any case, Taylor devoted his working life to the museum.
When Taylor joined the museum in 1912, it was on the second floor of the old Illinois State Arsenal and was staffed only by the curator, Dr. Alja Crook, and secretary Fanny Fisher. Crook was a college professor, author, and founder of the Illinois State Academy of Science. He was state museum curator and later director from 1906 to 1930 and increased collections, funding, recognition, and prestige for the museum. Taylor also worked under directors Arthur Coggeshall from 1931 to 1937 and Thorne Deuel from 1938 to 1949.
In 1923, the museum moved to the fifth floor of the Centennial Building. There, Taylor conducted tours and interpreted exhibits. He learned taxidermy and prepared bird and mammal specimens. He was also in charge of mounting and caring for specimens and cases.
As the museum grew, Taylor worked with eminent artists and scientists, such as Robert Bruce Horsfall, wildlife illustrator and author, and Charles Abel Corwin, staff artist at the Field Museum of Natural History in Chicago. The three men collaborated on a moose exhibit for  which Horsfall and Corwin created the background and Taylor created the foreground. Taylor also created foregrounds for white-tailed deer, mountain lion, and Kodiak bear exhibits.
By 1941, the museum employed an artist, assistant dioramist, botanist, dioramist, editor, paleontologist, preparator, secretary, and zoologist, with Taylor continuing as custodian. It is not known whether he took additional civil service exams for alternate job titles.
Taylor also conducted research at the Illinois State Historical Library, which was on the third floor of the Capitol. The research may have been for his professional work at the museum or in preparation for his public speaking engagements about African-American history. For instance, in 1915, Taylor presented a paper to the Springfield Culture Club about the history of African-American soldiers in the Civil War. In 1943, at a Lincoln banquet in Paris, Illinois, he gave a talk entitled "Frederick Douglass, the Abolitionist, and Lincoln". Again in 1943, Taylor presented the life of Crispus Attucks and an account of the Boston Massacre for the Springfield Colored Women's Club.
Taylor's father George (1844-1906), born into slavery, served during the Civil War in the U.S. Colored Infantry and was at Appomattox when Robert E. Lee surrendered. In commemoration of his father's service, when the Grand Army of the Republic held one of its last grand encampments in Springfield in 1940, Robert Taylor donated roses for the lapels of every GAR veteran at the encampment.
Taylor was active in the Springfield NAACP and a member of the Springfield Chamber of Commerce, the Illinois Academy of Science, the Mid-Day Luncheon Club, St. Paul's AME Church, and the Springfield Civic Orchestra Association. Taylor organized the 125-voice Lincoln Chorus of the Douglass Community Center, according to his obituary.
Taylor retired from the museum on Jan. 1, 1949, at the age of 72. He died at his home two years later and is buried in Oak Ridge Cemetery. Anna Taylor lived in their home for 25 more years, until the age of 100; she is buried beside her husband.
Legacy
Just as Lincoln's Emancipation Proclamation catapulted African-Americans like George Taylor into Civil War service, so did civil service reform and the Lincoln College of Law catapult Robert Taylor into a new professional career. Taylor cared deeply for the Illinois State Museum and nurtured its specimens and exhibits, as is evident in this 1949 tribute to Taylor from the museum:
It was he who set mousetraps at the feet of the moose when rodents were discovered in the sugar snow of that exhibit, he who replaced the glass eye of the bison when that limpid orb dropped out. It was he who periodically climbed into the mushroom exhibit and cleaned the wax fungi, dusted the trees and replaced the ground cover, he who repaired the 'sky' when it dropped into the elk case, who dusted the Indians and saw that their campfire continued to burn.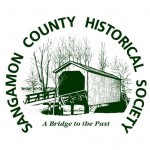 Contributor: Mary Frances is a 2023-24 Illinois Humanities Road Scholar. She will travel throughout Illinois giving talks about the photographs in her new book, African Americans in Springfield. To schedule a talk, contact her at 217-698-6090.
Original content copyright Sangamon County Historical Society. You are free to republish this content as long as credit is given to the Society. Learn how to support the Society.