The space age hasn't been kind to Springfield's first parking ramp.
The 450-car, $725,000 ramp opened to the public on March 17, 1963. The "gala open house" included free coffee, Coke or Bubble-Up and a Mel-O-Cream donut for every person parked in the ramp.
"The new skyline silhouette in downtown Springfield is the culmination of anticipated long-range urban parking needs," DPI said in its opening-day newspaper ad, "and it is majestic testimony to faith in the continued growth and prosperity of the downtown shopping district."
Downtown business owners created DPI in 1952, following a study that showed downtown had fewer than 3,000 parking places to accommodate the 44,000 cars that entered the area daily. Business people and officials agreed traffic and parking congestion was one of the city's most glaring drawbacks.
"Springfield is growing by leaps and bounds in the outlying districts," city Health & Safety Com. Joseph Kohorst declared in 1952, "while the downtown area seems doomed to antiquity."
As its first move, DPI paid $250,000 to buy the former site of Immaculate Conception Church ("Old St. Mary's," Springfield's oldest Catholic church) on the northeast corner of Seventh and Monroe streets.
"(T)he corporation raised funds, purchased the site (and) razed the old cathedral in less than a month," the Illinois State Journal reported on New Year's Eve 1952. "By Christmas more than 600 cars a day were using the lot."
DPI continued buying land for surface lots whenever possible. Its second lot was developed in the 300 block of East Washington Street. The third, in the 400 block of South Sixth Street, meant demolition of a mansion where members of the Bunn family had lived for a century.
By the time DPI began planning its first parking ramp, the corporation had eight surface lots that, cumulatively, provided 460,000 parking spots annually in and near downtown. The Journal declared DPI a success in 1959.
Before the firm was established in 1952 there was a lot of talk to the effect that the city should take the responsibility to provide off-street parking lots. But the city had no money and no action was ever taken. Eventually the traffic congestion became so bad that businessmen organized Downtown Parking to provide more parking space.

The Park 'N Shop lots have been successful beyond all expectations. Filled to capacity nearly every weekday, they mean additional space for thousands of shoppers on the streets, and congestion except during rush hours has been relieved to a large extent. Moreover, downtown businessmen profit from what they themselves have done.
In January 1962, DPI bought the southwest corner of Fourth and Washington streets from developer William Gingold. Combined with DPI's existing surface lot to the west, the land became the site of a six-level "space age" parking ramp.
The new ramp was designed by National Garages – it was identical to one the firm designed in Dayton, Ohio – and built primarily by two local firms, Evans Construction Co. and Henry Nelch & Son Concrete.
"The new parking structure will be the first of its type in Springfield," the Journal said in announcing DPI's plans. "It will have an interior ramp around the perimeter leading to all floors. Descent will be made by a spiral ramp in the center of the structure. … An elevator in the front of the building will serve patrons." On opening day, the lobby housed a small coffee bar, the Park 'N Shop Coffee Pot.
Mayor Lester Collins called the new ramp a symbol of progress for Springfield, and the city's planning director, Bradley Taylor, said the spiral ramp in the garage "is as good as anything I've ever seen." An estimated 2,500 people parked in the facility on opening day.
Unseen beneath the gloss, however, the ramp had structural flaws – a bad concrete mix, corrosion, and voids between reinforcing rods, among others – that led to DPI closing the ramp less than 20 years later, in December 1982. After months of controversy, the Springfield City Council took over the building (paying DPI a token $1) and spent $1.5 million to repair and reopen it.
That work gave the Fourth and Washington streets ramp 30-some more years of useful life. But a combination of factors – other, newer ramps and a steady loss of both office jobs and shoppers – meant downtown's parking crisis was over. And the original ramp continued to age badly.
Over the decades, several proposals to demolish and replace the Fourth and Washington facility fell through, including one in 2020 that would have put a 95-room hotel and entertainment center on the site.
By 2021, only the ground level remained open to autos, and the writing was on the wall (literally as well as figuratively, since graffiti dotted almost every level of the facility) for Springfield's pioneer parking ramp.
Carter Jenkins
Springfield's parking and traffic layout in 2021 dates largely from the 1950s and the mind of an eclectic engineer named Carter Jenkins.
Jenkins (1893-1978) was a mainly unpaid traffic consultant to the city of Springfield in from 1949 until 1951, when he proposed a massive expansion of off-street parking and creation of a system of one-way streets.  Springfield's first one-way street, northbound Fourth Street from Jefferson to Cook streets, went into effect on Washington's Birthday, Feb. 22, 1949. The second, Seventh Street southbound, was inaugurated later in 1949.
Jenkins also rearranged bus stops, drew up plans for more traffic lights and better street lighting and called for Springfield to hire more traffic police. In his spare time, he co-wrote a study of Springfield's sewer system.
Most of Jenkins' work for the city took place during Harry Eielson's term as mayor from 1947 to 1951. Before then, Jenkins, an Arkansas native, had been a U.S. Army captain in World War I and a highway engineer. During the Great Depression, he joined the National Park Service, where he was responsible for restoring historic sites related to Abraham Lincoln in Kentucky, Indiana and Illinois.
"Carter always seemed to find some irony in the fact that he, a descendant of a Confederate drummer boy, had a major role in restoration and preservation of Lincoln shrines," State Journal-Register editor Ed Armstrong, a friend of Jenkins, wrote in a column after Jenkins died in 1978.
Jenkins later worked as chief engineer for the Illinois Division of Waterways. During World War II, he was appointed coordinator of the Illinois Council of Defense and chief of the Office of Price Administration for downstate Illinois.
In January 1946, Jenkins was assigned to oversee restoration of the Illinois Sate Fairgrounds, which had been a U.S. Army Air Force training facility, in time for the 1946 state fair in August. It was ready when the fair opened.
Jenkins then co-founded the engineering consulting firm of Jenkins, Merchant and Nankivil, where he continued to work until the year before his death at age 84.
Armstrong wrote of Jenkins:
He was an engineer, but beyond that he was a scholar and a man with an unusual respect for and knowledge of the English language. …

He was a soldier and a teacher of martial arts.

He was a student of history with a keen sense of how things of the past influenced the way we are today.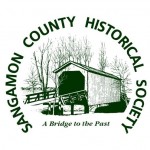 Jenkins is buried at Camp Butler National Cemetery.
Original content copyright Sangamon County Historical Society. You are free to republish this content as long as credit is given to the Society. Learn how to support the Society.