Grocer Jacob Bunn Sr. (1814-97) and his younger brother John Whitfield Bunn (1831-1920) began a family whose energy and initiative have helped mold Springfield for more than 150 years.  Their business interests have ranged from the original Springfield Marine Bank to such homegrown industries as the Illinois Watch Co., Sangamo Electric Co. and Bunn-O-Matic, while Bunn scions also have supported, both with funding and personal involvement,  innumerable Sangamon County charities and historic preservation efforts.
A Bunn family who's-who is complicated by a family tradition of passing names down through generations, as well as a penchant for nicknames. Here are looks at some of the most significant Bunns.
*Jacob Bunn Sr. and John Whitfield Bunn. A native of New Jersey,  Jacob Bunn established the grocery firm of McConnell Bunn & Co.  in 1840. He soon bought out his partner, and the company became J. & J.W. Bunn Grocery Co. after John W. Bunn joined his brother in Springfield in 1847.  The brothers were friends and political and financial backers of Abraham Lincoln.
The Bunns' enterprises, together or singly, eventually included banking, insurance, intercity and intracity railroads, newspapers and such industries as the Illinois Watch Co. and the Springfield Iron Co., among others. The brothers also were involved in a variety of civic causes, helping to found the Home for the Friendless (now the Family Service Center). Jacob Bunn headed the commission that oversaw construction of the current state Capitol, and John Bunn led the effort to found Lincoln Library and served as the first president of its board of directors.
Jacob Bunn was president of the Illinois Watch Co. when he died in his office at work in 1897.
"Despite his advanced age, Mr. Bunn was remarkably active to the very last and could perform more work than most men many years younger," the Illinois State Journal said in reporting on Jacob Bunn's death. "No man played a more prominent or more important part in the upbuilding of the city of Springfield than Jacob Bunn."
Jacob Bunn apparently had his idiosyncracies. Attorney Henry Converse, whose grandfather originally owned the property that later became the Illinois Watch Factory, once described Bunn as "an eccentric individual who wore a wig and a huge silk hat, both of which continually slid from one side of his head to the other, and often flopped over onto his eyes."
John W. Bunn (who never married) was president of Marine Bank from 1903 to 1920, beginning a 70-year period during which the bank was headed exclusively by Bunns.  At his death, he also was vice president of the Illinois Watch Co. and of a Chicago-based shoe wholesaler.  He served four terms as city treasurer and was treasurer of the University of Illinois from 1867 to 1893 (these dates have been corrected). Nearly every business in town closed for his funeral on June 9, 1920.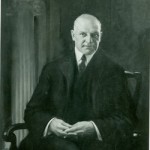 *Jacob Bunn Jr. (1864-1926) succeeded his uncle as president of Marine Bank, was president of the Illinois Watch Co., and helped found Sangamo Electric. In 1925, Jacob Jr. and his siblings repaid $800,000 to 5,000 people whose families lost money when one of Jacob Sr.'s ventures, the private J. Bunn Bank, failed in 1878. The losses were repaid with interest that, over the years, amounted to 240 percent.
"It was a singular gesture that gave the family an almost Lincolnesque reputation for honesty," John Hoffman wrote in the Summer 2003 edition of the Journal of the Abraham Lincoln Association. "The Bunns were such a prominent and respected family in Springfield that the press across the country reported the story as an act of noblesse oblige."
*George W. Bunn Sr. (1861-1938) replaced Jacob Jr. as Marine Bank president, holding that post from  1926 to 1938.
*George "Gib" W. Bunn Jr. (1890-1973) succeeded his father as bank president, serving until 1961. As president of the Abraham Lincoln Association, Gib Bunn ( the nickname was pronounced "Jib") was one of the major forces behind the compilation of the Collected Works of Abraham Lincoln.  More information on Gib Bunn is available thanks to two interviews done  as part of the oral history program sponsored by what is now the University of Illinois Springfield. Bunn's daughter, Sally Bunn Schanbacher, interviewed her father in 1972 on subjects that included 1890s Springfield and his community service. The other interview, done by John Bucari in 1973, was for the Springfield Marine Bank project; for an excerpt of that interview, see Bank run of 1932, this index.
*Sally Bunn Schanbacher (1924-2002), a daughter of Gib Bunn, inherited her father's interest in historic preservation. She was an Abraham Lincoln Association director and also was involved in support efforts for the Old Capitol State Historic Site, the 1976 Bicentennial Commission, the Illinois State Historical Library and similar organizations. As chairman of the Springfield Historic  Sites Commission, she was one of the leaders of the effort to have the Lincoln Home designated a National Historic Site. Schanbacher was the 1982 Springfield First Citizen.
*Willard "Bunch" Bunn Jr. (1913-2002), a grandson of George W. Bunn Sr., was Marine Bank president from 1961 to 1974. A  primary proponent of restoration of the Old Capitol Plaza and a key supporter of Springfield College in Illinois, the Springfield Urban League, St. John's Hospital, the Springfield Art Association and a variety of other historical and educational organizations, Bunch Bunn was Springfield First Citizen for 1991. He also was interviewed by John Bucari in 1973 for the Springfield Marine Bank oral history project.
*Willard "Googan" Bunn III became Marine president in 1980 and oversaw its 1992 merger with Banc One (the bank later became part of JPMorgan Chase).
*George Regan Bunn (1915-2002), a brother of Bunch Bunn, founded Bunn-O-Matic Corp. and was a member of committees that led to creation of Sangamon State University, now the University of Illinois Springfield, and to the establishment of Southern Illinois University Medical School in Springfield. He also was a nationally known horseman; his Quarter B Farm was the home of top race horses Farma Way and Buck's Boy, among others.
*Alice Bunn: Philanthropist, author of The Story of the House, about the Bunn family home. (The home was demolished following Alice's death in 1953). Read an excerpt here, along with a brief biography of Alice Bunn.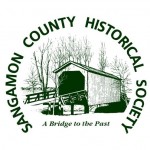 Original content copyright Sangamon County Historical Society. You are free to republish this content as long as credit is given to the Society. Learn how to support the Society.