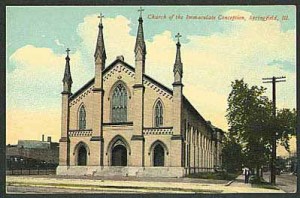 The Church of the Immaculate Conception, a Catholic parish church that stood at the northeast corner of Seventh and Monroe streets from 1858 until 1952, should not be confused with the Cathedral of the Immaculate Conception, which became the episcopal seat of the Catholic Diocese of Springfield in Illinois in 1928.
The Rev. James Fitzgibbon, the original parish pastor, oversaw construction of the Church of the Immaculate Conception, which was dedicated on April 3, 1859. Immaculate Conception Parish originally was considered to be the Irish parish; Springfield's German Catholics, who made up most of the rest of the area's Catholics, worshiped at St. John the Baptist Church and later at Ss. Peter and Paul's.
Pastors of Immaculate Conception Parish were: Fitzgibbon, until 1864; Fathers Zabel and Sticks, 1864; the Rev. Joseph Costa, 1864-65; the Rev. Louis Hinssen, 1865-68; the Rev. John O'Sullivan, 1868-69; the Rev. Patrick Brady, 1869-89; Msgr. Timothy Hickey, 1889-1924; the Rev. William Sullivan, 1924-27; the Rev. George Faller (administrator), 1927; and the Rev. Louis Hufker, 1927-28.
Father Fitzgibbons built a two-room school for boys (girls went to St. Angela School at Sixth and Mason streets). Father Hinssen converted the old St. John the Baptist Church into Immaculate Conception's own girls' school. Father Brady lengthened the church building by 20 feet in 1870 and built a two-story parish school in 1876 (though boys and girls still attended separate classes).  And Msgr. Hickey built a new priests' home and a convent for the Dominican nuns who staffed the school. He also eliminated gender-segregated classes in 1890.
Over the years, Immaculate Conception Church became known colloquially as "Old St. Mary's."
When the Springfield diocese was created in 1923, the Church of the Immaculate Conception became the temporary diocesan cathedral. The final Mass was said at the church on Oct. 14, 1928 – the day the new Cathedral of the Immaculate Conception was dedicated at Sixth Street and Lawrence Avenue.
"Old St. Mary's" church was decommissioned and converted first to a high school  (Cathedral Boys High School) and then was used as offices for various Catholic organizations. Both the church and school were demolished for off-street parking in 1952.
In recognition of his 35 years as pastor of the Church of the Immaculate Conception, Msgr. Hickey is interred in a crypt in the new cathedral.
Note: This entry has been updated to correct the date when the church at Seventh and Monroe was demolished and to provide additional information on the building's later uses.
Source: The web site of the Diocese of Springfield in Illlinois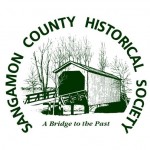 Original content copyright Sangamon County Historical Society. You are free to republish this content as long as credit is given to the Society.