Mildred Park had rides, a swimming, boating and fishing lagoon with a suspension bridge and other attractions. The area is now Bunn Park.
The suspension bridge was the site of a near-tragedy on Aug. 16,1905, when one of its cables snapped, tumbling 50 people — retail clerks and employees of the Inter-State Telephone Co., both holding outings in the park — into 12 feet of water.  People boating on the lake acted quickly to pull people from the water. Two young women who became tangled in the wires suffered minor injuries.
Mildred Park was founded as a privately owned amusement park. Even before the accident, however, the Springfield Improvement Association, a group of businessmen, initiated efforts to help the Springfield Park District buy the park. The association noted that Washington Park had no areas for baseball, tennis or swimming.
"Every now and then, we hear of some boy being fished out of the river dead," the association's Edward Payne told the board in September 1905. "The boys of Springfield need some place where they can learn to swim and where they can be watched. They want a place to play ball and have ten teams playing at once if they like."
Payne, a banker and investor, bought Mildred Park himself in 1908 for $40,000. He sold it to the park district for the same price a year later. Mildred Park was renamed Bunn Park, recognizing businessman and park board secretary John Bunn, in May 1913.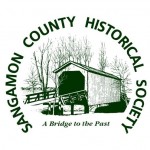 At the same meeting, the board named a newly developed park on the city's far east side in honor of pioneer Presbyterian minister Rev. John G. Bergen (1790-1872) who first purchased the park property from the federal government. The new facility had informally been called East End Park.
Original content copyright Sangamon County Historical Society. You are free to republish this content as long as credit is given to the Society. Learn how to support the Society.