Edward W. Payne (1857-1932), a Springfield banker and property investor, amassed a huge collection of stone relics — most, though not all, from pre-Columbian America — with the intention of building a museum to house them. At his death, however, with the Great Depression at its worst, Payne's collection had to be sold piecemeal to pay his debts.
During his lifetime, most of Payne's collection was stashed in vaults beneath his office building at Third and Monroe streets, although some artifacts were displayed in his home on South Grand Avenue. As the collection outgrew its local quarters, however, other items had to be stored in Kansas City.
"The relics include weapons, ornaments, pottery, pipes and various articles, made hundreds of years ago," according to the Illinois State Journal's obituary following Payne's death. "On a back table in Mr. Payne's basement are several skulls and other human bones, the remains of now-vanished races of people."
Time magazine provided a more vivid description of the collection, and Payne himself, in an article on April 1, 1935.
The Payne Stone Age Collection consists of about 2,000,000 relics of war, ritual, agriculture and social life in the North and Central American cultures before Columbus. There are symbolically sculptured alabaster bowls of the Mayan Empire, for catching the blood of sacrificed victims; hundreds of "banner stones," evidently symbols of immortality in Stone Age ritual; thousands of pipes carved with images of birds, animals, fish. For these and the rest Collector Payne paid something like $300,000.

Edward Payne was a man of many enthusiasms. He was a fancy skater and a crack rifle shot, an expert on locks and trees, an imitator of bird calls. Blessed with an eagle eye for counterfeit money, he was accredited the fastest counter of genuine money in his State. Trusted friend of the Chinese in the Midwest, he resembled Lloyd George, was a second cousin of Charles Dickens. He wore $40 beaver hats, baggy trousers, pleated linen shirts that buttoned down the back. When he ran across an item he wanted, he was accustomed to buy the whole collection containing it. Dying, he muttered with his last breath: "Keep my Collection intact."
Over the years, Payne had floated various plans to preserve the collection, including having the state build a museum at Cahokia Mounds. At one point, he also proposed to build a combined museum and mausoleum for himself between Fourth and Sixth streets south of Broad Street.
None of those came to pass, and, by three years after his death, it was clear the collection would have to be sold off piece by piece.
Payne may have been Springfield's largest individual property owner, as the Journal said in his obituary, but much of his real estate carried mortgages. When he died, his property, heavily discounted after the economy's collapse, was worth less than $1.2 million, while his debts amounted to nearly $1.6 million.
The main remaining asset in Payne's estate was the Stone Age Collection and associated items. (The occasion of the Time story was a visit to New York by historian Paul Angle, who was attempting to find a buyer for a circa-1800 treaty between the U.S. and Native American tribes from the Ohio Valley. Time said the document bore the signatures of 30 chiefs from more than a half-dozen tribes.)
First National Bank, which took over the Payne estate in an attempt to pay its bills, marketed the collection in what amounted to a giant garage sale that began on Aug. 15, 1935. The collection took up 12,000 square feet of a Central Illinois Public Service Co. warehouse at Ninth and Madison streets. The Journal succinctly described the items on display:
In the million or more pieces are relics from Central America, New Zealand, the Indies, Sweden, Norway, Denmark, south France, Alaska and many of the states in this country and other North American points. … There are 13,000 stone axes from this country alone; there are hundreds of arrow-heads of various sizes, and scores of pieces of pottery of all shades and sizes.
Don Dickson, founder of the Dickson Mounds Indian burial site, who oversaw the sale, at first estimated it would take a week to dispose of the most valuable items. In fact, the sale went on for months in Springfield, and many items remained unsold when it closed. The rest of the collection then was moved to Dickson Mounds, where the artifacts remained available for purchase.
Although no final dollar figure apparently was ever recorded, the Stone Age Collection, valued variously at anywhere between $300,000 and $2 million prior to Payne's death, turned out to be worth far less.
Many items went, literally, for pennies. Stone axes sold for anywhere from 50 cents to $100, according to an Associated Press article on Aug. 18,. 1935. "The top quotation on spearheads is $130," the AP said.
"It was unofficially stated that the stone collection, while unequaled in size, is of little value because each piece is not accompanied by data showing the place of discovery and soil condition," the Journal had reported the preceding April. "As a result, historians and geologists are not interested in studying the relics."
In 1939, Dickson offered the remaining artifacts to the state of Illinois for $40,000, but that proposal ran into opposition from Nanette Payne Thomas, Edward Payne's daughter, whose review of Dickson's inventory was scathing. She called the remnants of her father's collection
… a small lot of pitiable remainders, of counterfeits and fakes, trade-ins and replacements. I do not want the state … deceived into accepting the dismembered remains which have been ravaged and picked over for years by the most able and skilled stone age experts in the United States. I do not believe any museum outside of the state would offer $2,000 for these leavings.
Thomas won that battle. The legislature declined to include money for the collection in its appropriation to buy Dickson Mounds, and Gov. Henry Horner (who, during the Springfield sale, had personally bought some Stone Age Collection items) vetoed the Dickson Mounds purchase anyway.
The state finally bought Dickson Mounds from Don Dickson and his brother in November 1945, paying a total of $42,500.
"Included in the purchase were the home site of the late Thomas Dickson, father of the Dickson brothers, and the camp site to the west, as well as a part of the Payne Indian collection," the Journal reported. "Some of the collection, which belongs to the Payne estate, was not included in the purchase."
More information: Edward Payne outlined the beginning of his interest in archaeology, along with his own idiosyncratic views of the spread of humanity, in a monograph, The Immortal Stone Age, that was published posthumously in 1938. The book also includes a number of photographs of items from his collection. See also Tara McClellan McAndrew's Feb. 4, 2013, State Journal-Register article, "The Payne of Collecting."
The resolution of the Payne estate, the sale at the CIPS warehouse and the debate over the purchase of Dickson Mounds were closely covered by Springfield newspapers.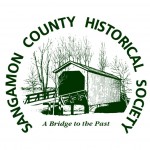 Original content copyright Sangamon County Historical Society. You are free to republish this content as long as credit is given to the Society.