Thousands of African-Americans fled Springfield in the wake of the 1908 race riot. The city's best chef may have been one.
Samuel Willis (1856-1920), a native of Virginia, moved to Springfield in the 1870s. He apparently learned the restaurant business as a waiter at George Blood's combination billiard parlor/restaurant in the 400 block of East Washington Street. In 1887, Willis, who was Black, and Blood (1844-1905), who was White, formed an interracial partnership, unusual for the time.
"George Blood and Sam Willis have formed a combine and have opened an elegant restaurant and lunch-room at 418 (E.) Washington street," the Illinois State Journal reported. "They have lots of experience and are bound to do a big business."
Willis went into business for himself a year later, opening the Café de Paris, a French restaurant, at 119 N. Fifth St. Some of his recipes probably had been handed down (through Blood) from Caroline Doul (??-1885), who had been the cook behind several French-themed local eateries fronted by her husband Emile.
Willis would operate restaurants at several downtown locations over the next 20 years, not counting two years (1897-99) when he was head chef at the state penitentiary in Chester.
When he came back to Springfield in 1899, Willis set up his new café in Commercial Alley, which ran west to east from Fifth to Sixth streets between Adams and Monroe streets. (Willis's restaurant probably improved the image of the alley, previously the home of a gambling den operated by alderman/saloonkeeper Evan "Tom" Brewer. The alley was even known as "Gambler's Alley" until 1885, when the Springfield City Council officially named it Commercial Alley.)
The Illinois State Register welcomed Willis back to town, saying he "for years furnished Springfield epicureans with good steaks, chops and well cooked delicacies for the inner man. … His old patrons are glad to have him back in the city, and he is assured of a splendid trade from the start."
Willis eventually extended his Commercial Alley restaurant southwards, occupying a storefront at 523 E. Monroe St. When that building burned down in 1946, the blaze prompted Illinois State Journal writer Will Colvin to rhapsodize about Willis's by-then-long-gone cuisine.
Around the first of the century, people from various parts of the country, now and then from distant lands, those with appetites for fine food, found their way to Sam Willis' eating house, then thriving in the building destroyed Nov. 24. …

Sam Willis was a great chef. He really knew how to prepare food. He made but one demand: "Don't rush me, give me time."

Leading actors and actresses, outstanding celebrities of their time, went to Sam Willis' after their performances at the old Chatterton opera house. They came in parties for the night suppers which had been ordered in the afternoon. One night stands, carrying large choruses, furnished gala nights for the young men of Springfield. During sessions of the legislature the politicians helped to swell patronage at the eating house.
Willis's biggest fan may have been the Chicago Tribune's political columnist, John Corwin, Colvin wrote.
Corwin's friendship for Sam Willis and the latter's cooking of fine food for Corwin produced a long and warm friendship.

On different occasions, among others, Corwin's guests included Gov. John R. Tanner, Frank O. Lowden, … Sen. Lawrence Y. Sherman and celebrities in large numbers.
Journal columnist A.L. Bowen also had personal memories of Willis's restaurant and Willis himself. He wrote in 1927:
The first meal I ate in Springfield (in 1899 – ed.) was at Sam Willis' in the alley, north of Monroe street, some times referred to as Commercial alley. That corner … has been a restaurant as long as my memory of Springfield extends. Willis was a man of color … an experienced and good cook who served his food for less than it cost him, so he never had more than a bare living.

Sam was patronized by the best trade in town and was noted for the excellence of special dishes which he prepared on notice from both home folks and visitors. He was taciturn in manner and eyed his customers over the bar with a quizzical gaze that seemed to question their orders.
Willis's cooking abilities and personal relationships with Springfield's elite seem to have mostly insulated him from the racism that permeated the city at the turn of the 20th century. The newspapers chronicled the Willis family's comings, goings and business moves much as they did those of White residents, and without the typical notation that the Willises were "colored."
Sam Willis was nonetheless proudly Black. He helped form a Black National Guard unit in 1901, was involved with African-American Masonic activities, and took part in  Republican Party politics. He ran unsuccessfully for nomination as assistant county supervisor at least once.
Willis, however, apparently found it prudent to leave Springfield following the race riot of Aug. 14-15, 1908. The Illinois State Register took note of his absence in a story about a fire Aug. 16 that destroyed Willis's barn and threatened to restart the rioting.
Thousands of people who had been waiting throughout the day for some signal which would give them a chance to congregate rushed to the 400 block on North Fourth and Fifth streets Sunday evening about 6 o'clock, from where the fire department had received an alarm. Before the department reached the scene the barns belonging to F.P. Kennedy, 410 North Fifth Street, James Lindsay, 411 North Fifth street, and Sam Willis (colored), 417 North Fifth street, were in flames.
First reports were that two African-Americans ignited the fire, the Register said.
Mr. Kennedy states positively, however, that the fire was started by several young boys (apparently White – ed.). He was told several minutes before the fire started that some boys were playing in his barn. This is the fifth fire in that vicinity within the past few weeks and the finger of guilt points at several young boys. …

When the news spread that two negroes were seen to go over the fence, several of the crowd began to make threats which, for a while, looked as if they might grow to such proportions that another riot would be precipitated.

The statement of Mr. Kennedy, however, was taken as the most authentic, and the circulation of this statement was what probably prevented another breaking out.

All of the barns were destroyed. The Kennedy damage was $300, fully covered by insurance. The loss to James Lindsay was $100. Sam Willis could not be found, he having made his exit, probably, with the many other colored people. His loss will be about the same as the Kennedy loss.
It isn't clear when Willis returned to Springfield. City directories for 1909 and 1910 continue to list him as a caterer. Some of Willis's family remained in the city, and Willis died here in April 1920. However, Sam Willis's name disappears from the city directories after 1910, and his Journal obituary says the following about his career after the riot:
"(Willis) was engaged in the restaurant business for a number of years up to 1908, when he left for Cheyenne, Wyo., to accept a position with the Union Pacific railroad."
Sam and Lillian Willis (1863-94) are buried at Oak Ridge Cemetery.
Sam Willis's pumpkin pie
Sam Willis's "training was in French cookery," the Illinois State Journal said in an editorial reminiscence in 1936, "but his most remarkable triumphs were with American dishes." Especially, the editorial said, pumpkin pie.
It isn't possible to describe that pie. It is known, however, that Sam never baked one unless he could find a pumpkin of the deep ribbed, purple tinted variety – the kind old-fashioned folks planted in the corn. What he added to the golden-red base, no one knew. The diner only knew that when he put his teeth in the thick wedge of it, his palate applauded with delight.

When Sam went out of business, only the happy memory of the Willis pumpkin pie survived. Some of his successors undertook to duplicate it, with wretched results. The formula, if one existed, had disappeared from sight.
The editorial prompted a visit to the newspaper from LaRue Willis, Sam Willis's son, who brought with him a pumpkin pie recipe he had found "on a slip of paper in an old book on Masonry that belonged to his father," according to the Journal's followup story.
He suggests that this may prove to be the list of ingredients which entered into the Willis pie of delightful memory. It follows:

"Cow pumpkin, one and one-half cups; two-thirds of a cup of sugar; two eggs; one teaspoon of butter; one-quarter teaspoon of salt; one-quarter teaspoon of cloves; one-half teaspoon each of cinnamon, nutmeg and ginger; one-half cup of milk or cream."
Fannie Willis, LaRue Willis's wife, planned to bake a pie using the recipe. But some aspects of Sam Willis's creation still were lost to the ages, the story lamented.
The slip gives no hint of how Willis achieved his incomparable flaky pie crust. Nor are there any instructions concerning the technique with which the ingredients were mixed. For these things, Mrs. Willis and others who put the recipe to the test will have to depend on their own skill.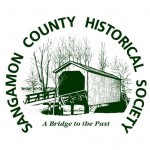 The Journal didn't publish another followup, so there's no indication how Fannie Willis's pie matched up to that of her father-in-law.
LaRue Willis (1889-1978), a Springfield firefighter, and Fannie Willis (1891-1976) also are buried in the Willis plot at Oak Ridge.
Original content copyright Sangamon County Historical Society. You are free to republish this content as long as credit is given to the Society. Learn how to support the Society.