Chester M. "Harry" Lane was Springfield's gambling kingpin at the turn of the 20th century, apparently with the connivance of police, city officials, and the courts. He stepped down in the mid-1900s, after a fatal shooting, the election of a new mayor beholden to a different gambler, and increased pressure for city reform.
Lane was part of a colorful, but murky period in Sangamon County history. Government corruption, bewildering gambling rivalries, and newspaper partisanship all contributed to his story.
Decades later, though, Lane (1848-1934) was remembered as a courtly, unthreatening character. When he died in California, made wealthy by real estate development, the Illinois State Journal's obituary was respectful.
"He was counted as a shrewd business man and spent much of his time at his gambling house, keeping in close touch with what was going on in circles that permitted protected gambling. His place was open day and night and on state fair weeks was patronized by thousands of visitors," the obituary said.
Similarly in 1945, Illinois State Journal columnist A.L. Bowen wrote, "Few remain who remember the parson-like figure of Lane, whose genius in his profession was nationally recognized."
Lane's casino, upstairs at 413-15 E. Washington St., featured roulette, dice and poker. In a back room downstairs, cohorts took horse-race bets in what seems to have been Springfield's first bookie joint.
The Illinois State Register described Lane's operation in January 1901.
On the second floor of this building is a gambling room, which during the present city administration (that of Mayor Loren Wheeler – ed.) has done a land office business, and without being molested. … This place is conducted by Harry Lane, who is termed the "boss gambler." He has had easy sailing for some time, and during all hours of the day and night games of all kinds are running full blast. He has in his employ about twenty-five men, including game keepers and "pluggers." Any night in the week there are a large number of players on hand, but on Saturday night it is almost impossible to gain an entrance, so anxious are the friends of the game to give to the boss gambler their week's salary.
The Register article can't be taken as gospel. The Register was Springfield's Democratic newspaper, and the story was a political hit piece, written to boost the 1901 Democratic candidate for mayor, John L. Phillips (1851-1908).
Mayor Wheeler (1862-1932), a Republican, was a natural target for the Register. But Wheeler had been accused before of allowing certain casinos – notably Lane's – to operate while ordering police to shut down others. In 1899, a Sangamon County grand jury even indicted Wheeler for "palpable omission of duty" and conspiracy because of his failure to shut down the city's gambling houses, singling out Lane's place as an example. The grand jury also charged Wheeler's police chief, H. Scott Castles, on the conspiracy count, and two dozen people, again including Lane, were indicted for gaming and maintaining gaming houses.
Some of the grand jury witnesses, however, were gamblers themselves, among them Ed Flynn, whose parlor Wheeler had ordered closed. Partly as a result, State's Attorney Elbert Smith (a Republican like Wheeler) dropped charges against the mayor. In a statement that explained a lot about Springfield's reputation as a wide-open city, Smith added, "There is no law that says that a mayor of a town must stop gambling."
Egged on by reformers and sometimes by rival gamblers like Flynn, city police raided gaming parlors from time to time. Lane and the rest of Springfield's "sports," however, knew how the system worked.
The Sangamon County state's attorney's office had blank forms already printed for gambling cases. Each form listed five counts. The first two were for operating a gaming house, a crime that, for a three-time loser, carried a mandatory prison sentence. The other three counts were for simple "gaming," usually punished by a $25 fine.
The practice was that Lane and his cohorts would plead guilty to counts 3-5 and prosecutors would drop the first two counts. The gamblers would pay $75 in fines and go back to work. The system worked for everybody except the reformers. Officials could point to convictions, local government  had a steady source of revenue, and the gamblers' profits were barely dented.
However, the forms were reprinted when James M. Graham succeeded Smith as state's attorney in 1893. Apparently due to a printing error, the new forms changed Count 3 from "gaming" to the more serious "keeping and maintaining a gaming house." No one noticed. Gamblers kept pleading guilty to counts 3-5 and kept paying their customary fines.
The error was discovered in 1896, when an unsuccessful patron of Lane's gambling parlor sued Lane to recover his losses. During the trial, the plaintiff's attorney commented that Lane had been convicted of keeping a gaming house. Lane's lawyer indignantly denied it. Then they checked the records. It turned out that Lane had unknowingly pleaded guilty to the new Count 3 six times in the preceding three years.
Every other gambling proprietor in Springfield was in the same boat, the Illinois State Register reported.
It has just been discovered that practically all the keepers of gambling houses in the city have been for three years past pleading guilty to offenses, the penalty for which is imprisonment in the penitentiary. … Of course, the gamblers are guilty of just what by a mistake they have been pleading guilty of, but it never was the intention that the records should show it.
The revelation caused a brief scare in the betting community, but authorities obligingly "corrected" the records, and all the guilty pleas to Count 3 were withdrawn.
Lane's status atop the gambling fraternity changed after Phillips' election as mayor in April 1901. Evan "Tom" Brewer (1856-1935) a Phillips supporter with a saloon and gambling parlor on Sixth Street, allegedly replaced Lane as "boss gambler."
Lane didn't exactly go quietly – he was suspected of orchestrating a raid by sheriff's deputies on Brewer's place in May. But Lane's own parlor attracted unwelcome attention when Frank Poffenbarger, one of his bouncers, was shot to death during a raid June 18, 1901.
The gunman was William Brown, a constable from East Springfield, then a separate village. Brown was one of a half-dozen out-of-town constables assigned to the raid – presumably because city police couldn't be trusted – which was prompted when a rival gambler, Edward Jones, swore out a warrant against Lane.
Each side in the incident told a different story. Gamblers at Lane's (Harry himself wasn't present at the time) said Brown shot without provocation. Brown and his allies said Poffenbarger tore up Brown's warrant and the gamblers started to push Brown and the other constables down the stairs. In the scrum, Brown said, his arm was bumped and his gun went off accidentally. A coroner's jury ordered Brown held for murder, but no charges ultimately were filed against him.
At some point after Phillips took office, Lane and Tom Brewer made up their differences. Lane continued to run his operation until at least 1906, outlasting, among other things, a 1904 lawsuit filed by city attorney Arthur Fitzpatrick.
Like many of the cases involving Lane, that one had a wrinkle: the city council had ordered Fitzpatrick to drop his suit. The leader of that effort was none other than Brewer, who served several terms as alderman from the downtown Seventh Ward. Fitzpatrick defied the council, thanks to a judge's ruling that he could continue the lawsuit essentially as a private citizen, and won a $1,800 judgement against Lane. Lane appealed and got the verdict cut in half.
Lane, who owned the building at 415 E. Washington St., rented the basement and ground floor for a time to boxer/hotelier Johnny Connors. Connors' Empire Hotel was across the alley on Jefferson Street, and he opened the Empire Theater – it featured vaudeville, burlesque and, allegedly, nude women – in Lane's building. When the building was raided in October 1906, the Register called it "the worst hell joint in Sangamon County."
Lane had left Springfield by 1911, when the building burned down, but the Illinois State Journal took note:
The destruction of the building at 415 East Washington street, formerly known as Lane's gambling resort, removes one of the historic buildings of Springfield. In the days of yore, when Springfield was a wide open town, it was then the rendezvous of so-called sporting men from all parts of Illinois. …

On numerous occasions deputies, armed with search warrants, visited the place and attempted to make arrests. The keepers and players disappeared, only to return when the men who wore the stars took their departure. …

The play went thick and fast and there was no let up.
According to his Journal obituary in 1934, Lane was a native of Schuyler County who had served in the Civil War. He got his gambling start in Beardstown. The obituary went on:
Lane was a striking figure in sporting circles of Springfield in the days when open gambling flourished. He operated a large gambling resort on Washington street between Fourth and Fifth streets and made a fortune out of the business. …

Lane did not close his house until increasing public sentiment and opposition from authorities made it necessary for him to retire. He then went to California and engaged in the real estate business on a large scale. He was successful in the new enterprise and was worth at the time of his death more than a million dollars.
Lane's son and daughter were married in a double ceremony, according to the obituary. As wedding gifts, Lane "presented to his son and daughter homes in California, provided each of them with Chinese valets and a large allowance."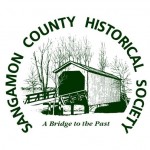 "Except for correspondence with a few of his former associates and friends, little had been heard of Lane in Springfield in recent years," the obituary said.
Lane is buried in Los Angeles.
See also: "A Palatial Barroom" (1898).
Original content copyright Sangamon County Historical Society. You are free to republish this content as long as credit is given to the Society. Learn how to support the Society.