At least 11 people died and many more were injured in connection with the Springfield race riot of August 1908. Another casualty was the image that Springfield, Abraham Lincoln's home town, was immune to the racial discord that characterized American society in the early 20th century.
"For weeks," Roberta Senechal wrote in In Lincoln's Shadow: The 1908 Race Riot in Springfield, Illinois,* "northern newspapers and magazines leveled scathing criticism at the Illinois capital and its inhabitants, making Springfield a byword for intolerance, corruption, and disorder. The southern press, meanwhile, made the most of the riot: finally here was dramatic proof that the North, too, had a 'Negro problem.'"
Publicity about the Springfield riot also led directly to formation of the National Association for the Advancement of Colored People.
The riot began the evening of Friday, Aug. 14, 1908, when a white crowd gathered outside the Sangamon County Jail, apparently intending to lynch two African-American prisoners: Joe James, a vagrant accused of killing a white mining engineer, Clergy Ballard, that July 4; and George Richardson, suspected of the rape of a white woman, Mabel Hallam, on Aug. 13.
Via a ruse, Sheriff Charles Werner had the two prisoners spirited out of town. The frustrated crowd turned its anger first on restaurateur Harry Loper, who had driven James and Richardson to safety, and then to "the Levee," a stretch of saloons and gambling parlors, many Black-operated, on East Washington Street, and "the Badlands," a Black residential neighborhood along the Madison Street railroad tracks.
One Black man, Scott Burton, was lynched Friday when he tried to defend his barbershop from the rioters. Another, 80-year-old William Donnegan, who was married to a white woman, was killed Saturday night.
At least five whites also died as a direct result of the rioting, most of them shot under unclear circumstances: shoe factory employee Louis Johnston, coal miners John Colwell and Frank Delmore, real estate agent Thomas Jefferson Scott, and railroad worker Lewis Hanen.
A tally of riot-related deaths also should include those of: Ballard; James; an unnamed African-American infant who died of exposure after the child's family left Springfield to escape the rioters; and Kate Howard, a white woman who committed suicide after her arrest for riot instigation.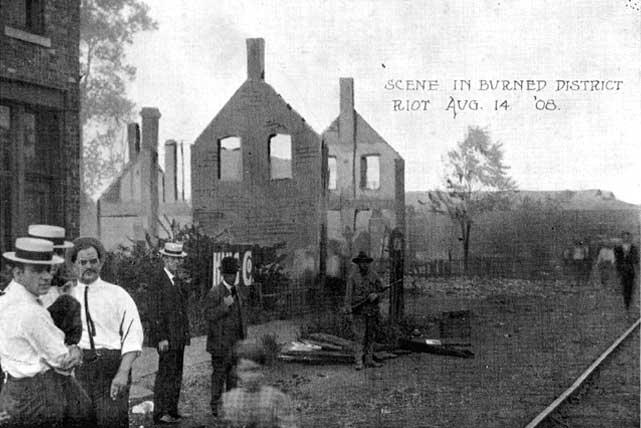 An estimated 40 homes occupied by African-Americans and two dozen Black-owned businesses were destroyed in the riot, and hundreds of African-Americans left Springfield in fear. Thousands of state militia, encamped on the Statehouse lawn, finally gained control of the streets.
James was later convicted of killing Ballard; he was executed Oct. 23, 1908. Richardson was exonerated after Hallam admitted fabricating her story of the rape.
Although about 80 people were indicted on charges arising from the riot, only one, teenager Roy Young, who unwisely boasted of burning homes belonging to African-Americans, was sentenced to prison. Howard, who urged on the crowd attacking Loper's restaurant, committed suicide while in the county jail.
Abraham Raymer, a peddler, was tried four times for various riot-related crimes, including Donnegan's murder. However, the first three trials resulted in not-guilty verdicts; his only conviction, in the fourth trial, was for petty larceny, resulting in a 30-day jail sentence. After the Raymer verdicts, authorities essentially abandoned prosecution of other riot cases.
Most experts believe James' and Richardson's alleged crimes were merely sparks that ignited already smoldering white anger against Springfield's African-American residents. And that resentment was not confined to Springfield, Senechal concluded; it just appeared earlier here.
"Springfield's riot was like the heat lightning that portends a gathering storm," she wrote. "When anxiety over black competition for jobs and housing later rose with the sudden increase in black migration, white workers' preexisting fears about racial boundaries and black subordination in American society were exacerbated. The result would be the worst series of northern race riots in the American experience."
Race riot deaths
The Springfield race riot of Aug. 14-15, 1908 was unique in that more whites died than blacks. "This was due no doubt to the armed blacks, defending themselves and their interests in the Levee," reported Carole Merritt in Something So Horrible: The Springfield Race Riot of 1908, a catalog that accompanied a 2008 exhibit of the same name at the Abraham Lincoln Presidential Library and Museum.
Seven people are generally said to have died in the rioting, but at least four other deaths before and after the violence were riot-related as well; those are included in this list.
Clergy Ballard
Clergy Ballard (1863-1908), a mining engineer, was attacked and killed in his home early on July 5, 1908, allegedly by a black man, Joe James.
The incident was one of the two that helped inspire the white mob to carry out the race riot.
An all-white jury later convicted James of the crime, largely on circumstantial evidence, and he was executed on Oct. 23.
Scott Burton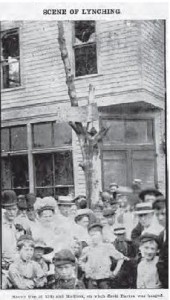 Scott Burton, 58 or 59, was one of two African-Americans who were lynched during the riot.
Burton had operated a barbershop at Ninth and Jefferson streets that catered to whites. On the night of Aug. 14, Burton, armed with a shotgun, attempted to defend his home at 322 N. 12th St. from the rampaging white mob. However, the rioters dragged him from the house and beat, shot and stabbed him before his dead body was hung from a tree at 12th and Madison streets. There, members of the mob continued to riddle the body with bullets.
A photo of the tree, surrounded by a white crowd and hacked up for souvenirs, is one of the iconic images of the riot.
Burton is buried in Oak Ridge Cemetery.
John Colwell
John Colwell, 42, a white coal miner, was shot and trampled Aug. 14, when a white mob invaded the Levee district. He died Aug. 15 at St. John's Hospital. He is buried in Oak Ridge Cemetery.
Frank Delmore
Frank Delmore, 20, a white coal miner, was shot Aug. 14, as the white mob was invading the Levee.
Delmore is believed to have been an active participant in the riot, based on a statement he reportedly made to a doctor who was treating him: "I had the satisfaction of seeing one n—– shot and if I live to get out with the bunch I will see some hung."
Delmore is buried in Calvary Cemetery.
William Donnegan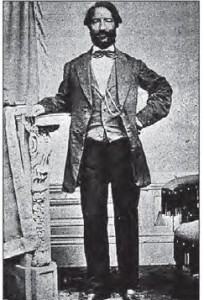 William Donnegan, an elderly Black man who was lynched on Aug. 15, had been a prominent member of Springfield's African-American community since before the Civil War.
According to an Aug. 21, 1908, story in the weekly version of the Illinois State Register, Donnegan (spelled "Donnigan" by the newspaper) "was beaten almost to insensibility; his throat was slashed from ear with a razor and a small clothes line rope was tied about his neck, then he was hanged to the limb of a small tree" across from Donnegan's home at Spring and Edwards streets.
The attack was broken up by police and state militia, but Donnegan died the next day at St. John's Hospital.
The paper said the gang that attacked Donnegan's home amounted to about a dozen men, apparently led by Abraham Raymer, a 20-year-old restaurant worker and peddler who had immigrated from Russia. Raymer was later found guilty only of stealing a sword.
Donnegan owned an estimated $15,000 worth of property at his death, a substantial amount for the time. Although he had been a cobbler and real estate investor, Donnegan also had made a pre-Civil War trade of importing slaves from the South and hiring them out as laborers in free-state Illinois. Whites resented his wealth and the fact that his third wife, Sarah Rudolph Donnegan, was white, the Register suggested.
Donnegan's age at his death is open to question. Most accounts say he was either 76 or 84, but the Register's reporter, who interviewed Donnegan's family, gave an exact date for Donnegan's birthday: March 16, 1828, making him 80 years old when he was killed. He is buried at Oak Ridge Cemetery.
Lewis Hanen
Lewis Hanen, a white railroad worker, was shot in the groin, shoulder and chin as a white mob attacked Black businesses in the Levee district on Aug. 14. He died while undergoing lung surgery in Chicago in December.
Kate Howard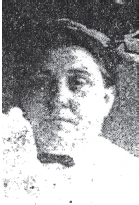 Kate Howard (1866-1908), a rooming house operator who allegedly goaded white mobs to arson and lynching during the riot, took poison and died while  being arrested 10 days after the riots. She died at the Sangamon County Jail.
Howard, called by sympathetic whites "the Springfield Joan of Arc," had admitted being in the crowd that destroyed Loper's Restaurant in the early hours of the riot.
"What the hell are you fellows afraid of?" witnesses reported Howard saying. "Come on and I will show you how to do it. Women want protection and this seems to be the only way to get it."
Howard was released on bond in the Loper's case, but was rearrested Aug. 26 on charges that she had helped lynch Burton. Before being taken to jail, she asked to be allowed to use the bathroom. There, she apparently swallowed the poison — possibly cyanide or strychnine. She collapsed and died as she entered the  jail.
Joe James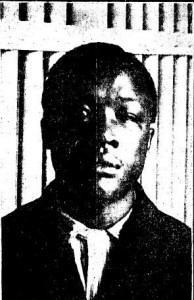 Joe James (??-1908) was an African-American convicted of attacking and killing Ballard in Ballard's home early July 5, 1908. The attack was one of the two incidents that helped inspire the riot.
An all-white jury in Springfield later convicted James of Ballard's murder, largely on circumstantial evidence. Despite his mother's statement that James had been born in 1890, making him too young for execution, he was sentenced to death. (James himself estimated during his  trial he was 19 or 20, and police testified that he had told them he was 22 or 23.)
James was hanged in the Sangamon County Jail on Oct. 23, 1908. More than 7,000 people viewed James' body at the funeral home – something local newspapers later called "morbid" and a "shocking spectacle" – after which the body was transferred to Birmingham, Ala., his mother's home, for burial.
Sources: Illinois State Register, Sept. 18, Oct. 30 and Dec. 9, 1908
Louis Johnston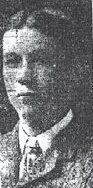 Louis Johnston (spelled "Johnson" in contemporary accounts), age given variously as 17, 18 or 19, was the first fatality of the race riot.
A co-worker at the Desnoyers Shoe Co., Roy Wilson, claimed that he and Johnston were onlookers when a white mob attacked Harry Loper's restaurant in the 200 block of South Fifth Street the evening of Aug. 14. The two were swept by the mob into Loper's basement, Wilson said, and two shots were fired from the restaurant barroom. One apparently struck Johnston, whose body was found in the ruins of the building.
Johnston is buried in the Mechanicsburg Cemetery.
Payne infant
The youngest victim of the riot was the three-week-old daughter of Mr. and Mrs. Lawrence Payne.
The child – whose name was  not reported in contemporary newspaper articles – died of heat exposure at Pittsfield, where her African-American family had fled to escape the rioting.
Thomas Jefferson Scott
Thomas Jefferson Scott, 72, a white real estate agent, was shot as a white mob attacked black businesses in the Levee district on Aug. 14. He died on Aug. 17.
Aftermath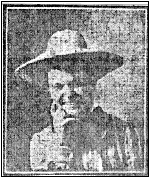 Mabel Hallam, the wife of a streetcar conductor, whose Aug. 13 report that a Black man had sexually assaulted her in her home on North Fifth Street kicked off the riot, recanted her identification of Richardson on Sept. 1. It later developed that she had not been assaulted at all, but had been entertaining a white lover.
She was never punished for the false report, although the Hallam family moved out of Springfield a few months later.
Charges were dropped against Richardson, who remained in Springfield.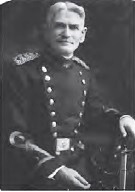 Harry Loper, who spirited James and Richardson out of danger on Aug. 14, said the next day he had hoped to prevent bloodshed.
"I have been through one riot in Cincinnati in '83," he told reporters. "… It was to avoid loss of life that I took these men out of town."
Loper's car, parked in front of the building, was set on fire, and rioters broke into the elegant restaurant, stealing everything they could and smashing the rest. Loper escaped through the basement. No one was ever convicted of participating in the attack.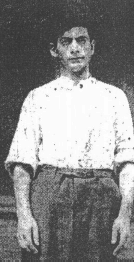 Charges against Abraham Raymer, 20, served as test cases to determine whether Sangamon County juries would convict anyone of serious crimes resulting from the the race riot. The answer, authorities ultimately decided, was "No".
Raymer was suspected of playing a major role in nearly all of the most serious riot violence: the lynchings of both Burton and  Donnegan, the destruction of Loper's restaurant, and the arsons that destroyed dozens of homes and businesses belonging to African-Americans. Arrested after the Donnegan killing, Raymer reportedly was badly beaten by police. "(T)he blows given him and his screams for mercy,  as well as the officers'  threats to kill him if he did not tell more, could plainly be heard from without," the Illinois State Register reported on Aug. 21.
Whatever Raymer's role in the riot, he may have been an inviting target for prosecutors for other reasons. Unlike many riot suspects, he had no local roots and had been in Springfield only briefly — in fact, he was a Russian Jewish immigrant, and he spoke with a noticeable accent.
Nevertheless, despite what prosecutors said was overwhelming evidence against him, white juries acquitted Raymer three times — of murdering Donnegan, of being in the mob that attacked Loper's, and of rioting. He finally was convicted of a fourth charge — stealing a sword belonging to Illinois National Guard Maj. Otis Duncan (who, promoted to lieutenant colonel, would become the highest-ranking African-American officer to serve in World War I). Raymer was sentenced to pay a $25 fine and serve 30 days in jail.
The failure of the Raymer prosecutions led authorities the following June to drop charges against all those, both white and Black, who still faced prosecution in connection with the riots. (One rioter, 15-year-old Roy Young, had admitted stealing guns from a pawnshop and setting fire to black homes and was sentenced to the state reformatory.)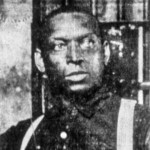 George Richardson was released from jail following Hallam's admission that she had falsely accused him of sexual assault. The allegation, reported in sensational fashion by local newspapers, helped instigate the race riot. Richardson, a hod carrier, had been arrested solely because he happened to be working nearby.
A 1926 Directory of Springfield's Colored Citizens listed Richardson as a janitor at Illinois Bell Telephone. He died in 1948, at age 76, at St. John's Hospital.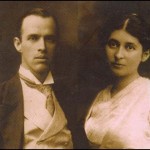 Journalist and socialist William English Walling and his wife, Anna Strunsky,  rushed to Springfield as soon as they heard of the race riot.
"We at once discovered, to our amazement, that Springfield had no shame," Walling wrote in his ensuing article on the violence. "She stood for the action of the mob. She hoped the rest of the negroes might flee. She threatened that the movement to drive them out would continue. …"
Walling's impassioned article, which appeared in The Independent magazine less than a month after the riot, became a rallying cry for supporters of civil rights for African-Americans. Walling and New York activist Mary White Ovington then decided to form the National Association for the Advancement of Colored People; the first meeting of the NAACP was held on Feb. 12, 1909, the centennial of Abraham Lincoln's birth.
More information
Despite its importance to Springfield and to the early 20th century stirrings of the civil rights movement, the Springfield Race Riot faded into obscurity for nearly 60 years. Recent research, however, has gone a long way toward repairing that omission. Here are some places to look for additional information.
Roberta Senechal's In Lincoln's Shadow: The 1908 Race Riot in Springfield, Illinois, University of Illinois Press, 1980 (original title: The Sociogenesis of a Race Riot: Springfield, Illinois in 1908) is the definitive analysis of the riot. Portions are available through Google Play. See also Senechal's shorter article, "Race Riot," on Illinois Periodicals Online.
William English Walling's groundbreaking article in the September 1908 Independent, "The Race War in the North," set the stage for formation of the NAACP.
*James Krohe Jr. anticipated the revival of interest in the riot with his 1973 pamphlet (reprinted in 1996) for the Sangamon County Historical Society, Summer of Rage: The Springfield Race Riot of 1908. It is available through the society.
Interested people can take a walking tour of riot sites. Brochures are available at the Springfield Convention and Visitors Bureau.
A six-part video documentary, including interviews with Roberta Senechal and Springfield historian Cullom Davis, is available through YouTube.
The city of Springfield produced its own three-part documentary for its observance of the riot centennial in 2008. Entitled Springfield Had No Shame, it also is available on YouTube.  (Thanks to Andrew Trello for the reminder.)
The University of Illinois Springfield's collection of oral history interviews includes more than two dozen memories of the riot – notably including an interview with William Lee, a railroad worker and active riot participant.
The Abraham Lincoln Presidential Library presented an exhibit, "Something So Horrible: The Springfield Race Riot of 1908" in 2008. A booklet that accompanied the exhibit, curated by Carole Merritt, may be available online.
The State Journal-Register published a series of articles on the riot during 2008.
The Results of Phase II Archaeological Investigations … For the Proposed Carpenter Street Underpass, Springfield Rail Improvements Project, by Floyd Mansberger and Christopher Stratton (2016), includes every known photo of the riot aftermath, along with lists and maps of buildings damaged in the Levee and Badlands districts. The Mansberger/Stratton report also provides important background on social conditions in those areas prior to the riot and much more.
Original content copyright Sangamon County Historical Society. You are free to republish this content as long as credit is given to the Society. Learn how to support the Society.