"Advice to Housekeepers" is a general introduction to Mrs. Owen's Illinois Cook Book, compiled and written in 1871 by, apparently, Mary Hurst Owen of Springfield. (Why "apparently"? See below.)
Owen (1826-1907) wrote that her  Cook Book was aimed at "middle class" women – a term that, as readers will see, she applied to families prosperous enough to hire servants, but probably not so wealthy that they could employ professional cooks. The Cook Book includes a list of central Illinois women who contributed to and endorsed the book; their names – Elizabeth (Mrs. Jacob) Bunn, Eliza (Mrs. Virgil) Hickox and others of Springfield's upper crust – provide clues to the social circle Owen herself moved in.
"Advice to Housekeepers" also makes it clear that a woman's first household priority was her husband's support and comfort. Owen's husband, Thomas J.V. Owen Jr. (1824-76), was a pharmacist with interests in real estate and a bookbinding company.
The 360 pages of Mrs. Owen's Illinois Cook Book provide hundreds of recipes of all sorts. Fish (spiced, broiled fried and cat). Meat (Beef steak, minced beef, pig's feet, hashed calf's head). Yeast (hops, bottled or potato). Brown bread (French, steamed, Boston or boiled). The index to pastry, cakes and similar baked goods takes up 2½ pages by itself.
The recipes are brief, however, and cookery was obviously much more of an art than a science. Owen, for instance, never mentions cooking temperatures, since women of the 1870s had no reliable way to measure those, and she seldom mentions recommended cooking times.
Here is her complete recipe for doughnuts:
One pint flour, lump of butter the size of a walnut rubbed into it, half cupful of sugar, one-third of a teaspoonful soda, one egg, enough buttermilk to make it a proper consistency; make in twists, or roll and cut in cakes, and fry in hot lard.
The Illinois State Journal found much to recommend in the Cook Book. "We have had a surfeit of the so-called 'cook books' gotten up by eastern publishers merely to sell, their recipes as a general thing being either entirely worthless or not properly adapted in the materials they require to the wants of western housewives.
"Mrs. Owen, than whom there are few, if any better or more careful housekeepers, has herself tested all that she publishes and the result is a practical recipe book, which cannot fail to meet the necessities not only of the young but also of the experienced in the culinary art."
From Mrs. Owen's Illinois Cook Book:
Advice to Housekeepers (typography in original)

To young beginners in housekeeping the following brief HINTS ON DOMESTIC ECONOMY in the management of a moderate income may perhaps prove acceptable.

Whenever anything is bought, a bill of the goods and a receipt should be required, even if the money be paid at the time of purchase; and to avoid mistakes the goods should be compared with these when brought home; if the money is to be paid at a future period, a bill should be sent with the articles and regularly filed.

An inventory of furniture, linen and china, should be kept, and the things examined frequently, especially if there be a change of servants often; the articles used by servants should be entrusted to their care with a list, as many persons do with silver.

In the purchase of glass and crockeryware, either the most customary patterns should be chosen, in order to secure their being easily matched, or, if a scarce design be adopted, an extra quantity should be bought to guard against the annoyance of the set being spoiled by breakage, which, in the course of time must be expected to happen. There should also be plenty of common dishes, that the table set may not be used for putting away cold meats, etc. …

A STORE ROOM is essential for the custody of articles in constant use, as well as for others which are only occasionally called for. These should be at hand when wanted, each in separate drawers, or on shelves and pegs, all under the lock and key of the mistress, and never given out to the servants but under her inspection. It is altogether a mistaken idea of letting servants have full sway over what is provided for the household; however honest they may be, their want of judgment often proves destructive; and every woman who considers her own and her husband's interest, will see that care is taken of what he works hard to provide. Pickles and preserves, prepared and purchased sauces, and all sorts of groceries, should be placed in the store room; spices pounded, bottled and corked tight; sugar in readiness for use; lemon and orange peel put in bags and stored away; thyme, parsley and all sorts of sweet herbs should be dried, rubbed through a sieve and bottled tight; the small bits of tongues saved and dried for grating into omelets; and care should be taken that nothing be wasted that can be turned to good account.

BREAD is so heavy an article of expense that all waste should be guarded against. Be careful to cut no more than will be wanted at a time; it is better to replenish the plate than to have a box full of dry bread going to waste; bread keeps better in earthen than in wooden ware. Make dry or dip toast of the dry bread, or use the receipt in this book for frying bread, which is delightful.

SUGAR being an article of considerable expense in all families, the purchase demands particular attention. The cheap sugar does not go so far as that more refined, and there is a difference even in the degree of sweetness. The close heavy, shining white sugar should be chosen. The best sort of brown has a bright crystalline appearance, as if mixed with salt; and, if feeling coarse when rubbed between the fingers, is better than when more powdery. Loaf should be cut in pieces when first purchased, and kept out of the air two or three weeks; for if it dries quickly it will crack, and when wet will break. Put it on a shelf with a space between each piece, and let it gradually dry, and it will save a full third in the consumption. …

Great care should be taken of jelly bags, which, if not properly washed and scalded, will give an unpleasant flavor when next used.

There are comparatively few among the middle classes of society who can afford to keep professional cooks, their wages being too high, and their methods too extravagant. In such cases a plain cook is alone attainable, who knows little beyond the commonest operations of the kitchen. The mistress, therefore, ought to make herself so far acquainted with cookery as to be competent to give proper directions for preparing a meal and having it properly served up.

Perhaps there are few points on which the responsibility of a man is more immediately felt than the style of dinner to which he may accidentally bring home a visitor. If the dishes are well served, with the proper accompaniments, the table linen clean, and all that is necessary be at hand, the comfort of both husband and friend will be greatly increased by the usual domestic arrangements not having been interfered with.

Hence, the DIRECTION OF A TABLE is no inconsiderable branch of a lady's duty, as it involves judgment in expenditure, respectability of appearance, and the comfort of her husband as well as of those who partake of their hospitality. Inattention to it is always inexcusable, and should be avoided for the lady's own sake, as it occasions a disagreeable degree of bustle, and evident annoyance to herself, which is never observable in a well regulated establishment …

The mistress of a family should never forget that the welfare and good management of the house depends on the eye of the superior; and consequently that nothing is too trifling for her notice, whereby waste may be avoided, or order maintained. If she has never been accustomed, while single, to think of family management, let her not upon that account fear that she cannot attain it; she may consult others who are more experienced, and acquaint herself with the necessary quantities, qualities, and prices of the several articles of expenditure in a family in proportion to the number it consists of. The chief duties of life are within the reach of humble abilities, and she whose aim is to fulfil them will rarely ever fail to acquit herself well. United with, and perhaps crowning all the virtues of the female character is that well-directed ductility of mind which occasionally bends its attention to the smaller objects of life, knowing them to be often scarcely less essential than the greater.
Illinois Cook Book authorship and the 'Owen Inheritance'
As was the custom in the 1870s, the credit page of Mrs. Owen's Illinois Cook Book's identifies its author only by her husband's name: "Mrs. T.J.V. Owen." The same is true of every other mention of the book SangamonLink could find.
When Illinois Cook Book was published in 1871, the name "Mrs. T.J.V. Owen" could have been applied to two Springfield women: Mary Hurst Owen, wife of pharmacist Thomas Jefferson Vance Owen Jr., and her mother-in-law, Emeline Hotchkiss Owen (1807-82), widow of Thomas Jefferson Vance Owen Sr. (1801-35). All four Owens are buried next to each other in Oak Ridge Cemetery.
Thomas Sr. was notable in his own right. As the federal government's agent in Chicago in the early 1830s, he played a major role in the 1833 Treaty of Chicago, under which Native Americans sold their property in Wisconsin and northern Illinois and left the area. A privately printed 1934 history by James Ryan Haydon (written partly to challenge conventional wisdom about John Kinzie's role in the development of Chicago) is titled Chicago's True Founder: Thomas J.V. Owen.
Before moving to Chicago, Thomas Owen Sr. was a resident of Kaskaskia. He seems never to have lived in Springfield. He presumably is buried at Oak Ridge (after his body was moved from the closed Hutchinson Cemetery) only because his son and namesake lived here, as did his wife, Emeline, following the death of Thomas Sr.
Thomas Owen Jr. moved to Springfield from the Kaskaskia area in 1840, according to his obituary. He served with the state militia when it marched to Nauvoo during Mormon-related unrest in 1844 and again during the Mexican War of 1846-48. Thomas Jr. and Mary Hurst of Jacksonville were married in 1848.
Emeline Hotchkiss Owen, the widow of Thomas Sr., very likely lived in Springfield when the Cook Book was published in 1871. The 1850 and 1870 U.S. Censuses both list her as living with Thomas Jr. and Mary Hurst Owen.
Emeline Owen, however, died in East St. Louis in 1882 – "in genteel poverty," according to James Ryan Haydon in True Founder. Haydon tells a convoluted story about how Emeline and her sisters, Mrs. Gholson Kercheval and Charlotte Hotchkiss, spent their final years pursuing claims to ownership of immensely valuable Chicago real estate.
The "Owen Inheritance" was based upon family traditions – supposedly backed up by documents stored in a trunk that, naturally, vanished after the death of Charlotte Hotchkiss in 1901 – that Thomas Owen Sr. owned a farm in what later became downtown Chicago. According to the family's story, Owen allowed the federal government to use the land during the Blackhawk War in 1832 and then never attempted to regain ownership of the property.
Supposedly, Haydon wrote, Marshall Field Sr. was prepared to pay Thomas Sr.'s heirs $1 million to obtain clear title to the property on which the original Marshall Field department store was built. "(B)ut the big fire came and destroyed the records," Haydon was told. Presumably that was a reference to the Great Chicago Fire of 1871.
Haydon reports a different timetable in another version of the story. In that one, Illinois Cook Book writer Mary Hurst Owen was the person who torpedoed a resolution of the Owen Inheritance. In 1930, Haydon wrote, a granddaughter-in-law of Thomas Sr. told him,:
"About forty-five years ago (or about 1885 – ed.) all the heirs had signed up except Mr. Thomas J.V. Owen, Jr., of Springfield who insisted that she get her own share and her son's share in addition. She refused to sign – and the efforts to establish the family claims ended. The family was never able to secure their rights to this property."
At any rate, despite the name confusion, the odds are that Mary Hurst Owen, not Emeline Hotchkiss Owen, was the "practical housewife" who wrote the Illinois Cook Book.
Like the book itself, Springfield newspapers list the author's name only as "Mrs. T.J.V. Owen," with no reference to "Jr." or "Sr." Springfieldians in 1871 would have been familiar with only T.J.V. Owen Jr. – his father, who never lived in Springfield anyway, had been dead for 36 years by then. If Emeline Owen had written the Cook Book, either the book, the newspapers, or both, would have distinguished between the two women. In addition, the women listed as endorsing and contributing to the Cook Book include one "Miss Carrie Hurst" of Jacksonville. Carrie Hurst was Mary Hurst Owen's sister.
More Owens
James Ryan Haydon's exhaustive history of the Owen family includes colorful notes about several other family members. In brief:
William H. Owen (1852-1903), son of Thomas Jr. and Mary Hurst Owen, is also buried at Oak Ridge. Haydon's exhaustive history of the Owen family includes this statement reportedly made by William H. Owen: "I never had a chance in life. I was reared in wealth and luxury and among folks that were called aristocratic. I could not play nor mingle with young people I liked. And so, my life has been a failure."

George S. Owen (1830-64) another son of Thomas Sr., was shot to death in Kaskaskia in July 1864, supposedly because he called his best friend a coward for not joining the Union army. "(T)radition says he was Kaskaskia's most celebrated bad man," Haydon wrote.
Elias Kane Owen (1834-77), also a son of Thomas Sr. and Emeline, was the first native Chicagoan to become a U.S. Navy officer. According to Haydon, Abraham Lincoln personally escorted Elias Owen to the U.S. Naval Academy in 1847, when Lincoln went to Washington to serve in the U.S. House. Owen commanded the USS Louisville in the Civil War.
William F. Owen (1827-64) was the second son of Thomas Owen Jr. Captured by Confederates in the Civil War, he died in Libby Prison in Richmond, Va., reportedly of starvation.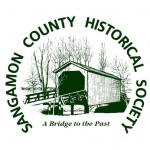 Hat tip: SangamonLink thanks Brent Wielt, Historic Sites Manager of the Macon County Conservation District in Decatur, for alerting us to the Illinois Cook Book and the fascinating Owen family.
Original content copyright Sangamon County Historical Society. You are free to republish this content as long as credit is given to the Society. Learn how to support the Society.