Johei "Joe" Okuhara probably was the first ethnic Japanese to be buried in Springfield, and his also may have been the first Muslim funeral. However, his friends wanted the city to know, he did not live – or die – alone.
It's unclear how long Okuhara (1876-1913) lived in Springfield. He appears in only one city directory, for 1911, but he may have been a city resident for five years or more.
Okuhara's specialty apparently was photographing his subjects in front of a then-exotic Japanese background. As a sideline, he sold Japanese curios and "genuine Japanese chinaware and art goods of all kinds." Okuhara's shop was first at 110 S. Second St. and later on the third floor of the building at 110 N. Fifth St.
Okuhara died of a lingering heart ailment at St. John's Hospital on New Year's Day 1913. In a brief obituary, the Illinois State Register said Okuhara was "a well known Japanese photographer" who had immigrated to the U.S. from Nagasaki, Japan. His nickname in Springfield was "Little Joe," the paper said.
The Illlinois State Journal took a different approach in a story by one of its star writers, Octavia Roberts.
At 8 o'clock yesterday morning when all the city cried "Happy New Year" over the family breakfast tables, a young Japanese swept the bare little room in the Springfield hospital in a last glance of homesick dismay, pressed his hand convulsively to his heart, and died.

His name was Okuhara, and after the manner of his countrymen in America, he had given himself the first name of Joe.

While Okuhara lived and practiced his trade of photographer in the third story flat at 110½ North Fifth street, few of the people with whom he came in contact realized how absolutely alone the Japanese was in a city where his countrymen have not settled. …

It's a short story – this life of the Japanese boy that died as the New Year came in; it can be told in a few words. He lived alone in his third story flat in a quaint little studio he had fitted up himself.

In one corner was his dark room, shut in by a kind of lattice covered with paper that he made himself. He had painted the screen which formed the background for his subjects. In one corner he had erected a queer little Japanese lantern, which, when lighted by a candle, showed transparencies of native scenes.
Roberts, who later wrote a book about Abraham Lincoln's life in central Illinois, was an eloquent writer, though her story on Okuhara's life and death included a touch of early 20th century racial dismissiveness. She also was a diligent reporter, as shown by the fact that she visited Okuhara's studio before writing her story. But she got in trouble when she characterized the photographer as a lonely, isolated figure. As Roberts wrote it:
"Had he no friends?" I asked Mr. Cleveland Bierman, Joe's landlord. If he had, no one knew who they were. They only know that he had kept house in that strange little studio, that he had cooked savory messes on his little stove until the odor of onions had flooded the law offices and the lawyers had asked Joe to choose some less pungent food. …

Once Joe had had Japanese visitors from St. Louis, and they all had lived in the studio for a short time, but beyond that no one remembered ever having seen him greet anyone except as a business acquaintance. …

And in the silent little studio there is no hand to light the quaint little lantern tonight – the lantern that looks like a pagoda and a bird house – no eyes to read the strange books, no hand to push back the screens and make a home of the studio when the day's work is done. For Joe Okuhara is keeping the new year in the way a Japanese most desires to keep it – in the halls of his honorable ancestors, where loneliness is not.
Roberts' article prompted an indignant letter to the Journal from Mabel Bretz of Springfield. Bretz wrote, as the letter's headline said, that "Joe had many friends."
Joe Okuhara, whose name of Joe was not adopted in this country, but bestowed upon him at the time of his birth, had a host of social friends and was a welcome guest in many homes in this city. …

When Joe entered the Springfield hospital I was fortunate enough to be present and to see that all his wants were supplied. The nurses were especially kind to him, and Mr. (John E.) Bretz and I watched over him with loving care, as he had been a familiar figure at our home. When he died I was with the nurse at his bedside. …
Bretz also took issue with some of Roberts' other characterizations.
Joe was not of the servant class who "bowed to the ground," but was of gentle birth, well educated and very proud. His brother is not an acrobat (as Roberts had said –ed.) and Joe scorned to meet peregrinating vaudeville (Japanese), as he always remarked: "Not my kind of people."
John Bretz arranged for Okuhara's funeral and burial in Oak Ridge Cemetery. The funeral, held Jan. 4 at the Kirlin & Egan mortuary, was attended by Okuhara's brother, Yung (or possibly Gung) Okuhara, an Oklahoma resident, and a friend, T. Yamajo of St. Louis. The Illinois State Register called the funeral rites "the strangest … ever held in this city."
Early yesterday morning Yung Okuhara, brother of the deceased, and T. Yamajo of St. Louis entered the roomwhere the body lay in state. Each placed his hand over the dead man's breast and murmured prayers. .…

The services, according to the statement of Mr. Yamajo, were those taught by the religion of Mohammed. Contrary to the customary religion of the Japanese, that of Buddhism, "Little Joe" Okuhara was a follower of Mohammed and was laid in his final reating place under the conditions that govern the rites of that religion.
Johei Okuhara is buried at Oak Ridge Cemetery.
First Japanese resident?
Johei Okuhara may have been the first person of Japanese ancestry to die in Springfield, but it's unclear if he was the first to live in the city. The other contender for that distinction seems to have been a tea merchant named either Ysai Takezawa (the version Mabel Bretz gave in her letter about Okuhara) or Say Takeyama, as the Register identified him in a 1911 list of prominent local businessmen.
Takezawa/Takeyama operated the Nippon Tea Co. at 728 E. Monroe St. from at least 1908 to 1912, according to city directories, and he regularly advertised in the Register, especially in 1909. In addition to tea and coffee, he sold Japanese ceramics "and many other beautiful Japanese goods." He apparently also decorated homes in Japanese style for parties from time to time.
Bretz wrote that Okuhara roomed with Takezawa for about five years. However, she wrote, Takezawa left Springfield for Kansas City sometime in 1912.
No other information is available about Takezawa/Takeyama either before or after his years in Springfield.
Mabel and John Bretz
Mabel Bretz and her husband John were wealthy and prominent citizens of Springfield, which may have contributed to the Illinois State Journal's willingness to publish Mabel Bretz's critique of Octavia Roberts' article.
Mabel Bretz (1873?-1960) was the daughter of Jabez Capps, an early pioneer of Springfield and founder of Mt. Pulaski. After John Bretz's death, she married Illiopolis veterinarian Dr. Marion Fletcher.
Here is an excerpt from her obituary:
The Bretz home was a noted cultural center. Mrs. Fletcher participated often in literary and musical activities, being prominent in the old Amateur musicals. Her concert grand piano was well known in the Springfield area, and her mastery of that instrument was wildly appreciated. She gave many concerts but also accompanied many prominent figures, including Galli-Curchi.
(Amelita Galli-Curchi, an Italian soprano, was one of the most popular opera singers of the 20th century).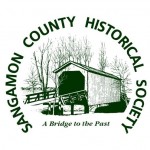 John Bretz (1869-1950) was president of Sangamo Contracting Co. and the first president of the Illinois Contracting Association.
Both are buried in Fort Myers, Fla.
Original content copyright Sangamon County Historical Society. You are free to republish this content as long as credit is given to the Society. Learn how to support the Society.