Eliza Helmle, the infant daughter of Carl Albert and Marie Helmle, was the first person buried at Oak Ridge Cemetery, according to cemetery records.
A handwritten cemetery ledger says Eliza died of "teething" at nine months old; the record gives a burial date of simply "1858."
Eliza's original burial site was in Oak Ridge Block 1, in the cemetery's northeast corner. Eliza's body was moved in 1867, according to findagrave.com, to the Helmle family plot in Block 14.
A roadside sign has pointed the way to Eliza's first grave for decades. "(N)o stone was on that plot until a new tombstone was placed in Sept. 2017," findagrave says. Neither marker, however, mentions the fact that Eliza was reburied elsewhere at Oak Ridge.
Meanwhile, the cemetery's written record is wrong about Eliza's age at her death. The inscription on the main marker at the Helmle family plot says Eliza was born Feb. 15, 1857, and died Sept. 9, 1857, making her not quite seven months old at her death.
The written record also raises a question about the date of Eliza's burial. If that took place in 1858, as the cemetery record says, she wasn't buried at Oak Ridge for at least four months after her death. If the 1858 date is correct, she may have originally been interred in a third place. That's certainly possible; Springfield had two major cemeteries before Oak Ridge, Hutchinson Cemetery and the Old City Graveyard. Most of the people buried in those cemeteries were later re-interred at Oak Ridge.
Contemporary newspaper records don't mention Eliza's death, but obituaries, especially of children, were uncommon at the time.
More is known about Eliza's family. She was one of at least eight children of liquor dealer and civic leader C.A. Helmle (1827-97) and Marie Flesche Helmle (1832-1904). Both parents were immigrants from Germany. They married in Washington, Mo., in 1853 and moved to Springfield in 1854.
At first, C.A. Helmle partnered with Frank Reisch in a general merchandising business and then in the Reisch Brewing Co., founded by Franz Reisch, Frank's father. Helmle sold his share of the brewery in 1864 to open his own wholesale liquor business, which he operated until he died of asthma more than 30 years later. According to Helmle's Illinois State Journal obituary:
The deceased was widely known throughout Central Illinois, and bore the respect of all who knew him. He had held many positions of honor and trust.

He was a member of the city council for many years; a member of the board of education, and a member of the water works commission. At the time of his death he was a director of the Marine bank of this city.
The obituaries of C.A. and Marie Helmle both list seven surviving children. Neither mentions Eliza, nor do they say whether any other children died young. The headstones in the Helmle family cemetery plot include one that just says "Baby." Presumably, that is Eliza's final resting place.
Sadly, Eliza Helmle wasn't alone in her early death. As State Journal-Register reporter Pete Sherman noted in a 2006 story, "Of the first 250 people buried (at Oak Ridge), more than half were younger than 10."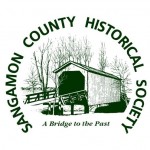 Hat tip: To findagrave.com volunteer "BjJ," for clarifying aspects of Eliza Helmle's findagrave listing. And a big hat tip to findagrave volunteers in general. Findagrave is an incredible resource for genealogists and history researchers.
Original content copyright Sangamon County Historical Society. You are free to republish this content as long as credit is given to the Society. Learn how to support the Society.