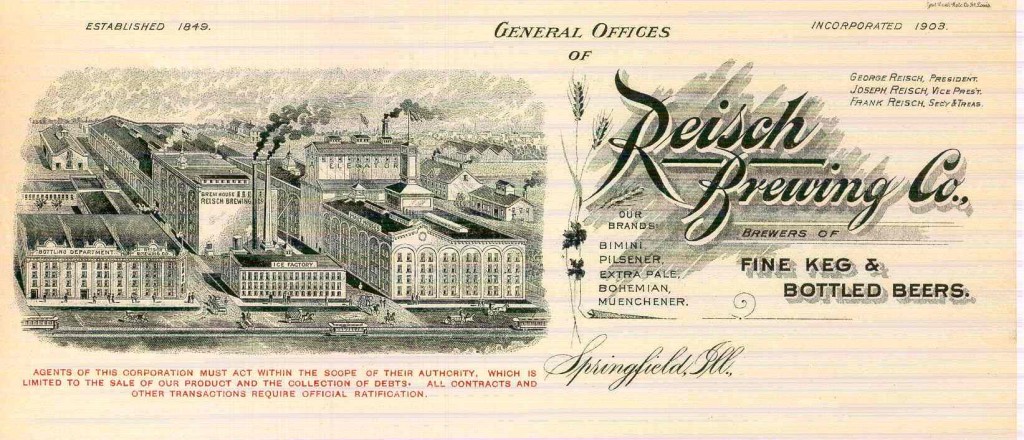 The Reisch Brewing Co., which operated (with a few interruptions) from 1849 to 1966 on Springfield's north end, remains the best-known of Springfield's many 19th- and early 20th-century breweries. Bottles, cans, labels and other mementoes of the Reisch operation are considered collectible items by fans of breweriana.
Franz Sales Reisch, founder of Reisch Brewing, was born in the Duchy of Baden, Germany in 1808. An orphan at age 17, he apprenticed at a brewery and seven years later emigrated to the United States, arriving in New Orleans in 1832.
Reisch intended to build a brewery, but found that water in Louisiana was not compatible with brewing beer. With a friend, Peter Moore, Reisch relocated to Cincinnati, Ohio, and then to Springfield, arriving on Thanksgiving Day 1833.
Moore wanted to continue to Chicago, but Reisch had heard (incorrectly) that the water from the Great Lakes was too salty for beer, and he bought land in Springfield. His first endeavor in Springfield was making barrels to sell to meat companies; he also hewed logs for cabins. By 1837, Reisch had saved up enough money to sail back to Germany, where he married Susannah Maurer.
Reisch bought a brewery site on Kelley Branch (a creek that ran near what now is North Rutledge Street) in 1847, and his first beer went on sale in 1849.
When the Illinois legislature prohibited manufacture of alcoholic beverages, including beer, in 1853, Reisch turned to brickmaking and leased his brewery to Andrew Kun of St. Louis, who continued to make beer there with no apparent consequences. When a voters overturned the alcohol ban in an 1855 referendum, Reisch returned to the brewing business.
In 1862, Reisch's oldest son, Frank, joined the brewery, which was renamed F. Reisch and Son. The yearly output of beer was around 2,000 barrels when Frank joined. Eventually, Joseph and George Reisch, Franz Reisch's other two sons, also came into the business, and the name changed again to "F. Reisch and Sons". The yearly output of beer increased to 8,000 barrels by 1875.
On Aug. 18, 1875, Franz Reisch was clearing out boxes and other debris on the top level of one of his breweries. He threw a 2-by-4 scantling out of a window opening and a spike at the end of the scantling caught on his sweater. Reisch fell three stories and died of a skull fracture.
Frank Reisch took over the business and renamed it F. Reisch and Brothers. The collection of Reisch Brewing Company buildings now included a brew house, a five -story brick ice house, two malt furnace houses, a three story malt storage house, and a stable built to hold forty-eight horses. Under the management of the Reisch brothers,  sales continuously rose: 15,000 barrels in 1880, 30,000 barrels in 1890, 50,00 barrels in 1896.
Frank Reisch died from a severe cold on May 22, 1896. At the time, he was said to own more property than anyone else in Springfield. George Reisch Sr. and his sons took over the family business. Carl Reisch was president, George Reisch Jr. was vice president, Walter Reisch was secretary, and Joseph Reisch was treasurer. They officially and permanently renamed the corporation the Reisch Brewing Company.
Sales flourished until 1920, when the 18th Amendment to the U.S. Constitution barred all sales of alcohol.  The Reisch family turned to producing flavored sodas and malted syrups from the old brewery facilities, sold grain from the family farm, and grew mushrooms in the cellars. Members of family seriously considered getting out of the beer making business permanently.
When prohibition ended in 1933, the Reisches quickly raised $250,000  to remodel and expand the Reisch Brewing Company. Although they legally could have started producing beer almost immediately, the Reisches waited.
"Our beer will not be put on the market until it is ready and thoroughly aged," Carl Reisch told the Illinois State Register in 1934.
George Reisch Sr. died in 1936, and George Reisch Jr. and his son, Edward Louis Reisch, took over the operation.
During the Great Depression, the Reisch Brewing Company distributed coal to  local Catholic schools and churches. Members of the Reisch family also hoped found the Citizens Street Railway Company, Illini Country Club, the Springfield Art Association, and the Sangamo Club and were also major contributors to the Springfield YMCA and YWCA, Saint John's Hospital, and Blessed Sacrament church and school.
Reisch Brewing beer labels included Bimini, Gold Top, Bohemian, Muenchener, Hercules Malt, and Sangamo.
George Reisch, Jr.'s wife, Alvina, died on October 23, 1960. George Jr. died in 1961.  By the middle of the 1960s the brewery sold 100,000 bottles of beer and 30,000 kegs annually and had 40 people on the payroll. However, Reisch faced overpowering competition from Anheuser-Busch, and Reisch Brewing officials announced on Aug. 7, 1966, that the company would go out of business, ending 117 years of a local, family-owned beer brewing.
The Reisches honored a promise to sell the brewery site to Memorial Hospital, even though Memorial was actually the lowest bidder for the land. The brewery's 11 buildings were demolished in 1967, and the  location is now the site of Southern Illinois University School of Medicine.
"I was there that day when the iron ball took down their huge smoke stack," Nody Long wrote in the State Journal Register in 1979. "Forty-two times it withstood the shock, then fell. … The bricks kept their same arrangement … as though waiting for an invisible giant to set them back in place again."
Reisches remained prominent in the brewing industry in the 21st century. George Frank Reisch of Wildwood, Mo., a production supervisor for Anheuser-Busch, was named "Large Company Brewmaster of the Year" at the Great American Beer Festival in Denver in 2000, 2001, 2002, and 2003. He is the son of Edward Louis Reisch, Reisch Brewing's last brewmaster.
Meanwhile, Patrick Reisch, the son of George F. Reisch, was a brewmaster for Goose Island Beer Co., making him the sixth generation of brewing Reisches.
Contributor: Hannah Ketchum, Blessed Sacrament School. Thanks also to Tony White for pointing us to Patrick Reisch's role with Goose Island. 
More information
There are many reliable sources of information on the Reisch Brewing Co. and the Reisch family. The brewery's early history is available in The Industrial Archaeology of Breweries: Archaeological Investigations at the Mid-Nineteenth Century Kun-Rudolph Brewery, a study done by Floyd Mansberger for Fever River Research in 1993. The Abraham Lincoln Presidential Library has a brief summary of the company in its Chronicling Illinois collection.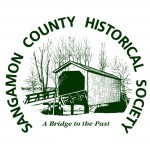 Original content copyright Sangamon County Historical Society. You are free to republish this content as long as credit is given to the Society. Learn how to support the Society.