When it closed in 2003, Bachmann & Keefner Pharmacy, with its black-and-white mosaic floor, handsome walnut paneling and fire-engine-red bar stools, ended a 90-year tradition at the southeast corner of Sixth Street and Capitol Avenue.
The corner building, under various proprietors and different names, had been a pharmacy and lunch counter since 1912, serving up illness remedies and olive-loaf sandwiches to countless Springfield residents, tourists and politicians.  Stepping into Bachmann & Keefner was a bit of nostalgia for the elderly and a novelty for the young.
The Keefner family's connection to Bachmann's pharmacy began in early 1975, when Paul Leigh Keefner bought the Bachmann-Kumle pharmacy at 530 E. Capitol Ave. William Bachmann and Virgil Kumle had owned the business previously.  Keefner, who had been a pharmacist and the manager of a Super X drugstore, changed the name to Bachmann & Keefner, and it remained that way for the 28 years he owned it.
Prior to 1911, the corner was occupied by a frame building that housed a doctor's office. In that year, Harris V. Hickox Jr. had the house moved and built a commercial block spanning 524 to 530 E. Capitol Ave.
Hickox's new two-story, auburn-colored brick building opened to commercial tenants in May 1912. It quickly filled with medical providers and a bespoke tailor (Altman's), but  Fred W. Rauth (1872-1951) leased the prized corner unit outfitted for a drugstore.
Rauth's father, Fredrick Sr., was a German-born contractor who installed the brickwork for Ss. Peter and Paul Catholic Church.   The younger Rauth clerked first at Dodds Drug Store and for a short time at Broadwell's Drugstore. He graduated from the Chicago College of Pharmacy in 1893 and eventually became president of the Illinois Pharmaceutical Association.
Rauth and his business partner, Dr. Frank Fleury, opened a drug store at Fifth Street and Capitol Avenue in 1897.  After Fleury's death, Rauth moved the pharmaceutical operation to the Hickox space.
Like many drug stores at the time, Rauth's Pharmacy had a lunch counter. Because it was walking distance from the Statehouse and just steps away from the Leland Hotel, it was often frequented by luncheoning legislators and politicos.
Rauth's also may have been the first Springfield pharmacy to offer curb service. Employees would walk medicines and fountain drinks to customers' autos, Helen Rauth,  Fred's daughter, recalled in a 1970s news story.  During Prohibition, she added, customers often bought liquefied juniper from her father and used the homeopathic tonic to create their own gin.
Rauth went bankrupt in the summer of 1929. Roy Kutscher and Joseph "J.J." Waters acquired the pharmacy, so the name became Kutscher & Waters. William Bachmann, another pharmacist, purchased Kutscher's enterprise in 1946.
By then, Fred Rauth was "chief chemist at the central Walgreens" in Springfield. When he died in 1951, at age 79, the Illinois State Register remarked that Rauth was "a symbol of decades of service in Springfield as a skilled, conscientious pharmacist."
Bachmann (1910-2002), a New Berlin native and graduate of the St. Louis School of Pharmacy, previously worked in the Springfield pharmacy of Sharpe & Dohme. His business partner was Virgil Kumle (1908-98), a former pharmacy manager at Walgreen's.
The soda fountain era was entering its twilight when Keefner acquired Bachmann's in 1975 – the 1974 Springfield telephone book listed 41 drug stores, but only 10 that offered fountain service.  That didn't stop him.  Keefner worked hard to maintain the pharmacy's nostalgia by making sure the soft drinks were always flowing and the sandwiches tasted as good as they did when he was a kid. Over the decades, however, tastes changed, and the public preferred to buy pharmaceuticals at supermarkets and chain pharmacies, tossing aside the opportunity to finish their shopping with an olive-loaf sandwich paired with a hand-dipped shake.
In 2015, some of the trappings from Bachmann & Keefner's fountain got new life at Keefner's, a grill and tavern at 1941 W. Iles Ave. owned by Paul Keefner's daughter, Angie Keefner-Grieser.
"The establishment's decor is an homage to old Springfield and Grieser's father, Paul Keefner, who ran the Bachmann & Keefner Drug Store for three decades," SJ-R reporter Natalie Morris wrote. "Memorabilia from the 530 E. Capitol Ave. soda fountain has been used to decorate the new establishment, including the original grill, Hamilton Beach milkshake mixer and a red vinyl stool upon which decades of drugstore customers perched at the soda fountain."
Keefner's menu, along with typical grill items, offered some of Bachmann & Keefner's favorites, such as the olive-nut loaf and Braunschweiger, Morris noted.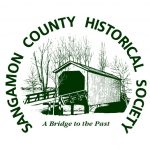 Meanwhile, a locally owned sandwich shop, Head West Sub Shop, moved into the Sixth and Capitol building. Head West was still in business at the fabled corner in 2020.
Contributor: William Cellini Jr.
Original content copyright Sangamon County Historical Society. You are free to republish this content as long as credit is given to the Society. Learn how to support the Society.