Ss. Peter and Paul Catholic Church, 426 N. Sixth St., completed in 1866, was closed in 2001 and demolished in 2002.
St. Pete's, as it was known, was formed when Irish and German Catholics decided to form separate parishes in the 1850s. They had been worshiping together at a small church, St. John the Baptist, in the 800 block of East Adams Street. As the congregation grew, the Irish built St. Mary's Church at Seventh and Monroe streets, and the Germans kept the Adams Street location, renaming it Ss. Peter and Paul Parish.
The German congregation then purchased land from the Ursuline Sisters at Sixth and Reynolds streets and began building their new church and school.
Fred Rauth, one of the founding 64 parish families in 1859, did the brick work on the church, using bricks hand-made from the kilns of August Kloppenburg, another founding member.
The first service in English was held in 1905.
"On the first Sunday in Advent the sermon in the first Mass was preached in English, which has been the custom ever since, and the people were quite satisfied with the change," reported the Diocese of Springfield in Illinois Diamond Jubilee History, written by Joseph Thompson in 1928.
Rev. (later Monsignor) Linus Kipping (1884-1960) was pastor at St. Pete's from 1930 to his death.
YouTube video history: Much more of the history of St. Peter and Paul Parish and School is contained in a 28-minute video available on YouTube. The video, compiled in 1995, was written by Bill Becker and produced by Michael Bross. Narrators are Bruce Bagg and Lisa Crocker.
Hat tip: Thanks to Chuck Tisckos for the photo contributions and for directing us to the video.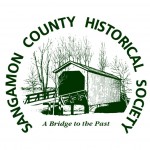 Original content copyright Sangamon County Historical Society. You are free to republish this content as long as credit is given to the Society.