Founded in 1866, R.F. Herndon & Co. sold dry goods and women's and children's clothing, specializing for many years in gloves.
Herndon's was on Fifth Street until 1964, when it moved to 206 S. Sixth St.  A Herndon's also opened in Town & Country Shopping Center in 1976, but both outlets closed in 1978.
Source: Department store summary, Sangamon Valley Collection at Lincoln Library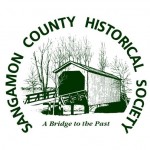 Original content copyright Sangamon County Historical Society. You are free to republish this content as long as credit is given to the Society.