The Aetna Foundry and Machine Shops, established in 1848 by a partnership named Lowry, Lamb & Co., operated for most of its existence at the southwest corner of Second and Adams streets in Springfield. John C. Lamb became sole owner in 1855. Aetna was one of the city's earliest industrial plants, and its complex was a landmark in Springfield through the second half of the 19th century.
During its early years, the Aetna Foundry manufactured 2,000 to 3,000 plows annually. Woolen machinery also was in operation in part of the building. Later, the business turned exclusively to foundry work. Products included steam engines, mill machinery and railroad castings.
In 1891, a new corporation, headed by president E.F. Smith and vice president Herman Pierik, took over operation of the Aetna Foundry from Lamb.
"They have a very flattering local and foreign trade in the manufacture of building fronts, brass and iron castings of all kinds, machinery for mining, castings for railroads and rolling mills, and many other kindred lines of work," the Illinois State Journal's 1892 Souvenir of Springfield reported.
"… They are the sole manufacturers of the Aetna Steam Pump, … (which) has many important advantages over others. … They are attracting a wide and growing market and have given perfect satisfaction wherever used."
The Aetna Foundry moved to 908-18 E. Monroe St. in the late 1890s, but closed in 1907 or 1908.
Its last listing in Springfield city directories, in 1908, indicated Aetna Foundry and Machines by then specialized in manufacturing hoisting machinery and coal mine equipment. For example, the 1906 Illinois Annual Coal Report included the information that Aetna had manufactured 6-foot-diameter "sheave wheels" for a new mine in Williamson County. 
More information: Springfield city directories, 1897-1908, Sangamon Valley Collection, Lincoln Library. Souvenir of Springfield 1892, hardcover publication produced by the Illinois State Journal (State Journal-Register library).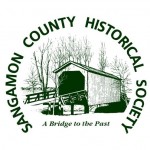 Original content copyright Sangamon County Historical Society. You are free to republish this content as long as credit is given to the Society.