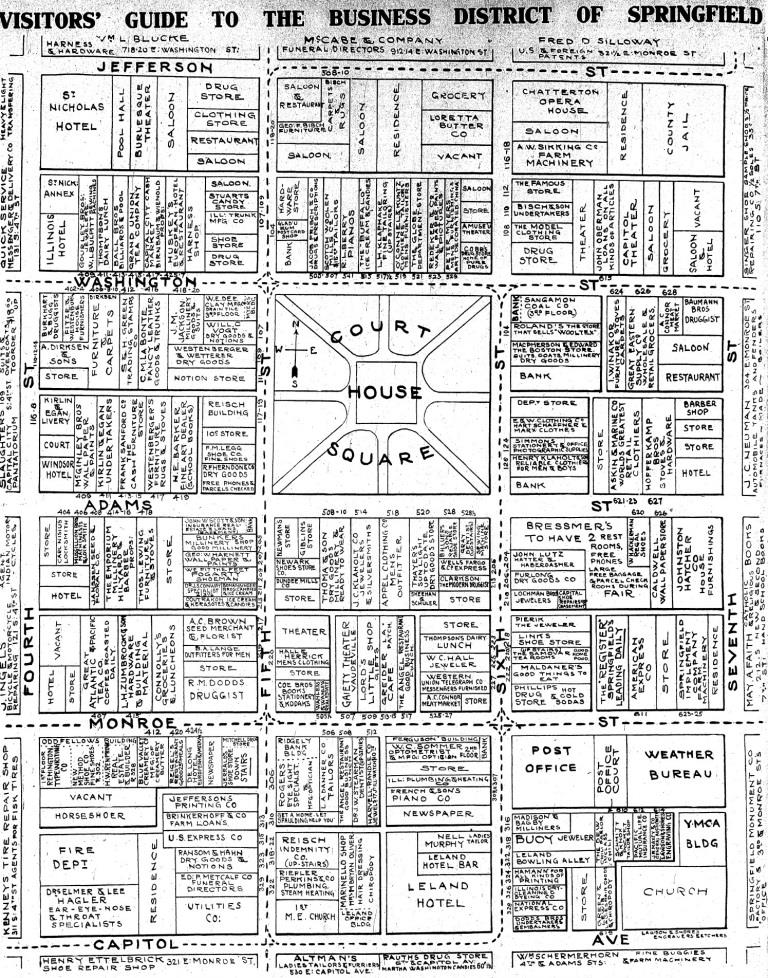 The Oct. 7 and 8, 1913, editions of the Illinois State Register, published during the Illinois State Fair (then held in the fall) included a map of the area surrounding Springfield's courthouse square that showed many of the city's downtown businesses.
Despite some omissions, the map gives people a century later a rare look at the density and types of businesses that populated the heart of Springfield in the 1910s. (For a larger view of the map, click on the image.)
The map obviously was an advertising vehicle; it appears that only businesses willing to pay for placement were included. For instance, the map and accompanying list shows that the William E. Dee Clay Manufacturing Co. had offices in the Myers Building at Fifth and Washington streets. But the Myers Brothers clothing store itself, though already a prominent local merchandiser, goes unmentioned, as do all the other offices in the building.
A few businesses just beyond the map's borders apparently paid to be listed around the edges.
In the competitive spirit, the map shows the Register's building in the 600 block of East Monroe Street and describes the paper as "Springfield's leading daily" (emphasis theirs). Meanwhile, the map identifies the Illinois State Journal building in the 300 block of South Sixth only as "newspaper."
Additional note: Post Office Court was the alley running between Sixth and Seventh streets behind what now is the Findley Federal Building. Several businesses had addresses in the alley, including the original The Dew Chilli Parlor ("1st Class Chili").
At the bottom of the page was a list of establishments identified on the map, by category of business. Listed businesses were:
Candies and confectioners
The Buffalo, 515 North Side Square
Bonansinga Bros., 211 S. Fifth
Maldaner's, 222 S. Sixth
Stuart's Candy Store, 109 N. Fifth
Dry goods and millinery
Macpherson & Edwards, East Side Square
John Bressmer Co., Sixth and Adams
R.F. Herndon & Co., Fifth and Adams
Rolands, 104 S. Sixth
Thayer's Sunlight Store, 520 South Side Square
Furlong/Dry Goods Co., 206 South Sixth
Will C. Vogt, 107 South Fifth
Westenberger & Wetterer, 109 West Side Square
The Model Clothing Store, 108 N. Sixth
The Famous, 112 North Sixth
Globe D.G. Co., North Side Square
Ransom & Hahn, 323 South Fifth
The Emporium, 313-16 E. Adams
Madison & Bagby, 316 S. Sixth
Nell Murphy, 219-21 S. Sixth
Bunker's Millinery Shop, 205 S. Fifth
J.M. Jackson, 418-20 E. Washington
Drug stores
Phillips, Sixth and Monroe
Burkhardt & Bugg, Fourth and Washington
Dodds Bros., Fifth and Monroe
Cobb's Drug Store, Sixth and Washington
Mitchell's Drug Store, Fifth and Monroe
Clarkson's Modern Drug Store, 213 S. Sixth
Rauth's Drug Store, Sixth and Capitol
Baumann Bros., Seventh and Washington
Jacob Frisch & Co., North Side Square
Furniture, rugs and carpets
A. Dirksen & Sons, 406-08-10 E. Washington
Westenberger's, 417 E. Adams
Fitze & Westenberg, 417 E. Adams
Johnston-Hatcher Co., Seventh and Adams
George F. Bisch, 118-20 N. Fifth
Frank Sanford & Co., 413-15 E. Adams
Thomas L. Ewing, 418 E. Adams
I. Winakor, 624 E. Washington
Men's and boy's clothing
E&W Clothing Co., Hart, Schaffner & Marx clothes, East Side Square
R.A. Lange, 219 S. Fifth
John Lutz, 204 S. Sixth
Appel Clothing Co., South Side Square
Model Clothing Store, 108 N. Sixth
O'Connell & Kunz, 519 North Side Square
Henry Klaholt & Sons, 126 East Side Square
Hall & Herrick Co., 220 S. Fifth
Tailoring
Altman's, 530 E. Capitol
L.H. Klaphake, 517½ E. Washington
L.A. Danner Co., 506 E. Monroe
Schmitt & Knox, 610 Post Office Court
Slaughters Capital City Pantatorium, 109 S. Fourth
Hotels
Leland Hotel, Sixth and Capitol
St. Nicholas Hotel, Fourth and Jefferson
Windsor Hotel, Fourth and Adams
De Long Hotel (upstairs), 424½ E. Monroe
Huskey's European Hotel, 425-27 E. Washington
Jewelers
Buoy, 318 S. Sixth
Gourley Bros., 409 E. Washington
J.C. Klaholt Co., 514 South Side Square
Harvell-Randle, 512 E. Monroe
Restaurants
Huskey's Restaurant, 425-27 E. Washington
Greider's Café, 513-15 E. Monroe
The Angel (two places) (good business lunch) 517 E. Monroe and 508 E. Monroe
Thompsons Dairy Lunch (two places) 223 S. Sixth and 411 E. Washington
The Dew Chilli Parlor, Post Office Court
Riegel's Restaurant, 420 E. Monroe
De Long Hotel, 424½ E. Monroe
The Samovar Tea Rooms (upstairs), 220½ S. Sixth
Shoes
New Method Shoe Co., 302 Odd Fellows Bldg., Fourth and Monroe
B.H. Luers & Sons, 528 E. Adams
Link's Shoe Store, 218 S. Sixth
F.M. Legg Shoe Co., South Side Square
Fogarty, the Shoe Man, 209 S. Fifth
Jerald's, Best Known Shoe Man, Basement, Fifth and Monroe, under Mitchell's Drug Store
W.H. Ackerman, 620 E. Adams
Hardware
Hofferkamp Bros., 621-23 E. Adams
L.H. Zumbrook & Son, 415 E. Monroe
W.L. Blucke, 718-20 E. Washington
Pianos and sewing machines
French & Sons Piano Co., 309-11 S. Sixth
W.L. Bulpitt, 409 E. Washington
R.L. Berry, 511 North Side Square
Postcards and quick finish pictures
Glad-U-Kum Shop, 104 N. Fifth
Retail clothiers
Askin-Marine Co., 621-23 E. Adams
Chiropody and hair goods
Marinello Shop, Leland Hotel Office Building
Miscellaneous
Redeker & Co., 523 North Side Square, picture frames
Bisch & Son, Undertakers, 110 N. Sixth
Singer Shoe Repair Shop, 110 S. Seventh
Jno. Oberman, Loan Office, 615 E. Washington
W.L. Blucke, Motorcycles, 718-20 E. Washington
Springfield Monument Co., Third and Monroe
Simmons Stationery and Office Supplies, 124 S. Sixth
Illinois Trunk Mfg. Co., 107 N. Fifth
Ball Bros. Pool, Cigars and Billiards, 413 E. Washington
Grand Union Tea Co., 417 E. Washington
Janssen Seed & Floral Co., 408 E. Adams
J.A. Mussillon, Locksmith, 406 E. Adams
Great Atlantic & Pacific Tea Co., 407 E. Monroe
Jno. W. Scott & Sons, Loans and Insurance, basement State Bank, Fifth and Adams
Lord's Little Shop, Art Goods, 609 E. Monroe
Gaiety Theatre, Vaudeville, E. Monroe
Sheehan & Schuler, Painters, alley on Sixth between Monroe and Adams
Western Union Telegraph Co., 227 S. Sixth
Wanless & Wanless, Real Estate, (upstairs) 505½ E. Monroe
Gray, Dentist, 528½ E. Adams (upstairs)
Coe Bros., Books, Stationery and Kodaks, corner Fifth and Monroe
Wells Fargo Express Co., 205 S. Sixth
J. Ingels, Bicycles and Motorcycles, Welding, etc., 121 S. Fourth
Henry Ettelbrick, Shoe Repairing, 321 E. Monroe
Fred D. Silloway, Patents, 321½ E. Monroe
May A. Faith, Catholic and School Books, 212 S. Seventh
Quick Service Messenger & Delivery Co., 131 S. Fourth
McCabe & Co., Funeral Directors, 912-14 E. Monroe
Kenney's Live Repair Shop, 311 S. Fourth
J.C. Neuman, Furnaces, 304 E. Monroe
Wm. E. Dee Clay Mfg. Co., 34-35 Myers Bldg., Fifth and Washington
C.M. La Bonte, Trunks and Traveling Bags, 416 E. Washington
Kirlin & Egan, Funeral Directors and Livery (two places), 116-18 S. Fourth and 411 E. Adams
Lochman Bros., Opticians, 210 S. Sixth
American Express Co., 611 E. Monroe
Capitol Shoe Repair Shop (basement), 214 S. Sixth
S&H Green Stamp Co., 412 E. Washington
Green & Lewis, Hair Goods, 619 E. Capitol
Illinois Dry Cleaning & French Dry Cleaning Co., 326 S. Sixth
Lawson-Shores Engraving Co., Post Office Court
J.R. Maxey, Real Estate and Auctioneer, 614 Post Office Court
Pacific Mutual Life Insurance Co., 612 Post Office Court
National Express Co., 328 S. Fourth
Hamann Printing, 324 S. Sixth
Carl Nisius, Locksmith, 404 E. Adams
A.C. Brown, Seeds and Flowers, 217 S. Fifth
H.W. Renfrow, Real Estate, 328 I.O.O.F. Building
Drs. E.E. & Lee Hagler, Ear, Eye, Nose and Throat, Fourth and Capitol
E.P. Metcalf, Funeral Director, 329 S. Fifth
U.S. Express Co., 315 S. Fifth
Jefferson Printing Co., 310-12 S. Fifth
Blue Valley Creamery Co., 412 E. Monroe
Remington Typewriter Co., first floor I.O.O.F. Building
Brinkerhoff & Co., Farm Loans, 313 S. Fifth
Dr. J.W. Stearman, Dentist, 506½ E. Monroe
W.C. Sumner, Optician, 202-03 Ferguson Building, Sixth and Monroe
Reifler-Perkins & Co., Plumbing, 332 S. Fifth
Illinois Plumbing & Heating Co, 307 S. Sixth
Spaulding Real Estate, 310 S. Fifth
Rogers, Eyesight Specialist, 308 S. Fifth
H.E. Barker's Art Store, 419 E. Adams
Sangamon Coal Co., second floor, First National Bank Building
A.C. Connor, 525-27 E. Monroe
Capitol City Cash Market, 115 E. Washington
Connelly Grocery Co., 417-23 E. Monroe
Great Eastern Supply Co., 626 E. Washington
J.S. Conway, M.D., 213½ S. Fifth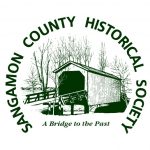 (The list is verbatim except for minor style changes.)
Original content copyright Sangamon County Historical Society. You are free to republish this content as long as credit is given to the Society.