Olympics gold-medal winners from Sangamon County through 2016, as listed on Wikpedia, were:
Ryan Held, Springfield: Men's 4×100 freestyle relay (swimming), 2016. Graduate of Sacred Heart-Griffin High School.
Andre Iguodala, Springfield: Basketball, 2012. Graduate of Lanphier High School, MVP of 2015 National Basketball Association Finals.
Joe Slusarski, Springfield: Baseball, 1988 (baseball was a demonstration sport in 1988, so the medal is not part of official totals). Graduate of Sacred Heart-Griffin High School and Lincoln Land Community College. Slusarski went on to pitch in the major leagues for the Oakland Athletics, Milwaukee Brewers, Houston Astros and Atlanta Braves.
Steve Christoff, reportedly born in Springfield: Hockey, 1980. Christoff, who grew up in Minnesota, was part of the "Miracle on Ice" Olympics champions. He went on to play professional hockey for the Minnesota North Stars, Calgary Flames and Los Angeles Kings. See below for explanation of deletion.
Will Simpson, Springfield: Team jumping (equestrian), 2008. As of 2016, Simpson was teaching show jumping in California. An old friend, Geoff Andres of Springfield, contributed this information about Simpson:


Will is a native of Springfield who relocated to the Chicago area at seventeen after outdistancing the competition in central Illinois.  He was recruited at that time as a trainer and rider for Frank Jayne Sr. and has seen a great deal of success and achieved great notoriety in the world of show jumping since that time.  He set an outdoor high jump record in 1985 aboard Jolly Good and has since won numerous league and Grand Prix titles while representing the U.S. five times in World Cup Finals.  Will's dad was Dr. William Simpson, an obstetrician-gynecologist in Springfield who delivered a LOT of babies here over the years, and he has a sister (Carrie) still here in town and two brothers I have lost track of.  Will (Willie) is married to fellow Grand Prix show jumper Nicole Shahinian-Simpson, and in 2010 he and his wife were featured in the television series "A Rider's Story." … (Will) was (is) a phenomenal athlete, who said in 2008 (I'm paraphrasing) that the horse is the athlete in his sport, and that he had finally found a truly superior athlete.  I think he might have been selling himself short.  The boy could (can) ride.
Dick Boushka, Springfield: Basketball, 1956. Boushka, who attended Catholic elementary schools in Springfield, played high school sports at now-defunct Campion Jesuit High School in Prairie du Chien, Wis. During summers, he was an outstanding youth baseball player, golfer and bowler in Springfield. Boushka later became an investment adviser in Wichita, Kan. However, he pleaded guilty in 2002 to bank fraud and other financial crimes. He was sentenced to 70 months in prison. The amount lost to his fraud was variously estimated at $4.6 million to $24 million.
Other Olympics medalists
Kelci Bryant, Chatham: Diving silver medal, 2012
Sarah Glaser, Springfield: Sailing silver medal, 2000
Gracie Gold, trained in Springfield: Figure skating bronze medal, 2014
Notes: This entry has been edited to add Geoff Andres' comments about Will Simpson and to include Joe Slusarski (see comments). Also, local newspaper files do not confirm  Christoff's birthplace as Springfield, and commenter Steve Spearie (see below) reports other sources put Christoff's birth in Richfield, Minn.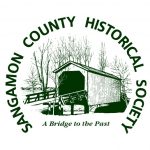 Hat tips: Jim Ruppert, State Journal-Register sports editor; Geoff Andres.
Original content copyright Sangamon County Historical Society. You are free to republish this content as long as credit is given to the Society.