The Negro Motorist Green Book, a nationwide guide for the African-American traveler, for 20 years listed only one hotel in Springfield as open to blacks: the Dudley Hotel, 130 S. 11th St.
The Dudley and its predecessors at the same address served black patrons for more than 40 years, a period during which nearly all white-owned hotels in Springfield were closed to African-Americans – except as low-level employees.
The Dudley originally opened in 1914 as the Hotel Brown. The three-story brick structure was built by lawyer A. Morris Williams and Firman Brown; Brown was to buy the property upon completion. In announcing their plans, Williams said in an Illinois State Journal story that he intended to build a hotel and 1,000-seat theater "that will be exclusively for Negroes." Construction costs were estimated at $60,000.
Mr. Williams said: "The need of a hotel and place of amusement for the colored people of this city has been a vital one for some time. Constantly people have complained to me about the treatment they have received at the theatres and eating places of the city and asking that legal means be taken to secure redress. But I am of the opinion that persons should not patronize places where they are not welcome. That trouble will have been remedied when the theatre which Mr. Brown and I are going to build is put up."
In the end, the theater apparently was not built, although the hotel did have meeting rooms and a cafe, and it hosted a variety of African-American clubs and events over the years.
Meanwhile, however, the deal between Williams and Brown collapsed almost as soon as construction was complete, leading to a lawsuit over who was responsible for mechanics' liens. Williams lost.
Brown was succeeded as manager of his namesake hotel by the team of George Lewis and Minnie Wilson.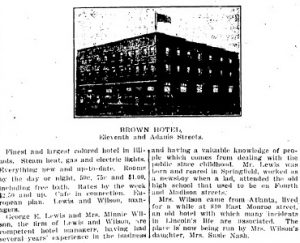 An Illinois State Journal special section in July 1918 profiled prominent local black residents and businesses in conjunction with an upcoming Centennial Co-operative Educational Congress. (The centennial was the 100th anniversary of Illinois statehood; the congress was to set up separate committees of prominent black and white residents charged with "working out the American race problem through a course of consistent co-operation.") The Brown Hotel was the subject of a brief profile:
Finest and largest colored hotel in Illinois. Steam heat, gas and electric lights. Everything new and up-to-date. Rooms by the day or night, 50c, 75c and $1.00, including free bath. Rates by the week $2.50 and up. Café in connection. European plan. Lewis and Wilson, managers.
The Brown closed in the mid-1920s. The building changed management and names several times over the next decade, although it apparently remained a hotel or rooming house.
In 1934 and 1935, the former hotel became Shelter No. 2 of the Springfield Transient Bureau. Transient bureaus, funded by the federal and state governments, were set up in 1933 to help local authorities deal with the massive number of "hoboes" who went on the road seeking jobs during the Great Depression.
Springfield had five transient shelters in May 1935, according to an Illinois State Journal article: at Ninth, Tenth and 11th and Adams streets (the last was the former Brown Hotel); at Sixth and Jefferson streets; and at Eighth and Washington streets. Between those shelters and a satellite camp near Kilbourne in Mason County, the Springfield Transient Bureau housed 900 people in 1935. Transient bureaus were phased out when President Franklin Roosevelt's administration created the Works Progress Administration in 1935.
Meanwhile, Alexander L. Dudley, a former dime store porter and janitor, had founded his Hotel Dudley at 1007-09 E. Washington St. in 1934. When the old Brown Hotel building became available, he moved his operation to 11th and Adams streets. The Springfield city directory first lists the Dudley at 130 S. 11th St. in 1936.
Alexander Dudley was stabbed to death on Oct. 15, 1939, after he stepped into a fight between an estranged couple, Theodore and Louise Brown, who had been living in separate rooms at the hotel. Theodore Brown pleaded self-defense and was acquitted of murder in February 1940.
A fire on Oct. 2, 1957, forced the closure of the Dudley, which by then was owned by a Houston, Texas, man. John Naufel, a merchant policeman for a nearby business, may have averted a major tragedy when he saw flames in the building about 2 a.m. Naufel and two passersby woke hotel residents and helped them to safety. As a result, only two of the Dudley's 40 tenants were injured.
The hotel itself, however, suffered major damage. It sat boarded up and derelict until the building was demolished in August 1960.
A. Morris Williams
Abraham Morris Williams (1879-1936) played an important and often controversial role in Springfield's black community for three decades. A Virginia native, he and his wife Elizabeth moved to Springfield in 1901. He worked as a cobbler while studying law – first at a local law school he founded and then at the University of Michigan – and was admitted to the bar in 1907.
In addition to his legal practice and a variety of African-American organizations, Williams was active in politics – originally as a Republican, but later as a Democrat – and real estate development. The 1918 Centennial Cooperative special section included a profile of Williams (which almost surely was written by Williams himself) that outlined some of his initiatives.
Among the early monuments to his success is the Masonic temple, on North Eighth street. Soon afterwards he built a $75,000 business block on East Washington street, then the Brown Hotel block, and numerous residence properties. He organized a law school, was the first to graduate and was admitted to the bar in 1907. In 1908 he brought suit against the City of Springfield in interest of colored people for damages resulting from race riots and obtained judgments and payments for all of them. He organized the first colored bank and first colored insurance society in this city.

In addition to his large legal practice among white and colored he has a valuable clientele among the Italians, whose language he speaks and whose explicit confidence he enjoys.
However, Williams' dispute with Firman Brown over the hotel construction was not an isolated incident. Williams also was accused of financial improprieties in connection with the Enterprise Bank, the "first colored bank" mentioned above, with nonpayment of contractors' bills in several building projects, and with improper use of legal clients' money.
He also bumped heads at times with other prominent African-Americans, including lawyer Charles Gibbs and police detective/developer Amos Duncan (although the same people also worked together on other projects).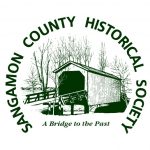 Williams is buried at Oak Ridge Cemetery.
Original content copyright Sangamon County Historical Society. You are free to republish this content as long as credit is given to the Society.