Adelaide O'Brien (1915-99) of Springfield was the first licensed woman pilot in downstate Illinois. During World War II, O'Brien was a local ground instructor for U.S. Army Air Corps flight cadets.
O'Brien also was widely known in central Illinois for her involvement with the Springfield Theater Guild, now Springfield Theatre Centre. (O'Brien married late in life to Henry "Hank" Rentschler, who had been a high school beau;  in her flying and theater activities, however, she is better remembered under her maiden name.)
In a 1982 interview for what is now the University of Illinois Springfield oral history project, Rentschler remembered her introduction to flying. It took place at the dedication of Springfield Municipal Airport (later Southwest Airport) in the late 1920s.
As part of the opening ceremonies they had a Ford Tri-Motor out there that they were taking people up for rides. My maternal grandfather was an engineer on the Wabash Railroad and he asked mother to drive him and me out to the airport. He had seen the iron horse come in and he wanted to fly in one of these airplanes. So when we got out there he went to the ticket counter and bought two tickets and my mother flat-footedly refused to go up in the airplane ride and I guess I danced up and down as children will do and said, "I'll go, I'll go, I'll go," and he took me. That was my first airplane ride and it was love at first flight. …

So when I became eighteen years of age, having pushed and prodded all along and gotten nowhere with my folks, I signed up and I learned to fly.
O'Brien became a grade-school teacher, but flying remained her passion. She helped form a central Illinois chapter of The 99s, an association of women pilots and flew in the Powder Puff Derby (where she was named "best navigator") and other air races. O'Brien bought her first plane (of two she eventually owned) in 1940 — it was a Piper Cub and cost $3,000.
In the 1982 interview, she said she learned to fly at "the optimum time."
One of the joys of flying to me was to go out after work and get in my little airplane and take off. You could do this in those days … because you didn't have to file a flight plan, you didn't have to be going from here to there … and the whole world knowing about it. You could go up and fly around and look the situation over and look at God's handiwork and  realize that there was a Supreme Being and that all the troubles and the tribulations and all the minor irritations you had suffered during the day were just that, minor irritations. … You'd come back with a whole different attitude.
The need to train pilots quickly for World War II led to creation of what O'Brien called "washing machine" flight schools all over the country, including in Springfield. (They were called "washing machines" because they were designed to quickly wash out unqualified candidates.)
(A)t the washing machine course, you know, you taught one (class) right after the other and even taught mathematics and physics. As one of my students said one day, "Started out teaching arithmetic, I dropped my pencil and when I found it and came up off the floor you were teaching college algebra." But I was certificated to teach navigation, including radio and celestial, meteorology, airplane construction, airplane engines, and civil air regulation. … Now as far as the Army and Navy cadets were concerned, they had a limited amount of time and if they didn't get it in that length of time — that's why it was called the washing machine course.
As the cost of flying climbed, O'Brien eventually sold her plane and largely quit flying. "One of us had to go," she said. "I couldn't support both of us any longer."
O'Brien also was a leader in local theater. She acted and directed in Theater Guild productions, sometimes wrote about them for the Illinois State Journal, and was a Guild officer when the group built its former playhouse at 105 E. Lawrence Ave. O'Brien also directed "Abe Lincoln in Illinois," a play performed annually during the 1950s in Kelso Hollow at what is now Lincoln's New Salem State Historic Site.
Adelaide O'Brien Rentschler is buried in the Mechanicsburg Cemetery.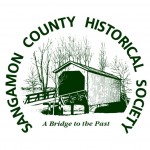 Original content copyright Sangamon County Historical Society. You are free to republish this content as long as credit is given to the Society.