Camp Glen Olive was a seven-acre campground on the banks of the Sangamon River in Riverton that was donated to the Springfield YWCA by Olive Black Wheeland, a YWCA supporter and philanthropist who also created Wheeland Haven, an estate east of Riverton.
The  camp included gardens, a lodge house, and a swimming pool. Unfortunately, the lodge was destroyed by a fire in the 1960s or '70s.
Camp Glen Olive was later transferred to the village of Riverton and now is Wheeland Park, a campground and boat launch facility.
For more information, see entry on Wheeland Haven.
Contributor: Chuck Stone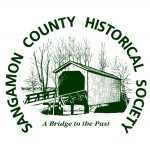 Original content copyright Sangamon County Historical Society. You are free to republish this content as long as credit is given to the Society.