Quick facts about Sacred Heart Academy, Springfield.
School opened: 1895
School closed: 1988
Now part of: Sacred Heart-Griffin High School
School colors: Blue & Gold
School nickname: Blazers
School song: "We Believe"(To the tune of the old song, "I Believe")
Courtesy of SHARON HUCK ('76) & GINNY (HUCK) SCHOFIELD ('78)
We believe in Sacred Heart Academy and in it's creed.
We believe that SHA has heard our cry and filled our need.
We believe that none could ever go astray
Who learned from you to live and pray.
We believe, we believe.
We believe that of our days the greatest one is that today,
Because now the time has come to go alone along the way.
Now we'll know that what you've taught us through the years
Has not been in vain; was worth the pain,
And we will know if we believe.
Thanks to Phil Shadid for directing us to Illinois Glory Days.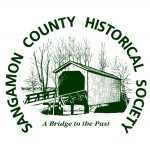 Original content copyright Sangamon County Historical Society. You are free to republish this content as long as credit is given to the Society.