The most complete online list of Sangamon County cemeteries seems to be one compiled by findagrave.com.
Findagrave includes 278 listings, including both operating and defunct cemeteries, as well as alternate names for many cemeteries. Findagrave also identifies private and family cemeteries as well as public ones.
Several online listings, for instance, include Crucifixion Hill Cemetery, where members of the Hospital Sisters of St. Francis order of nuns are buried east of Springfield. Findagrave, however, also includes nearby Resurrection Hill Cemetery, a smaller graveyard for Franciscan Brothers of the Holy Cross who worked at St. James Trade School and Brother James Court east of Springfield. (A few residents of the two institutions also are buried at Resurrection Hill.)
Note, however, that the Findagrave compilation isn't perfect, either. Findagrave's list, influenced by a formerly misspelled cemetery sign, spells Stewart Cemetery between Williamsville and Sherman as "Stuart Cemetery." (The misspelled sign at the cemetery has since been corrected.)
Thanks to Donna Catlin for additional research.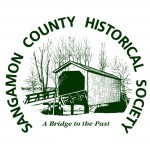 Original content copyright Sangamon County Historical Society. You are free to republish this content as long as credit is given to the Society.