James Sayles built a home on the current site of Sherman in 1819. However, the village wasn't platted until 1858, after construction of the Springfield-to-Bloomington section of the Chicago & Alton Railroad, and it wasn't incorporated as a village until 1959.
Name: The four men who platted Sherman – Virgil Hickox, Cornelius Flagg, Joseph Ledlie and David Sherman – put their names in a hat, and Sherman's name was drawn.
Sherman  (1812?-1871), a Massachusetts  native, emigrated to Illinois in 1839 and arrived in the Springfield area in the 1840s. He was involved in the hemp industry and helped build the Illinois Central and Chicago & Alton railroads. Following his death of typhoid fever,  his obituary said, "He was an energetic and thorough business man; in his social intercourse a true friend." Sherman and his wife, Elizabeth, are buried in Oak Ridge Cemetery.
Ledlie (1812-1893), a Philadelphia native, was a surveyor whose projects included surveys for the Chicago & Alton. He and his wife Emma also are buried at Oak Ridge.
Flagg (1831-86), born in Ohio, owned extensive farm and lumber holdings in Sangamon County and Missouri. He sold railroad ties to as many as 10 railroad companies as the industry developed across America. 
"He came to the county a poor boy, but by his own exertions has accumulated a fine property, and has one of the finest residences and best barns in the county," his obituary reported.
Flagg and his two wives, sisters Sarah and Jane Kerns Flagg, are buried on the same site at Oak Ridge.
Hickox (1806-80) was a Springfield merchant, mill operator and bank and railroad investor. He also was a close friend of Stephen Douglas and managed Douglas' successful 1858 U.S. Senate campaign against Abraham Lincoln.
Other: The Flagg Farmstead, a bed and breakfast home located on the old Springfield to Peoria Stagecoach Road, was built in 1871 for Cornelius Flagg.  The farmstead is on the National Register of Historic Places.
Today: Sherman had a population of 4,148 in 2010, marking a 45 percent increase from 2000. Residential and commercial growth has accelerated in Sherman since the 1970s, making the village one of the prime beneficiaries of suburbanization in the Springfield area.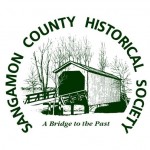 Sherman is off Interstate 55, 10 miles – about a 20-minute drive – north of downtown Springfield.
Original content copyright Sangamon County Historical Society. You are free to republish this content as long as credit is given to the Society. Learn how to support the Society.