European settlers lived in the Williamsville area by the early 1820s, but the village itself wasn't laid out until 1853. The community's first house was built by Jacob Flagg in the fall of that year.
Williamsville is named after Col. John Williams, a Springfield businessman. (The original name was Benton, but was changed when organizers realized there already was a Benton, Illinois.)  Williams was an early resident of central Illinois and a friend of the Lincoln family. He served as  a pallbearer at Abraham Lincoln's funeral in Springfield and as an honorary pallbearer at the death of Mary Lincoln).
Other: About one-quarter mile of historic Route 66 runs along the border of Williamsville. The Price-Prather House at Main and Elkhart streets is on the National Register of Historic Places. Electricity innovator Albert Ide grew up near Williamsville.
More information: The Williamsville Public Library includes exhibits on local history, and wayside plaques in the center of town discuss the area's history, including its railroad significance.
Recovery from disaster: More than two dozen homes and businesses, along with the Williamsville Christian Church, were destroyed by a tornado on Aug. 19, 2009. Damage was estimated at $10 million.  "There was an outpouring of community, business, organization, family and individual volunteers and resources from the moment the disaster struck," the village reported later. "Stories showcasing the generosity and selflessness of these folks have no end."
Ameren, which provides electric and gas service to Williamsville produced a video of recovery efforts that got under way shortly after the tornado.
Today: Williamsville is on Interstate 55, 17 miles north of Springfield. The population was 1,476 in 2010.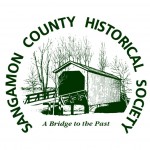 Original content copyright Sangamon County Historical Society. You are free to republish this content as long as credit is given to the Society. Learn how to support the Society.