Williamsville's Price-Prather House is listed on the National Register of Historic Places partly for its architectural features, but the building's early owners, especially J. Frank Prather (1859-1927), played major roles in development of the beef cattle industry in Sangamon County, in Illinois and in the United States.
All of the first three owners of the house were important to central Illinois cattle breeding, according to the application for National Register listing compiled by Chuck Kirchner in 1991. (Much of the background for this entry comes from Kirchner's research.) The home is at Main and Elkhart streets in Williamsville.
The house's builder, James Price (1835-1910), born in Ohio, moved to Williamsville in 1861 and is thought to have built the Price-Prather house sometime around 1868.  Price – whose father was born in Herefordshire, England – was a cattle dealer who imported the first herd of Hereford cattle to central Illinois in 1883. "During the years 1884-1885, Price and his son, Ned, won nearly 100 prizes at the leading cornbelt fairs and fat stock shows," Kirchner writes.
By then, however, Price had sold his Williamsville home to John Prather (1813-91), father of J. Frank Prather. The elder Prather owned 3,000 acres of land in Sangamon and Logan counties, as well as substantial farms in Kansas and Ohio, and he had been part of a company that imported shorthorn cattle to his home state of Ohio.
Kirchner writes that John Prather bought the home from Price in 1877 and deeded it to his son in 1882 for "$1 and 'natural love and affection.'"
Kirchner continues:
Building on his father's interest in Shorthorns, John F. (J. Frank – ed.) Prather became a prominent figure in the Shorthorn breeding world. In addition to his familiarity with the breed due to his father, since they were a relatively new breed in this part of the country, Prather probably realized that he could establish a successful position in the market. In addition to being a source of outstanding beef, Shorthorns were also acceptable for dairy purposes. It was also a matter of status at the time to become successful with a new breed of livestock.

Prather's Shorthorns were maintained on his home farm, Village Park adjoining Williamsville, according to an account of his death in the May 27, 1927 issue of Shorthorn World. He also maintained his Shorthorn breeding records and other related farm  books in his house at Village Park. … It was from here that he directed his extensive involvement in the Shorthorn breeding industry. …

In J.F. Prather's obituary (in Shorthorn World) … it is noted that "His Shorthorns were sent to all parts of the country and to Argentina and they exerted a marked influence for the improvement of the breed."
Prather served a term as president of the American Shorthorn Breeders Association, where he was on the board of directors for 22 years. He also was a member of the State Board of Agriculture in the late 1890s and early 1900s, was on the Illinois State Fair Building Committee and was charge of beef cattle during the fairs themselves, Kirchner wrote.
In 1890, he organized the Williamsville Bank of J.F. Prather & Co., serving as president. He and his associates also bought a bank in Elkhart, Illinois. He was in the grain business with Harold C. Groves … and these two were responsible for bringing the first electric lights to Williamsville in 1913.
Prather and other early breeders, Kirchner wrote,
… helped to insure that the Shorthorn is one of three cattle breeds (the others being the Hereford and Aberdeen Angus that always win the grand championship at the International Livestock Show in Chicago, which is considered the world series of cattle competition.
The Price-Prather House is a two-story brick building. Kitchener said its Italianate design has a number of typical elements: low pitched roofs with paired cornice brackets, one-story porches with square wood colunms and paired entry doors with large glass lights and a "segmental arched transom." It was remodeled in 1910, but the changes did "not detract to any degree from the house's characteristic Italianate form, and it remains the best example of this type in the Williamsville area," he wrote.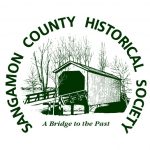 J. Frank Prather owned the Price-Prather House until his death in 1927. The house remained a private residence in 2017.
Original content copyright Sangamon County Historical Society. You are free to republish this content as long as credit is given to the Society. Learn how to support the Society.