Andrew Elliott (1792-1864) kept what John Carroll Power called the first hotel in Springfield. However, his main claim to (probably apocryphal) fame was as the guide who secured the county seat for Springfield.
According to Power, Elliott, originally from North Carolina and a veteran of the War of 1812, was the son-in-law of early Springfield settler William Kelley and moved with Kelely to central Illinois in 1819. He then served in the local militia in the Winnebago War of 1827, the Black Hawk War of 1831, and in the Mormon War of 1845. Elliott's Springfield hotel, the Buck Horn Tavern, had a large pair of antlers for a sign.
John Todd Stuart's later reminiscence of 1828 Springfield describes the Buck Horn Tavern (Stuart calls it the "Buck Tavern")  as a "two-story log building with a passage between the east and west rooms fronting north" on the reconstructed map of Springfield in 1828. The tavern, near Second and Jefferson streets, is No. 7 on that map.
Power also reported that Elliott played a key role in the county seat competition, which pitted Springfield against Sangamo Town, northwest of Springfield on the Sangamon River. When a commission was formed to choose a county seat in 1825, Power wrote, Elliott "drove them through all the sloughs he could reach by a round-about way, and disgusted them before they reached the spot. They were thus induced to decide against Sangamo and in favor of Springfield."
However, modern experts — among them Robert Mazrim, who rediscovered the site of Sangamo Town in the 1990s —  doubt the story. Mazrim has said he believes the influence of Elijah Iles, Springfield's first merchant and the leader of Springfield's effort to become the permanent county seat, guaranteed from the start that Springfield would be the choice. (Source: Sept. 5, 2013 presentation by Mazrim at Springfield's Edwards Place, part of the "History in Plain Sight: The Material Life of Early Springfield" series.)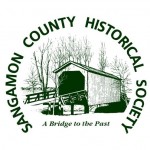 Original content copyright Sangamon County Historical Society. You are free to republish this content as long as credit is given to the Society. Learn how to support the Society.