John Carroll Power (1819-94), was a historian as well as first custodian of the Lincoln Tomb.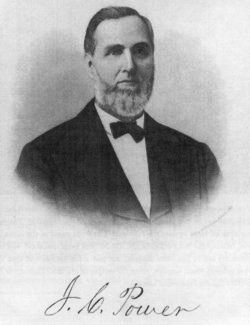 Born in Kentucky in 1819, Power "was brought up a farmer, but in later life, contrary to his early anticipations, became an author," according to an 1892 Illinois State Register profile. Power today is far better known for overseeing the tomb. Nonetheless, his writings remain major source material for genealogists and historians.
Included are volumes on Abraham Lincoln's life, death and burial, the 1876 attempt to steal Lincoln's body, early Sangamon County residents and the history of Springfield.
While some of Power's accounts have to be handled carefully — such as his all-too-coincidental story about the purported first meeting between Lincoln and African-American barber William Fleurville — he appears largely to have faithfully repeated stories others told him.  Power gathered his material from the pioneers who lived it, and large parts of Sangamon County's history would have been lost without the work of Power and his wife, Sarah (1824-91).
Surprisingly, considering his local history output, Power didn't become a central Illinois resident until he was already 50 years old. After his Kansas farm failed —  "The grasshoppers for three years destroyed the crops," the Register said — he moved to Illinois. "He has since devoted himself to literary pursuits."
Power was named custodian of the tomb on Oct. 28, 1874, the day before it opened to visitors. He remained on the job until his death in 1894.
Nancy Hill described Power's approach in the Winter 2006 edition of the Journal of the Abraham Lincoln Association.
Power delighted in his role as custodian and resident expert. He approached each visitor offering information and a guided tour, which he referred to as "my distinctive work." Power collected a twenty-five cent fee from all adult visitors as they entered Memorial Hall. … He also sold postcards, pamphlets, and books to visitors, keeping part of the proceeds. The monument association authorized him to "prevent the taking of pictures" of the tomb. Instead, copies of photographs that had been taken under Power's supervision were sold to visitors, supplementing his income.

A few visitors who wished to quietly contemplate the meaning of the Lincoln monument found the custodian's lectures intrusive and unwelcome. Some explained to him that they wanted to "see for themselves" without a guided tour. Others said that the "custodian talks too much." There were many complaints about the twenty-five cent admission fee. Power's response to them was that "if there were those who did not care to contribute, the only thing for them to do was to consider it closed and stay away."
The Register profile sympathized with Power: "He has now served eighteen years as custodian of the Lincoln monument, and has received enough abuse for doing his duty to have killed any ordinary man."
Power was waiting for a streetcar to go to the tomb on Jan. 11, 1894, when he suffered a stroke. He died a few hours later. Power and his wife, Sarah, are buried in Oak Ridge Cemetery's Section 25, just west of the Lincoln Tomb.
Local history by John Carroll Power
History of Springfield, Illinois, its attractions as a home and advantage for business, manufacturing, etc., by John Carroll Power. Published for the city Board of Trade, 1871.
History of the early settlers of Sangamon County, Illinois by John Carroll Power, assisted by his wife, Mrs. S.A. Power. Published 1876, 797 pages.
History of an Attempt to Steal the Body of Abraham Lincoln, Late President of the United States of America, Including a History of the Lincoln Guard, With Eight Years Lincoln Memorial Services, (1890)
Abraham Lincoln: His Great Funeral Cortege, From Washington City To Springfield, Illinois: With A History And Description Of The National Lincoln Monument (1872)
Abraham Lincoln: His Life, Public Services, Death And Great Funeral Cortege; With A History And Description Of The National Lincoln Monument (1889)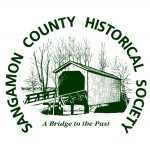 Note: The last two similarly titled books cover much of the same ground, but the 1889 version adds 200 pages, much of them covering Power's defense of his administration of the tomb, including his lectures and fees, plus the already obvious need to reconstruct the tomb and protect it from vandals.
Original content copyright Sangamon County Historical Society. You are free to republish this content as long as credit is given to the Society. Learn how to support the Society.