Early settler Charles Matheny had been an ordained Methodist circuit preacher in Kentucky, so it was only natural that he should start holding services in his home shortly after arriving in Springfield.
Springfield's First United Methodist Church considers that it had its beginning with a sermon preached by the Rev. James Simms in the Matheny cabin at what is now 101 E. Washington St. on May 23, 1821.  "There being no regular place of worship, the society did not grow very rapidly," Inter-State Publishing Company's 1881 History of Sangamon County reported.
In 1829, however, the congregation decided to build a church. Pascal P. Enos offered to contribute $50 to the cause, but he gave the church an alternative: "that amount of ready money (or) two city lots" at Fifth and Monroe streets.  The Rev. Peter Cartwright, the famous circuit-riding Methodist evangelist from Pleasant Plains, cannily accepted the property.
The Methodists built a frame church on the site. It was dedicated in 1830, becoming the first church building in Springfield, though not by much — the Presbyterians actually had started construction earlier, but their church was of brick and took longer to finish.
An addition was constructed in 1842, but both Methodist buildings were replaced by a brick church in 1854. First Methodist moved to Fifth Street and Capitol Avenue in the 1880s. The "old stone church" there was demolished and a distinctively modern building constructed in 1979.  However, First Methodist built a family life center on Springfield's west side in the 1990s, and the congregation decided a few years later to relocate to 2941 S. Koke Mill Road. The last downtown service was held on June 21, 2008.
First Methodist also has played important roles in the growth of Methodism and religious life elsewhere in the Springfield area over the decades. The church helped start MacMurray College in Jacksonville, and the Springfield YWCA was founded in a meeting at the church in 1909 overseen by Bina Deneen, wife of Gov. Charles Deneen.
Several other local Methodist congregations also are spinoffs from First Methodist. A mission class held at Fifth and Carpenter streets evolved into Second Methodist Church and later Kumler United Methodist Church. Asbury, Northside (formerly Wesley), Douglas Avenue, Laurel and Woodside United Methodist churches also originated as First Methodist initiatives.
First Methodist even played an indirect role in fostering an early Jewish congregation in Springfield. The church's original frame building was sold to a German Baptist congregation when the Methodists constructed their brick church at Fifth and Monroe streets in the 1850s. The Baptists moved the building to Fifth and Capitol. When First Methodist bought that property in the 1880s, the building was moved again to Seventh and Mason streets, where it eventually became the home of B'Nai Abraham (now Temple Israel, 1122 W. Governor St.).
More information: First United Methodist Church histories in Sangamon Valley Collection, Lincoln Library in Springfield.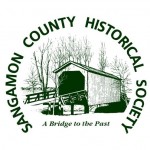 Original content copyright Sangamon County Historical Society. You are free to republish this content as long as credit is given to the Society. Learn how to support the Society.