Archer G. Herndon Sr. (1795-1867) was one of the "Long Nine," including Abraham Lincoln, who are credited with persuading the Illinois legislature to move the state capital from Vandalia to Springfield in 1837. Archer Herndon also was the father of William "Billy" Herndon, Lincoln's law partner and biographer.
The elder Herndon and his wife, Patricia Day Johnson Herndon, settled in the German Prairie area northeast of Springfield in 1821. Herndon was a merchant in Springfield from 1825 to 1836, during which, according to John Carroll Power  in the centennial History of the Early Pioneers of Sangamon County, Herndon "erected the first regular tavern in town."
Herndon was elected a state senator in 1836 and served as receiver of public moneys in the Springfield land office from 1842 to 1849. Archer Herndon's son, William "Billy" Herndon, was Abraham Lincoln's last law partner and the co-author of an invaluable but controversial biography, Life of Lincoln.
Archer Herndon's home and store are identified as No. 16 in the reconstructed map of 1828 Springfield.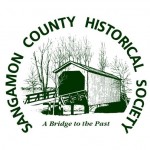 Original content copyright Sangamon County Historical Society. You are free to republish this content as long as credit is given to the Society.