The Kelleys – Elisha, John, Henry and their relatives – are usually considered the first Europeans to live in the boundaries of what is now Springfield. (An 1817 settler, Levi Ellis, may actually deserve that designation, but the Kelley family's cabins clearly were the nucleus of early Springfield. The last name sometimes is spelled Kelly.)
Elisha Kelley (1787-1871) was the first of the family to settle in Sangamon County, probably in the spring of 1818. His cabin on the banks of Spring Creek has been placed near what is now Fourth and Miller streets in Springfield by researcher Dick Hart.
Elisha's father, Henry, and brothers William, John and Elijah arrived a few years later. Sisters Eleanor (Reavis) and Sally (Greenwalt) also came briefly to the county, but they owned three slaves each (given them by Henry) and could not keep them if they stayed in Illinois more than 30 days. The sisters and their families quickly moved on to Missouri.
John Kelley (1783-c.1823), who arrived in Sangamon County in the spring of 1819, built a cabin near what is now Second and Jefferson streets that was used as the first Sangamon County courthouse. (The  Springfield Chapter Daughters of the American Revolution erected a marker on the corner in 1921, but it since has been moved a few blocks west to the entrance of the Willard Ice Revenue Building.)
"Within a short time," Hart reports, "six other families joined what became known as the 'Kelley Settlement' and within a year, nine cabins stood along Spring Creek."\
A roadside sign in Oak Ridge Cemetery's Block 2 identifies John Kelley's burial site (the last name is spelled "Kelly"), as does a simple gravestone several yards north of the sign. The sign and stone, however, more accurately indicate the final resting place of a dozen members of the Kelley family. They originally were buried at the family homestead; the bodies were moved to Oak Ridge in 1865.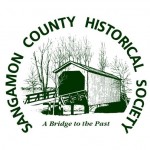 Original content copyright Sangamon County Historical Society. You are free to republish this content as long as credit is given to the Society.