Aging but still vital, more than 700 veterans of the Union Army marched through downtown Springfield as part of the 1932 national encampment of the Grand Army of the Republic.
Movie cameras captured part of parade, which was held on Sept. 21, 1932, and local theaters showed films of the encampment the next day.
Some 90 years later, a 1-minute, 17-second video of the encampment, including scenes from the parade and a bit of ex-soldier humor, is available on YouTube (courtesy Getty Images).
The GAR, the Civil War predecessor of the American Legion and similar groups, was founded in Springfield in the 1860s. It went out of business with the death of the last member in 1956.
The ranks of the old soldiers obviously were dwindling by 1932, but that year's encampment still attracted nearly 1,100 Union Army veterans.
About 400 GAR members, no longer able to march, rode the nine-block parade route in automobiles, but most still proudly walked. At least one veteran showed off by dancing a jig during stoppages, newspaper stories said, and a former Union Army band member carried his bass drum the entire parade, beating it all the way.
The march began at Fourth Street and Capitol Avenue and wound around downtown to end at Sixth and Jackson streets.
The 1-minute, 15-second film clip begins early in the parade, looking west on Capitol Avenue as marchers pass a considerably altered streetscape, including the since-demolished Hotel Abraham Lincoln. The hotel served as the encampment headquarters.
Three African-American members of the GAR can be seen at the 34-second mark. Most of the GAR marchers "came from the northland," the Illinois State Register said in its story, "but a few including several colored men represented the states of Dixieland in today's historic parade."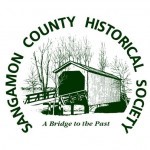 In the last 45 seconds of the film clip, an unidentified, white-bearded ex-cavalryman recounts a joke dating from when his Union Army troop, short on water, reached Hot Springs, Ark.
Hat tip: To William Cellini Jr. for bringing this video to SangamonLink's attention.
Original content copyright Sangamon County Historical Society. You are free to republish this content as long as credit is given to the Society. Learn how to support the Society.