Madeline Babcock Smith earned her spot in the literary limelight. But she never got to enjoy it.
Smith's first novel, The Lemon Jelly Cake, published Aug. 4, 1952, "enjoyed an immediate and astounding success," Dan Guillory wrote in his introduction to the 1998 Prairie State Books edition.
New York Times reviewer Jane Cobb called The Lemon Jelly Cake "a sophisticated, even urbane novel written by a woman with a perceptive eye for the facts of life." The novel was a Literary Guild selection, and Woman's Day magazine serialized it. The Associated Press declared The Lemon Jelly Cake a book of the week.
Four months after the novel's release, however, Smith died of cancer, and The Lemon Jelly Cake never reached its commercial potential.
Smith was born in Rochester in 1887 to Dr. Oliver "O.B." Babcock and his wife Emma. The family moved to Springfield when Madeline was five or six years old, but Rochester stuck with her.
The Lemon Jelly Cake is set in "Tory," a small town near Springfield obviously meant as a stand-in for Rochester. The novel's heroine, Helene Bradford, presumably is likewise a stand-in for Madeline Babcock. Like Madeline, Helene is the only child of a physician, and Helene's middle name, Merriam, was the maiden name of the real-life Emma Babcock.
While we don't know whether any of Helene's fictional adventures mirror Madeline's real ones, the most obvious difference between the two young women is that in 1900, when the novel is set, Helene is 11 years old and still lives in Troy. By the time Madeline was 11, she and her family had been Springfield residents for five or six years.
Madeline Babcock graduated from Springfield High School in 1906 and studied literature at the University of Chicago. She married Sidney Smith in 1910 – in its wedding story, the Illinois State Journal called her "one of the most popular young women in the younger social circles of this city" – and the couple moved shortly afterwards to Decatur. The Smiths divorced in 1924.
Madeline Babcock Smith remained a Decatur resident, but she kept close connections to Springfield, especially to the Springfield Art Association. Newspaper notices show she gave frequent talks here on subjects like antiques, architecture and ceramics.
Smith was 65 when The Lemon Jelly Cake came out – "Why has she been holding out on us so long?" the NYT's Cobb asked – but Smith "had for some time been laying the groundwork for her career as an author," Guillory wrote in 1998. "By the time of her death, she had published several chapbooks of her own poetry as well as short stories in the Chicago Daily News and Capper's Farmer. She had even published a mystery novel – in serial form, in the Decatur Review."
The Lemon Jelly Cake went through five sold-out printings, Guillory reported, and Paramount Pictures was interested in the film rights. But after Smith's death in December 1952, the novel "slipped into oblivion," he wrote.
The lemon jelly cake of the title is a metaphor – "Life is in layers," Helene's mother says at one point, although she later concludes, "No layer ever won a prize at the fair. It has to be the whole cake or nothing at all."
Smith is buried at Oak Ridge Cemetery.
Here's an excerpt from early in the book. Without getting into the complications of the setup, Helene and her friend Gracie ride a train from Troy into Springfield chasing a newly married couple whose invalid marriage license could leave them inadvertently "living in sin." Their search takes the girls to several real-life Springfield sites, including Herndon's dry goods store, the courthouse square and Dodds' pharmacy.
Finally, unsuccessful in their search for the almost-married couple, Helen and Gracie ask a passerby "where would be people who are living in sin." The man directs the girls to a house where "Miss Lou" is painted on the transom. "Tell her Jack sent you," he says.
We went down the street where the man had pointed. Gracie and I had never been on it before. It wasn't a nice street, we decided, for it, too, had saloons. … There only seemed to be men on the street.

Then we came to a block where the houses had names painted over the doors, just as the man had said. We passed one called "Miss Sadie" and another one which said "Miss Lily."

"There's Miss Lou's across the street. I guess they must be places like hotels or boardinghouses. Mama says this town is full of boardinghouses," I said.

We went up the rickety front porch and pulled the doorbell. …

"Is Miss Lou here?" I asked.

"What do you little girls want? If it's selling something, Miss Lou don't want none of it. You'd better get out," the woman said.

"What's that?" A large woman in a black satin dress with a beaded jet yoke came into the hall. "Come on in. Now what do you want?"

I looked at Gracie. Gracie just stood there. "We –" I hesitated – "We're looking for some people who are living in sin. A man sent us. … Are you Miss Lou?"

"Some folks call me that. … Is this some church thing? If it is, it's a low-livered thing for them to send little girls here. Go home and tell those praying-sisters I said so."

"A man sent us – Jack." Gracie finally found her voice.

"Her father is a minister." I pointed to Gracie. "But the church didn't send us. You tell, Gracie."

"I don't want to." Gracie was shaking now.

"Agnes, oh Agnes," the woman called. "You come down here. You've had a kid. See if you can make out what this is about, anyhow."

A girl in a dirty pink silk wrapper with lace around the yoke came down the stairs. Several other girls dressed in bright-colored flowing wrappers followed her. They had pink cheeks like dolls and most of them had blonde hair, bright blonde like real gold.

"What is it, honey?" the girl named Agnes asked.

"It's all about a wedding," I said. "Only it wasn't a real wedding and Gracie's papa says they are living in sin. You tell 'em."

"Come here." Agnes motioned to Gracie to sit down beside her on the little settee covered in green plush. I perched on the piano stool which was covered with a fringed red satin throw.

Gracie told the story, all about the wedding and how we had come in on the train.

"But how did you find us?" Agnes said, patting Gracie's hand.

"We asked a man on the street and he told us if we wanted to find anybody who was living in sin to just come here. I think he was joking."

"If that don't beat the band," the older woman said. "Some folks think they're too smart for anybody's good."
On their way back to the square, Helene and Gracie meet an embarrassed Tory neighbor coming out of "Miss Dolly's" down the street. In return for their silence about his "business trip," the girls enjoy chocolate shakes, ham sandwiches and doughnuts at Dodds' lunch counter before going home.
But the punch line of the adventure is Helene and Gracie's puzzlement: It seemed hot inside Miss Lou's; why would anyone call it a "hoarfrost" house?
More information: Dan Guillory's introduction to the 1998 Prairie State Books edition is worth reading for its behind-the-scenes discussion of how The Lemon Jelly Cake got into print, as well as Guillory's perceptive analysis/review of the book itself.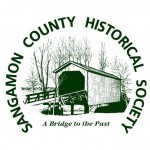 Hat tips: To Rochester historian Raymond Bruzan for information about the Babcock family in Rochester (Madeline Babcock and famed violinist Louis Persinger, the subject of Ray and Pam Bruzan's 2021 book, Have Violin, Will Travel, were both born in the Babcock home in Rochester in 1887). The house, at 110 E. Main St. in Rochester, was destroyed by fire in 1927. The photo above of Madeline and O.B. Babcock is taken from another of the Bruzans' histories, Cotton, Violins, &  Shots in the Night – A Timeline Visit to Rochester, Illinois.
Thanks also to Curtis Mann of Lincoln Library's Sangamon Valley Collection.
And one more: Thanks as well to the Knosh & Knowledge program of the Springfield Jewish Federation, which alerted SangamonLink to Madeline Babcock Smith and The Lemon Jelly Cake.
Original content copyright Sangamon County Historical Society. You are free to republish this content as long as credit is given to the Society. Learn how to support the Society.