A long-vanished plaque inside a demolished Catholic church once memorialized eight Lithuanian-American soldiers who died in uniform during World Wars I and II.
The plaque hung in St. Vincent de Paul Church, the last "national church" – churches that predominantly served specific nationalities – in Springfield. St. Vincent de Paul, Eighth Street and Enos Avenue, was closed on Dec. 31, 1971. The building was torn down five years later.
Many of St. Vincent de Paul's furnishings and decorations were sold off before demolition. It's unclear if the plaque was among those items; at any rate, by the 21st century, its location was unknown.
The plaque reportedly listed three Sangamon County Lithuanians who died in uniform during World War I and five who were killed in World War II (it also may have listed a fourth WWI casualty, from Pana in Christian County, Joseph Kowlowski).
Here are their stories, based on research by William Cellini Jr., originally presented in more extensive form on Sandy Baksys' blog, Lithuanians in Springfield, Illinois.
World War I
Jonas "John" Kedis, born about 1890 in Lithuania, had lived on East Washington Street in Springfield, but was working as an iceman in Chicago he registered for the draft on June 5, 1917.
He was killed on Oct. 9, 1918, while serving as a private with the U.S. Army's 1st Engineer Regiment, 1st Infantry Division. Kedis is buried in the Meuse-Argonne American Cemetery in Romagne-sous-Montfaucon, Lorraine, France. The war ended only five weeks after Kedis died.
Walter A. Rauktis, born in Lithuania in 1891, was a miner for the Jones & Adams Coal Co. in Springfield when he registered for the draft on June 6, 1917. Although serving as a private with the 47th Regiment, 4th Infantry Division, Rauktis was not yet a U.S. citizen when he died on July 29, 1918.
He is buried in the Oise-Aisne American Cemetery in Fere-en-Tardenois, France.
Stephen Shvagzdis was born sometime around 188-1890 in Lithuania and lived on East Jefferson Street when he registered for the draft. Shvagzdis entered military service on April 29, 1918.
He sailed overseas on June 25, 1918 with Company K of the 148th Infantry Division, and was killed in action in the Meuse-Argonne offensive on Armistice Day itself, Nov. 11, 1918. According to the website Americanbattlegraves.com, he is buried at the Somme American Cemetery in Bony, France.
While the date of death on Shvagzdis' grave is Nov. 1, Springfield newspaper accounts indicate he was one of three local soldiers killed on Armistice Day.
 World War II
John F. Miller (Milleris), 26, of Springfield died in military service in 1944. He was killed in an automobile accident in Savannah Beach, Ga., the Eighth Army Air Force camp, where he had been stationed since 1942, when he enlisted. Miller, a corporal, was the twin brother of Peter S. Miller, who was serving as a sergeant with the U.S. Army in Corsica, France when John Miller was killed.
All were children of Sylvester and Mary (Moskers) Miller, who operated Miller's Market at 121 W. Jefferson St. John Miller worked in the store as a young man, although he was employed by the Wright Aeronautical Co. in Dayton, Ohio at the time of his enlistment.
George Sneckus, the son of immigrants George and Nelly Sneckus, was a Lanphier High School graduate who earned the rank of staff sergeant in the U.S. Army Air Force, 100th Bomb Group.
Sneckus, 21, was a waist gunner on one of his first missions on a B-17 bomber when he died in May 1944. A German fighter plane apparently ran head-on into Sneckus' bomber over Germany. All 10 airmen on the bomber were killed.
Sneckus' body initially was recovered by the Germans from a farmer's field and buried in a mass grave. He later was identified by dental records and was buried individually in the Neuville-En-Condroz Permanent Cemetery near Liege, Belgium.
For more about George Sneckus, his brother Julius, and their neighborhood club, the Vultures, see Sandy Baksys' article for Draugas News.
John P. "Johnny" Tonila was one of nine children of Lithuanian-born coal miner John George Tonila and Agatha (Mankus) Tonila. A local Golden Gloves boxing champ, Johnny Tonila drove a delivery truck for a living. He enlisted in the U.S. Army in 1939 and served in the Philippines before the U.S. entered the war.
Tonila, 31, was a cook in a mess tent with the U.S Army 338th Field Artillery Battalion when he was killed during the Battle of Monte Cassino near Rome, Italy in May 1944. He held the rank of technician fifth grade.
John Z. Urbis of Riverton, a technical sergeant with the U.S. Army Air Force, is buried in the Cambridge Permanent Cemetery in Cambridge, England.
Urbis was an aerial engineer on a B-17 that was shot down over Hamburg, Germany in 1943.
Before enlistment in December 1941, Urbis had been a bookkeeper at Yelton-Weaver Supply Co.
In the USAAF, Urbis was cited for extraordinary achievement in downing three enemy planes. He was posthumously decorated with the Air Medal with three oak leaf clusters and, posthumously, the Distinguished Flying Cross.
Steven E. Buckus, 22, of Springfield was a private first class in the U.S. Army who fought in North Africa, Italy, France and Germany. He was reported missing in action in Germany on April 8, 1945, in the closing days of the war in Europe.
His remains ultimately were recovered and returned to his mother, Mildred (Peleckis) Buckus, for burial in Springfield's Calvary Cemetery in January 1949.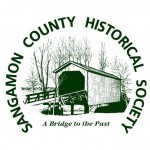 Before the war, Buckus was employed by the Cudahy Packing Co.
Hat tips: William Cellini Jr. and Sandy Baksys
Original content copyright Sangamon County Historical Society. You are free to republish this content as long as credit is given to the Society. Learn how to support the Society.